Entrepreneur Education Series - Human Resources, What You Don't Know Can Hurt You
April 24, 2019
This event has expired.

Date & Time: Wednesday, April 24, 2019 (6:00 pm - 8:00 pm)
Location: SMARTstart East Pasco Entrepreneur Center
Registration: FREE
RSVP to Attend This Month's Event
Breaking down the complicated aspects of employee management to support business growth and affirm compliance.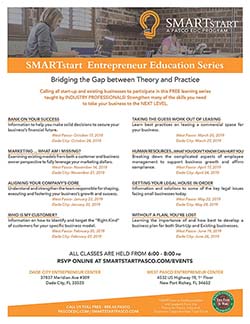 Download Entrepreneur Education Series Flyer
Reservation period is closed.