Entrepreneur Education Series - Who is My Customer?
February 20, 2019
This event has expired.

Date & Time: Wednesday, February 20, 2019 (6:00 pm - 8:00 pm)
Location: SMARTstart West Pasco Entrepreneur Center
Registration: FREE
RSVP to Attend This Month's Event
Information on how to identify and target the "Right-Kind" of customers for your specific business model.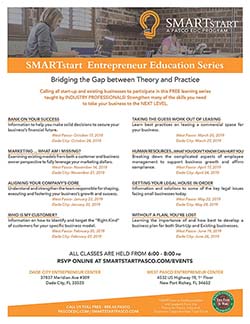 Download Entrepreneur Education Series Flyer
Reservation period is closed.