Pasco EDC 18th Annual NetFest
April 2, 2020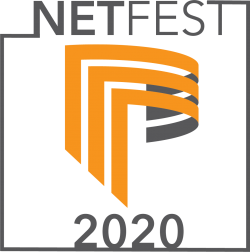 Time: 5:00 pm - 8:00 pm
Location: The Epperson Lagoon by Metro Places
31885 Overpass Road, Wesley Chapel, FL 33545
NetFest Registration: $50 per person
Pasco EDC Investors & Guests: $40 per person
Pasco County Staff: $30 per person
Join us for Pasco County's unique Networking Festival with a Caribbean Cowboy theme. This event provides companies a great opportunity to support economic development and get exposure to hundreds of business and community leaders.
---
Become a NetFest 2020 Sponsor
Pasco EDC is now seeking sponsors for NetFest 2020. If you are interested in sponsoring this event, download a sponsorship form now. For more information, contact Suzanne Renczkowski at the Pasco EDC office at (813) 926-0827, x226 or at Suzanne@pascoedc.com.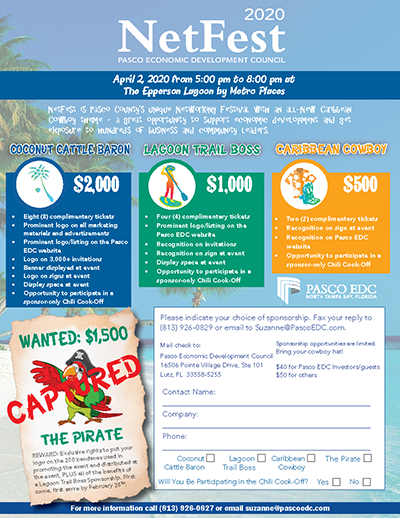 Click Here to download the sponsorship form.
Coconut Cattle Baron: $2,000
Eight (8) complimentary tickets
Prominent logo on all marketing materials and advertisements
Prominent logo/listing on the Pasco EDC website
Logo on 3,000+ invitations
Banner displayed at event
Logo on signs at event
Display space at event
Opportunity to participate in a sponsor-only Chili Cook-Off
The Pirate: $1,500
Exclusive rights to put your logo on the 200 bandanasdistributed at the event
Four (4) complimentary tickets
Prominent logo/listing on the Pasco EDC website
Recognition on invitations
Recognition on sign at event
Display space at event
Opportunity to participate in a sponsor-only Chili Cook-Off
Lagoon Trail Boss: $1,000
Four (4) complimentary tickets
Prominent logo/listing on the Pasco EDC website
Recognition on invitations
Recognition on sign at event
Display space at event
Opportunity to participate in a sponsor-only Chili Cook-Off
Caribbean Cowboy: $500
Two (2) complimentary tickets
Recognition on sign at event
Recognition on Pasco EDC website
Opportunity to participate in a sponsor-only Chili Cook-Off
---
Sponsors
Coconut Cattle Baron


Lagoon Trail Boss


The Pirate

Caribbean Cowboy
Clearwater Gas System
Ron Oakley for County Commission, District 1