15 Pasco County Companies Named Award Finalists
August 2, 2018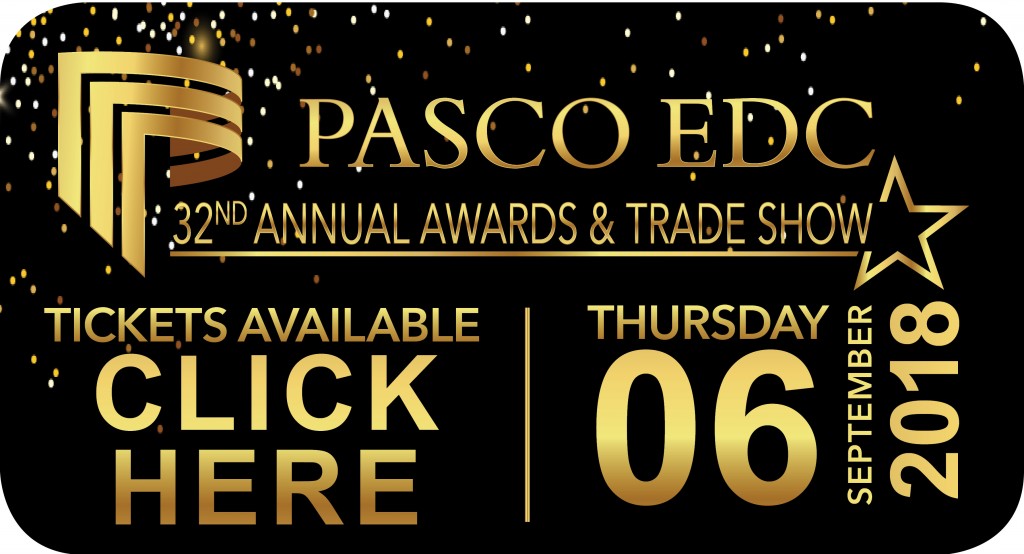 Pasco EDC Names 15 Pasco County Companies Award Finalists for Their Outstanding Economic Growth
Six companies will be recognized as award winners at the Pasco EDC 32ND Annual Awards and Trade Show
PASCO COUNTY, FLORIDA (August 1, 2018) — The Pasco EDC 32nd Annual Awards and Trade Show is set to take place Thursday, September 6, at Saddlebrook Resort and Spa. The evening will open with a welcome reception at 5:00 p.m., and an awards celebration will follow from 6:00 to 7:00 p.m. After the finalists and award recipients are honored, the festivities will continue with the Trade Show and dinner, featuring approximately 50 exhibitors from businesses throughout Pasco County.
"This event honors the accomplishments and growth of our business community, while providing a rare networking opportunity with over 600 of Pasco's business leaders and government officials at the biggest event of the year," said Bill Cronin, Pasco EDC, President/CEO.
All nominees were scored based on: company growth, leadership in current business issues, and corporate citizenship. The 15 finalists below excelled in all of these categories and the Pasco EDC would like to congratulate and thank them for their continuing contribution to the economic growth and development of Pasco County.
A.L. Saland Insurance Solutions
Academy at the Lakes, Inc.
DC Johnson & Associates
Habitat for Humanity of East & Central Pasco County
Hernandez Accounting Solutions, Inc.
Medical Center of Trinity
Merrell Bros., Inc.
Mettler Toledo
Millian-Aire Enterprises Corp.
Morton Plant North Bay Hospital
Pharmaworks, Inc.
San Antonio Lumber Co.
Spark Technology Solutions
Tampa Premium Outlets, LLC
Ultimate 3D Printing Store
Pasco EDC's Annual Awards & Trade Show is regarded as Pasco County's premier business event, attracting over 600 business and community leaders in Tampa Bay and Pasco County, including State legislators, county commissioners and city officials. Reserve your spot today at: www.pascoedc.com/events/details/annual-awards.
# # #
About Pasco Economic Development Council
The Pasco Economic Development Council is committed to developing Florida's most competitive climate for business growth by providing businesses, that seek to start, move, or grow in the North Tampa Bay area, a comprehensive suite of programs that can help them to reach their full economic potential. Since 1987, Pasco EDC has fostered a strong partnership funded by corporate and public investors focused on the economic vitality of Pasco County. Discover more at www.pascoedc.com.