Pasco EDC Names 14 Pasco County Companies as Award Finalists for their Outstanding Economic Growth
August 7, 2019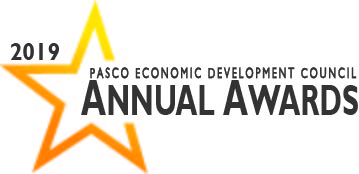 Six companies will be recognized as award winners at the Pasco EDC 33RD Annual Awards and Trade Show
PASCO COUNTY, FLORIDA (August 6, 2019) — Every year the Pasco Economic Development Council (Pasco EDC) wraps up the year by honoring Pasco County companies who have shown exceptional growth by capital investment and employees, innovation in technology, and good corporate citizenship in their communities.
"These companies are thriving in Pasco County, they continue to grow and create jobs, and invest in their community," said Bill Cronin, Pasco EDC, President/CEO. "Some of the finalists this year have invested hundreds of thousands of dollars and some even millions, while creating new jobs and positions for our workforce. Investment like that is huge for small businesses, congratulations to all of our finalists this year, they deserve it."
All nominees were interviewed and scored by the Pasco EDC Annual Awards Committee, which is made up of Pasco County business professionals. The 14 finalists below excelled in all of these categories and the Pasco EDC would like to congratulate and thank them for their continuing contribution to the economic growth and development of Pasco County.
AdventHealth Wesley Chapel
Airprompt AC/Electric
American Consulting Engineers of Florida, LLC
Architectural Signage & Printing
Bay Tech Industries, Inc.
Connected City by Metro Development Group
Design & Construction Innovations
Gulfside Healthcare Services
Hudson Bowling Supply, Inc.
Medical Center of Trinity
Millian-Aire Enterprises Corp.
The Point Distillery
Trxade Group, Inc.
Welbilt
All finalists will be honored, and winners announced, at the Pasco EDC 33rd Annual Awards and Trade Show on Thursday, September 5, at Saddlebrook Resort and Spa. After the awards celebration, the festivities will continue with a Trade Show and dinner, featuring approximately 50 exhibitors from businesses throughout Pasco County. This event is regarded as Pasco County's premier business event, 16506 Pointe Village Drive, Suite 101, Lutz, FL 33558  (813) 926-0827  www.PascoEDC.com
attracting over 600 business and community leaders in Tampa Bay and Pasco County, including State legislators, county commissioners and city officials. Reserve your spot today at: http://pascoedc.com/events/details/pasco-edc-annual-awards-trade-show
# # #
About Pasco Economic Development Council
The Pasco Economic Development Council is committed to developing Florida's most competitive climate for business growth by providing businesses, that seek to start, move, or grow in the North Tampa Bay area, a comprehensive suite of programs that can help them to reach their full economic potential. Since 1987, Pasco EDC has fostered a strong partnership funded by corporate and public investors focused on the economic vitality of Pasco County. Discover more at www.pascoedc.com.