PASCO EDC RECOGNIZES COMPANIES AND HONORABLE LEADER AT THE PASCO EDC 32ND ANNUAL AWARDS
September 7, 2018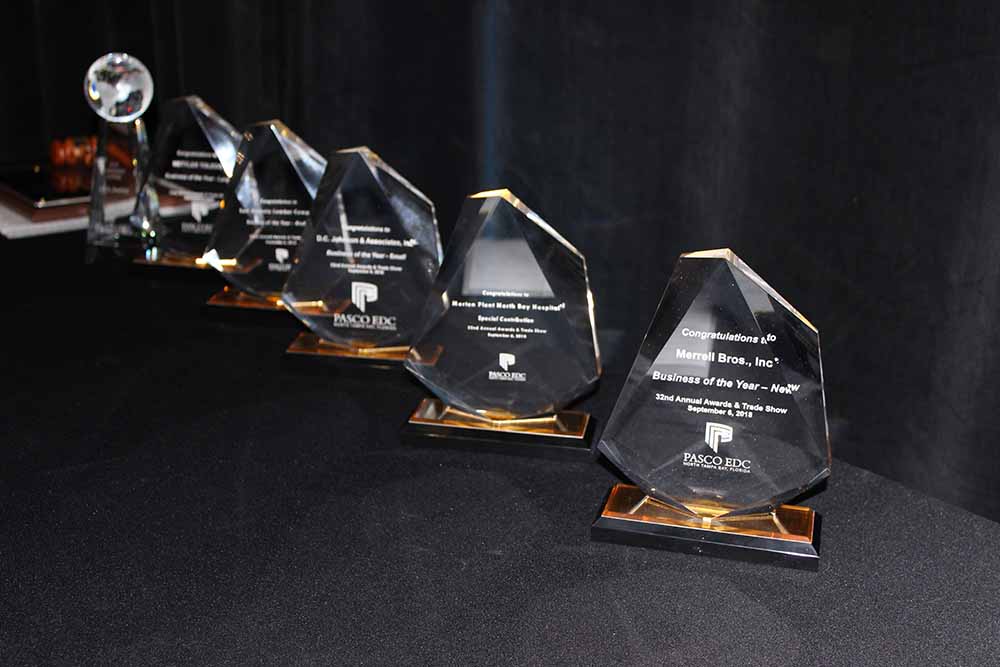 Six awards were distributed at last night's event.
PASCO COUNTY, FLORIDA (September 7, 2018) - Last evening hundreds were in attendance at the Pasco EDC 32ND Annual Awards and Trade Show, including many local business leaders and government officials.
"This was the second year we offered a longer networking portion and I think everyone really appreciates it," said Bill Cronin, Pasco EDC, President/CEO. "All 15 Award Finalists made great investments in their businesses and community, and that's why it's always so hard for the Award Committee to choose the winners. The six winners this year are a great representation of the diverse business climate we have in Pasco."

Nominees were scored based on: company growth, leadership in current business issues, and corporate citizenship. The 2018 Pasco EDC Award Winners are:
1. Business of the Year- Start-Up Category: Merrell Bros., Inc.
What started as a small family operation now offers services in every state. Their Florida division opened in Pasco County in early 2017.
2. Special Contribution- Morton Plant North Bay Hospital
The hospital opened in 1965 with a 50-bed facility and was the first hospital in New Port Richey. It continues to expand and has grown to 154 beds enabling the hospital to offer more services, improved technology, and greater convenience for patients.
3. Business of the Year- Small Category: DC Johnson & Associates
Established in 1980 with the goal of providing land surveying services to specifically meet the needs of professionals involved in land acquisition and development.
4. Business of the Year- Medium Category: San Antonio Lumber Co.
Over the past 90 years their ability to adapt to an ever changing and evolving industry is what has allowed them to weather even the most unstable times.
5. Business of the Year- Large Category: METTLER TOLEDO
Their product inspection systems are used by manufacturers in many industries, including food, beverage, pharmaceutical, nutraceutical, personal care, plastics and chemicals, to ensure the total quality of their products and improve the efficiency of their manufacturing and packaging processes.
6. Leadership Award- Jay B. Starkey Jr.
Jay B.'s strong work ethic on the ranch and in his community helped to shape the way for Pasco County. He served on the Pasco County School Board for eight (8) years during the 1970's and sang in the Master Chorale, an affiliate of the Florida Orchestra for well over 20 years.
# # #
About Pasco Economic Development Council
The Pasco Economic Development Council is committed to developing Florida's most competitive climate for business growth by providing businesses, that seek to start, move, or grow in the North Tampa Bay area, a comprehensive suite of programs that can help them to reach their full economic potential. Since 1987, Pasco EDC has fostered a strong partnership funded by corporate and public investors focused on the economic vitality of Pasco County. Discover more at www.pascoedc.com.