FY 2019-2020 Annual Reports
Office and Industrial Trends Report
The Pasco EDC's Office & Industrial Trends Task Force has been meeting over the past year to study Pasco County's current supply of office and industrial buildings and whether they meet the current demand of competitive Target Industry projects the Pasco EDC is currently trying to recruit to Pasco County. The task force has compiled relevant data and prepared a report to create private sector interest in developing speculative office and industrial business parks, view report.
workforceCONNECT Annual Report
The WorkforceCONNECT annual report aggregates economic data from September 2019 to August 2020,
view report.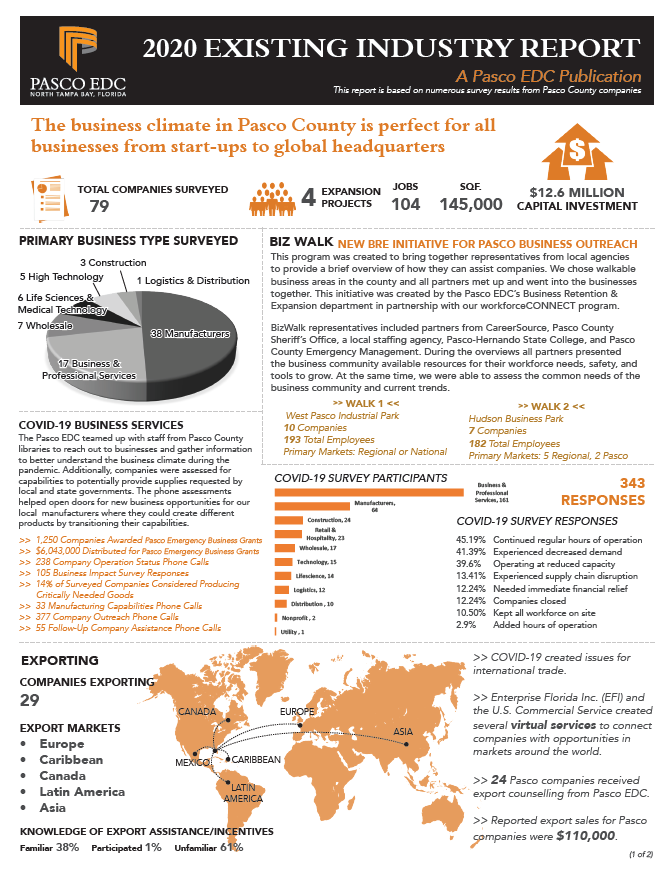 Business Retention & Expansion (BRE) Annual Report
Take a look at insights from the Business Retention & Expansion and International Programs,
view report.
ADD TO REPORT
As you navigate our website, you can use the "Add Page to Report" button to add any page or property to a custom report that you can print out or save.