FY 2021-2022 Annual Reports
Pasco EDC 2021 Annual Report
Pasco County's businesses worked hard in 2022 and I am happy to report that 2022 was another recordbreaking year for new capital investment in Pasco County, totaling over $242 million and over 1,260 new jobs! Check out updates and highlights from all of our departments at the Pasco EDC, view report.
Existing Industry and WorkforceCONNECT Annual Report
Take a look at insights from the Business Retention & Expansion and International Programs and workforce economic data from September 2020 to August 2021,
view report.
Sustainability Task Force Report
This task force was created to establish a long-term sustainability plan that reduces dependency on a single funding source through diversification of revenue,
view report.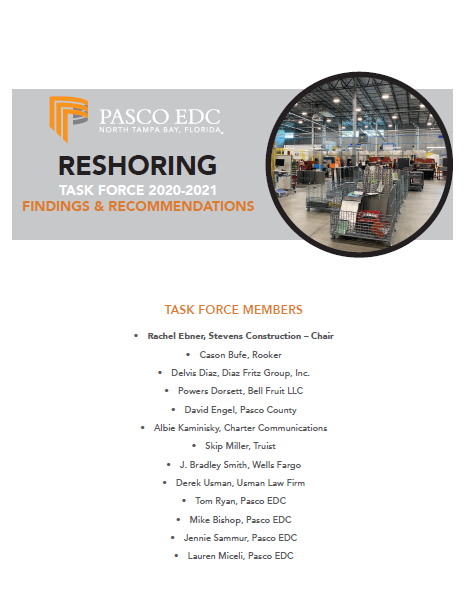 Reshoring Task Force Report
This task force's objective was to create a targeted, marketing effort to bring good, well=paying manufacturing jobs back to the United States, specifically Pasco County, Florida,
view report.