FY 2020-2021 Annual Reports
Pasco EDC 2021 Annual Report
Pasco County's businesses worked hard in 2021 and I am happy to report that we had another record-breaking year. This past fiscal year, Pasco EDC announced nine project wins that created over $247 million of new capital investment and 1,087 new jobs in Pasco County. Check out updates and highlights from all of our departments at the Pasco EDC, view report.
Existing Industry and WorkforceCONNECT Annual Report
Take a look at insights from the Business Retention & Expansion and International Programs and workforce economic data from September 2020 to August 2021,
view report.
Sustainability Task Force Report
This task force was created to establish a long-term sustainability plan that reduces dependency on a single funding source through diversification of revenue,
view report.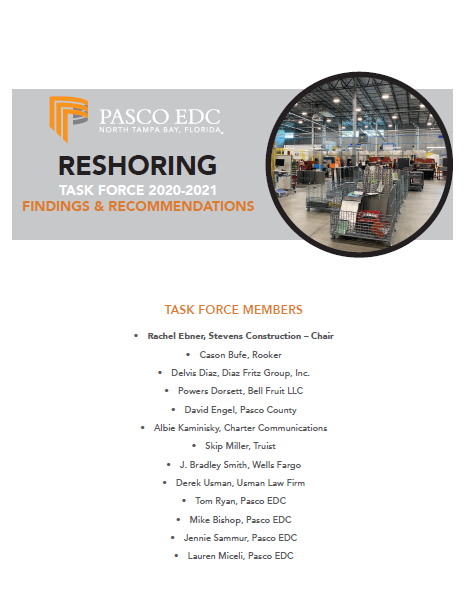 Reshoring Task Force Report
This task force's objective was to create a targeted, marketing effort to bring good, well=paying manufacturing jobs back to the United States, specifically Pasco County, Florida,
view report.