Pasco County Blog
2012
July 2, 2012
Let's Share What Makes Pasco County Shine in Tampa Bay
A group of Tampa Bay business leaders have launched the website www.TampaBayShines.com. Residents and visitors can learn more about what makes Tampa Bay great as well as share their own reasons why Tampa Bay Shines. The site is part of the Together Tampa Bay Shines community pride campaign, a celebration of those community assets that shape our region's diverse business environment and our enviable quality of life. Quick facts, accolades and reminders of the things that make Tampa Bay "shine." "There is so much to celebrate about Tampa Bay," explained Rhea Law, President of Fowler White Boggs P.A., a Pasco EDC investor, and the originator and chair of the Tampa Bay Shines campaign effort. "The Tampa Bay Shines campaign is intended to balance the scales and show a more accurate picture of the strengths and points of pride for the Tampa Bay region. We hope site visitors will not only learn new things about this great region but share these points-of-pride with others." Pasco EDC Investor ChappellRoberts produced the video above pro-bono for the campaign. "We're thrilled to be part of this effort to show why we love Tampa Bay," said Colleen Chappell, President of ChappellRoberts. So let's get started and share with everyone what makes Pasco County and Tampa Bay Shine: www.TampaBayShines.com (Read More)
---
June 13, 2012
Florida ranks in the top 10 most entrepreneurial states

According to the Kauffman Index of Entrepreneurial Activity, Florida is in the Top 10 most entrepreneurial states in the USA.
In a recent article CNN Money profiles Florida and the other ten states that made the top ten. Why did Florida make the top ten? Here's the facts they give:
Small businesses make up 75% of the state's gross domestic product.
One of every five domestic exporters is based in Florida.
Florida has reduced regulations and business taxes.
There's also no personal income tax.
Florida has become a magnet for technology startups.
Medical device manufacturers are springing up all around Florida.
Robotic device makers for aerospace and defense are expanding around the state.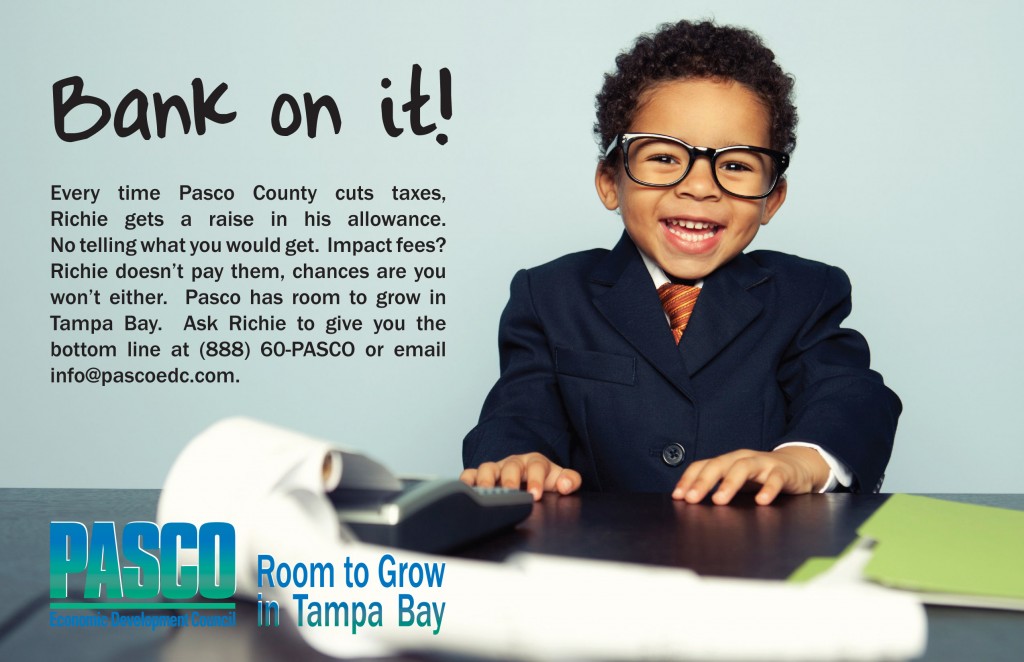 It was mentioned in this article that soon Florida would soon have a one-stop shop state online portal where entrepreneurs can access all the information they need to start a business. WAIT A MINUTE! We already have that in Pasco County! It's called the Pasco Enterprise Network, and it has already helped hundreds of local entrepreneurs connect with the right people to help their small business.
Pasco EDC has even started a microloan fund to help small businesses and entrepreneurs who can't receive traditional financing. Four loans have been given out and more are on the way. The Silicon Valley began out of an environment of entrepreneurship, and has grown into one of the United State's most recognized technology hubs. Tampa Bay is on the rise, and companies will want to get on board to be a part of history in the making. We've got room to grow in Tampa Bay, why not join the entrepreneurial vibe in Pasco County. Source: CNN Money: 10 most entrepreneurial states
(Read More)
---
May 4, 2012
650 CEOs say Florida is one of their favorite places to do business.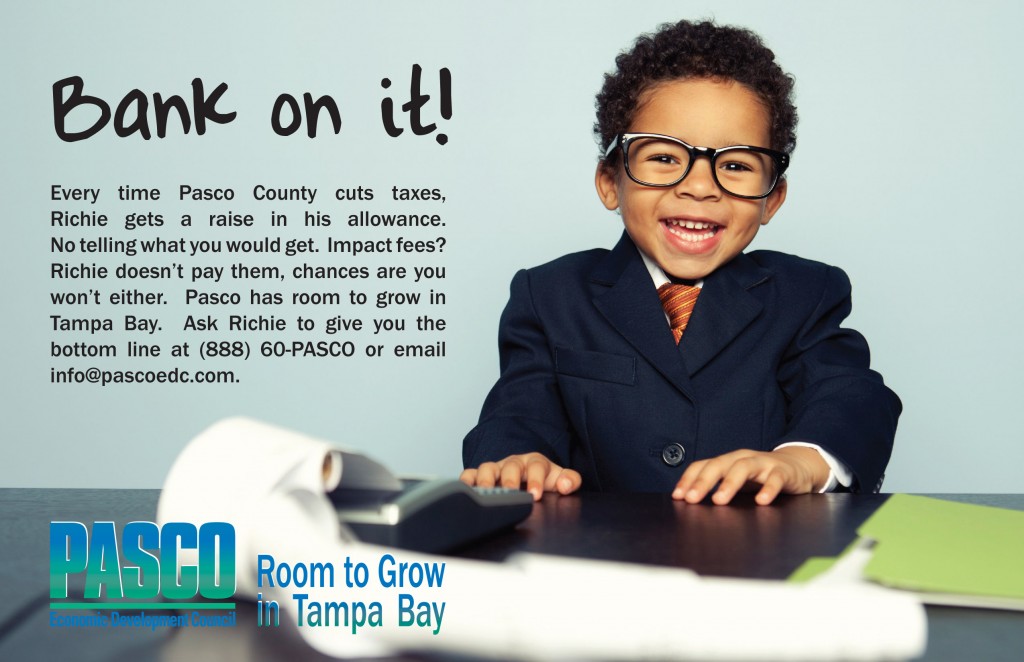 650 CEOs from across the United States ranked their favorite states to do business based on issues, including regulations, taxes, workforce quality, educational resources, quality of living and infrastructure. Turns out, CEOs love Florida, ranking it No.2 just behind Texas. Why did they rank Flrodia so high? A big factor was low taxes, and they are right... and for CEOs looking to move to Tampa Bay, here's a hint: Pasco County's taxes are one of the lowest! In fact, every time Pasco County gets a tax cut, Richie gets a raise in his allowance. No telling what you would get. Impact fees? Richie doesn't pay them, chances are you won't either. No wonder Raymond James and T. Rowe Price chose Pasco County for their future home. Will you join them? Source: CEOs rank Florida as second-best state to do business in, Tampa Bay Times, 05/03/12
(Read More)
---
April 9, 2012
Dais Analytic CEO explains why he chose Pasco
"The reason we chose Pasco and frankly Odessa, a couple of different things but first it boils down to I travel a lot internationally and the airport here is great. People can get here, and we can get them. That's one. The second thing is the roads are good, people like the environment. They like the fact that most of the time it's summer; they have a good time. We have not to date had any issues bringing people here in very high technology type of positions to the area because the area is attractive. The area offers a lot." - Tim Tangredi, CEO Dais Analytic
(Read More)
---
April 3, 2012
Food Manufacturing Is Big in Florida and About to Get Bigger

Food products comprise the second largest manufacturing sector in Florida, employing more than 27,000 workers and accounting for about $5 billion of the state's gross domestic product. Given Florida's own large market and the influx of over 85 million visitors to the state every year, it is not surprising that food is big here. We all have to eat, after all. But this piece of Florida economy is poised to grow, judging by recent news. Over the last couple of months, Florida has enjoyed a wave of announcements from food, beverage, and grocery companies opening or expanding manufacturing, distribution, and headquarters activities in the Sunshine State.

In Pasco County we've got everyone's favorite bottled water in Zephyrhills, plus Florida Estates Winery in Land O' Lakes. But it doesn't stop there! Dade City is home to the Kumquat Growers, Inc., the nation's largest producer and shipper of kumquats and kumquat products. Pasco is also home to Oakley Groves, the Zephyr Egg Company, and American Food Distributors. If your company is looking to expand, consider the advantages of moving to Pasco County: thousands of entitled acres, cash incentives, low taxes, access to I-75, rail and ports, plus a skilled workforce ready to work for you! There's room to grow in Tampa Bay. Come visit us in Pasco County!
(Read More)
---
March 24, 2012
Pasco County Sweeps "Future of the Region Awards" and Aces the OneBay!
The Tampa Bay Regional Planning Council (TBRPC) today awarded Pasco County the coveted One Bay Award, effectively elevating the county to elite status among Tampa Bay communities.  TBRPC is the regional expert when it comes to land planning and development. This is the second year Pasco County was chosen for the OneBay award--and also only the second year the award has been in existence.
The award was given to Pasco County for innovatively becoming one of Florida's first counties to adopt the mobility fee as a replacement of transportation impact fees. The Pasco Economic Development Council partnered with the County to craft the program and gain support from the development community to help adopt the fee. The new fee schedule dramatically lowers the cost of office and industrial development in Pasco County.  For example, Pasco's mobility fee for office, industrial and transit-oriented development along US-19 and S.R. 54/56 corridors is $0. The intent of the Commissioners' action is to stimulate construction and job creation. Also at the "Future of the Region Awards," Pasco County took first place in the Development/Infrastructure category, again, for its mobility fee program, and first place in the Cultural/Sports/Recreation category for the Pasco County Starkey Wilderness Park Trail Project (Phases I through IV). An Honorable Mention was also given to Pasco County for its Elderly Nutrition Program. "It was like sweeping the Grammys!  Pasco County won more awards than any organization," said John Hagen, Pasco EDC President/CEO. "The mobility fee is truly innovative and puts Pasco County in a class by itself.  It provides a decided business advantage over other communities.  For office, hotel, and industrial users in the key development corridors along US 19 and SR 54/56, it's free.  It is gratifying to see Pasco County receive the attention it deserves for its bold leadership to encourage job creation." TBRPC exemplifies the significance of innovative planning and provides honor and recognition for notable achievements in resource planning and management in the Tampa Bay Area.  Over 30 applications were received covering the following categories:  Community Service, Cultural/Sports/Recreation, Development/Infrastructure, Natural Resources/Environment, Going Green, and Public Education.  An Independent Awards Jury reviewed each entry on the following criteria:  regional quality of life benefit, benefit to environment, innovation, cost effectiveness, capacity for continuing impact, and regional benefit. (Read More)
---
March 23, 2012
Looking for a place to manufacture medical devices?

Did you know? Florida has one of the country's largest medical device manufacturing industries. According to the FDA, Florida ranks 2nd in the U.S. for the number of FDA-registered medical device establishments. In fact, nearly 19,000 Floridians work in this industry.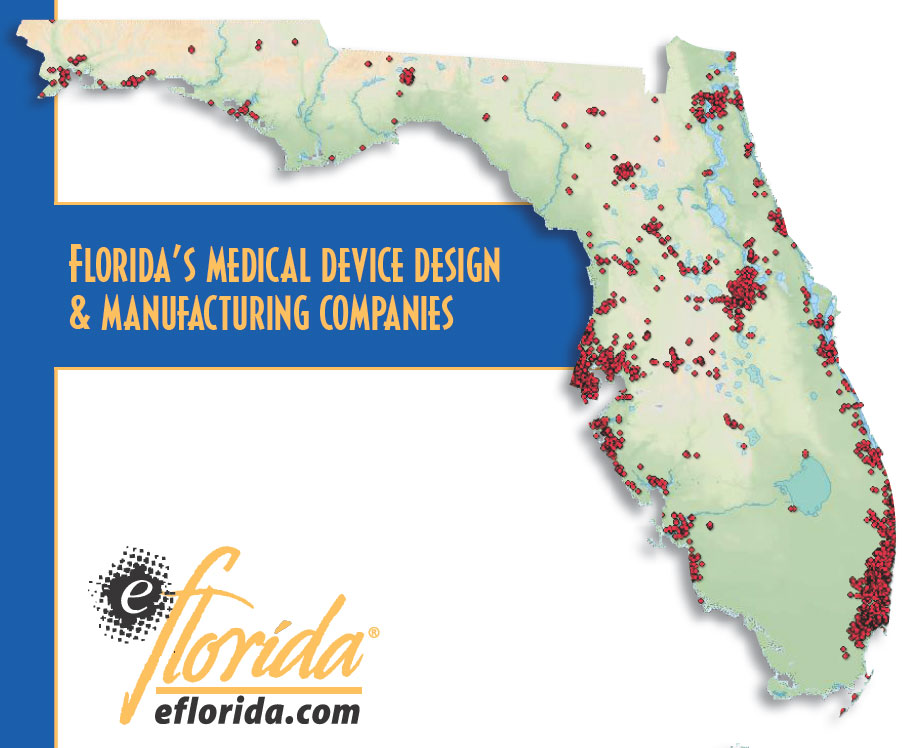 As you can see from the map, a large cluster of medical device manufacturers are right here in the Tampa Bay area, of course birds of a feather flock together! Pasco County is the natural place to expand in the Tampa Bay area. Not only do we have the benefit of having low taxes, I-75 access, close proximity to the port and Tampa International Airport, but we also already have a skilled workforce in place that know the medical device manufacturing business. Approximately 46% of the workforce leaves Pasco County every day to commute to work in Tampa Bay, many of them working in the medical device industry. These can be YOUR employees! But that's not all Pasco County has to offer. If you are ready to move, we can help speed up the permitting process for you. If that's not enough, we've got cash! That's right! Job creation incentives are available to qualifying companies that create 10 or more new jobs in Pasco County. If your company is looking to relocate to Florida or expand in the Tampa Bay area, stop by and see Krista or Tom at the 6th Annual Florida Medical Device Symposium held at the Hilton St. Petersburg Carillon Park. April 30 - May 1st. or better yet, why wait? Give us a call at 813-926-0827.
(Read More)
---