Pasco County Blog
2012
July 6, 2012
Financial Firms Moving from Wall Street to Florida

According to an article in the New York Times this week, financial giants are moving jobs off Wall Street into less expensive places to do business in the United States. Financial firms are specifically moving their back office operations including services like accounting, legal support, and human resources are being shifted to places like Pasco County, Florida where both Raymond James and T. Rowe Price will be breaking ground in the near future.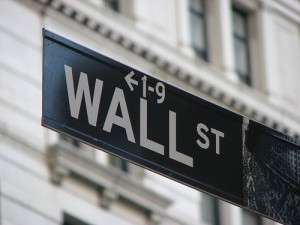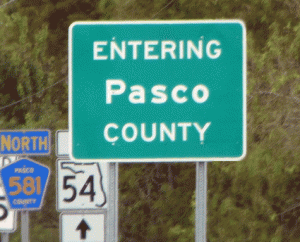 Why Pasco County instead of Wall Street? It's simple, the taxes are lower, the real estate is lower, and the labor costs are lower. The sunshine, beaches and 365 days of warm weather aren't to shabby either! In fact, many financial firms already employ Tampa Bay residents who fly back and forth on a regular basis, which is why one of Delta's largest areas for Medallion members is in Tampa Bay. So, it makes sense; if employees choose to live in Tampa Bay, why not let them work there too? Saves the company money, saves the employee money, and together they can enjoy relaxing on the beach in their free time. Pasco County's most recent financial moves announced include a 1,600-employee contact center for investment firm T. Rowe Price and a 750-employee servicing operation for Tampa Bay financial services company Raymond James both of which received more than $10 million dollars in incentives. Both companies are familiar with the Tampa Bay workforce and selected Pasco County for its labor shed, safety, lower cost structure, and creative incentives. And... there's room to grow in Tampa Bay. Visit www.pascoedc.com to find out more or call 813-926-0827. Source: NYTimes: Financial Giants Are Moving Jobs Off Wall Street
(Read More)
---
July 5, 2012
National Success in Pasco County's Career Academies

Career Academies were first developed over 35 years ago with the aim of restructuring large high schools into small learning communities and creating better pathways between high school and further education and the workplace. Since then, the Career Academy approach has taken root in an estimated 8,000 high schools across the country. Here in Pasco County we have 13 career academies ranging from finance to engineering, health, commercial art and design, energy, and even culinary arts. Career academies are an important part of preparing our students to meet the challenges of the 21st century and for success in the global marketplace.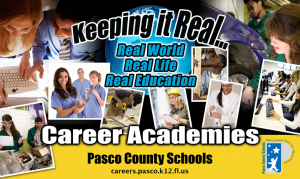 A SUCCESS STORY
Marchman Technical Education Center in New Port Richey, Florida provides technical training and industry certification in a variety of fields, like electricity. Recently a Marchman student, Dominic Anger, was a gold medalist in Residential Wiring at the 2011 National Skills USA Championships. As a junior in high school, Dominic Anger won the State of Florida competition and came in fifth in the nation at the 2010 National Leadership and Skills Conference (NLSC). Returning to Nationals in 2011 as a senior, Dominic won a national gold medal in residential wiring. He is the first high school electricity student from Florida to receive a gold medal at Skills USA Nationals in its 47-year history. Now as an adult, Dominic Anger has placed at the state level for a third consecutive year and is headed to the national competition again. Winning back to back state championships is quite the accomplishment but to win and represent a student's state three years in a row is a huge testament to the quality of education and training in the career academies of Pasco County. Kudos Dominic, and kudos to our career academies!
In Pasco County, we want our students to be the fuel of the economic engine driving our local economy.
(Read More)
---
July 2, 2012
Let's Share What Makes Pasco County Shine in Tampa Bay
A group of Tampa Bay business leaders have launched the website www.TampaBayShines.com. Residents and visitors can learn more about what makes Tampa Bay great as well as share their own reasons why Tampa Bay Shines. The site is part of the Together Tampa Bay Shines community pride campaign, a celebration of those community assets that shape our region's diverse business environment and our enviable quality of life. Quick facts, accolades and reminders of the things that make Tampa Bay "shine." "There is so much to celebrate about Tampa Bay," explained Rhea Law, President of Fowler White Boggs P.A., a Pasco EDC investor, and the originator and chair of the Tampa Bay Shines campaign effort. "The Tampa Bay Shines campaign is intended to balance the scales and show a more accurate picture of the strengths and points of pride for the Tampa Bay region. We hope site visitors will not only learn new things about this great region but share these points-of-pride with others." Pasco EDC Investor ChappellRoberts produced the video above pro-bono for the campaign. "We're thrilled to be part of this effort to show why we love Tampa Bay," said Colleen Chappell, President of ChappellRoberts. So let's get started and share with everyone what makes Pasco County and Tampa Bay Shine: www.TampaBayShines.com (Read More)
---
June 27, 2012
Was your business affected in Tropical Storm Debby?
We are acquiring information on possible damages to Pasco County businesses. This information is important in obtaining assistance for businesses that may have been damaged by the recent storm. Please click on the link below to access a quick survey which will only take a few minutes to complete. Survey link: http://www.surveymonkey.com/s/7PTWBS7 We appreciate your time and feel free to call the office if you have any questions: 813-926-0827 (Read More)
---
June 22, 2012
Tampa Bay is Social Savvy and so is Pasco EDC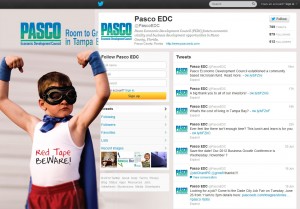 Small businesses on the West Coast of the U.S. are far more social-media savvy than those on the East Coast, with the exception of Tampa Bay, which ranks in the top ten of places for social media savvy small businesses. Makes sense to us, which is why we've got social madness here in Pasco County. Our goal with social media is to tell Pasco County's story locally and to an unlimited audience around the world... why? Because business leaders, CEOs, site selectors, entrepreneurs and everyone needs to know the amazing things that are happening right here in Pasco County, and Tampa Bay! Are you following us? If not its time we get social!
(Read More)
---
June 19, 2012
East Pasco Job Fair in Dade City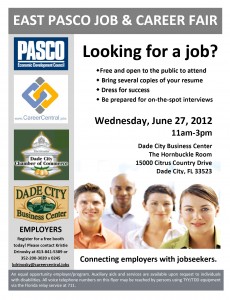 Looking for a job? Come to the East Pasco Job Fair at the Dade City Business Center on Wednesday, June 27, 2012 from 11am to 3pm
Free and open to the public to attend
Bring several copies of your resume
Dress for success
Be prepared for on-the-spot interviews
Location: Dade City Business Center The Hornbuckle Room 15000 Citrus Country Drive Dade City, FL 33523 www.CareerCentral.jobs connects employers with jobseekers. An equal opportunity employer/program. Auxiliary aids and services are available upon request to individuals with disabilities. All voice telephone numbers on this flyer may be reached by persons using TYY/TDD equipment via the Florida relay service at 711. EMPLOYERS Register for a free booth today! Please contact Kristie Drinosky at 813-841-5389 or 352-200-3020 x 0245 kdrinosky@careercentral.jobs
(Read More)
---
June 13, 2012
Florida ranks in the top 10 most entrepreneurial states

According to the Kauffman Index of Entrepreneurial Activity, Florida is in the Top 10 most entrepreneurial states in the USA.
In a recent article CNN Money profiles Florida and the other ten states that made the top ten. Why did Florida make the top ten? Here's the facts they give:
Small businesses make up 75% of the state's gross domestic product.
One of every five domestic exporters is based in Florida.
Florida has reduced regulations and business taxes.
There's also no personal income tax.
Florida has become a magnet for technology startups.
Medical device manufacturers are springing up all around Florida.
Robotic device makers for aerospace and defense are expanding around the state.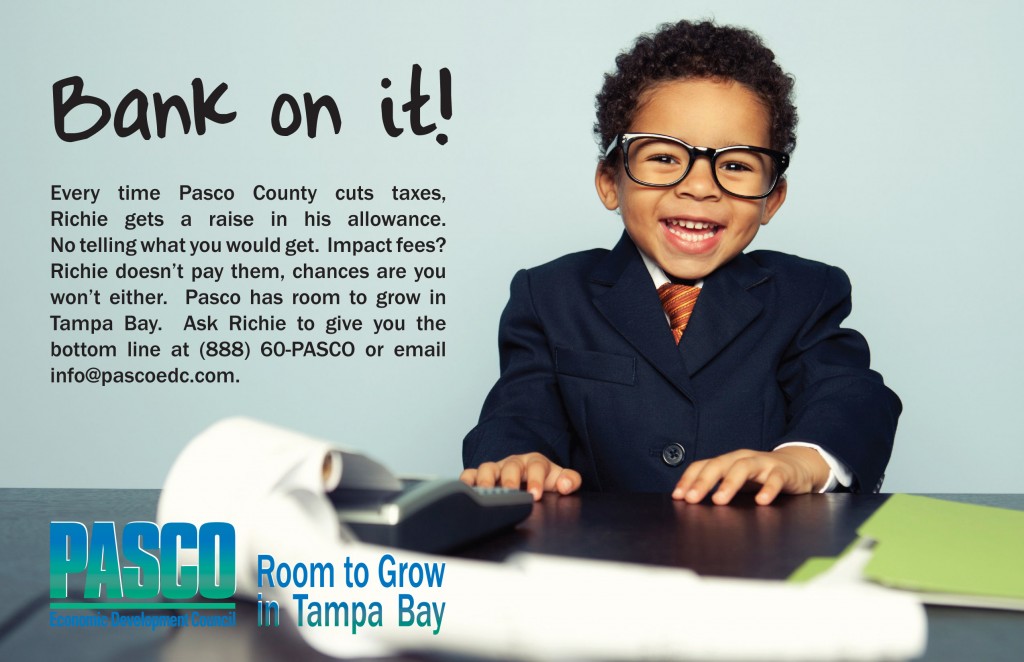 It was mentioned in this article that soon Florida would soon have a one-stop shop state online portal where entrepreneurs can access all the information they need to start a business. WAIT A MINUTE! We already have that in Pasco County! It's called the Pasco Enterprise Network, and it has already helped hundreds of local entrepreneurs connect with the right people to help their small business.
Pasco EDC has even started a microloan fund to help small businesses and entrepreneurs who can't receive traditional financing. Four loans have been given out and more are on the way. The Silicon Valley began out of an environment of entrepreneurship, and has grown into one of the United State's most recognized technology hubs. Tampa Bay is on the rise, and companies will want to get on board to be a part of history in the making. We've got room to grow in Tampa Bay, why not join the entrepreneurial vibe in Pasco County. Source: CNN Money: 10 most entrepreneurial states
(Read More)
---
June 11, 2012
Lunch and Learn: Run a Great Meeting and Manage Your Life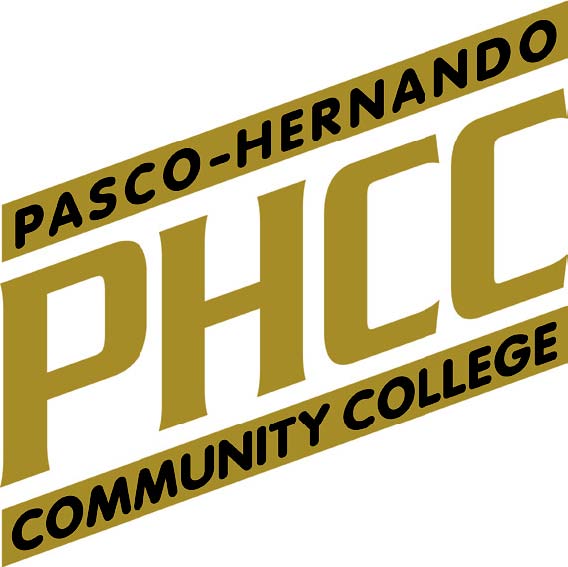 LUNCH AND LEARN: Tuesday, June 26th 11:30 am - 1:00 pm is your chance to enhance your professional development and become a better manager while understanding yourself and others better. Pasco Economic Development Council is excited to host a class on "How to Run a Great Meeting and Manage Your Life" offered by the Corporate Training Department of PHCC. Location: Pasco Hernando Community College (Building C, Room 205) New Port Richey Campus 10230 Ridge Road New Port Richey, FL 34654
Cost is $15, lunch will be provided.
A certificate of achievement will be awarded upon completion.
Sign Up Now, First Come First Served.
(Read More)
---
May 22, 2012
Smart Cookies in Pasco County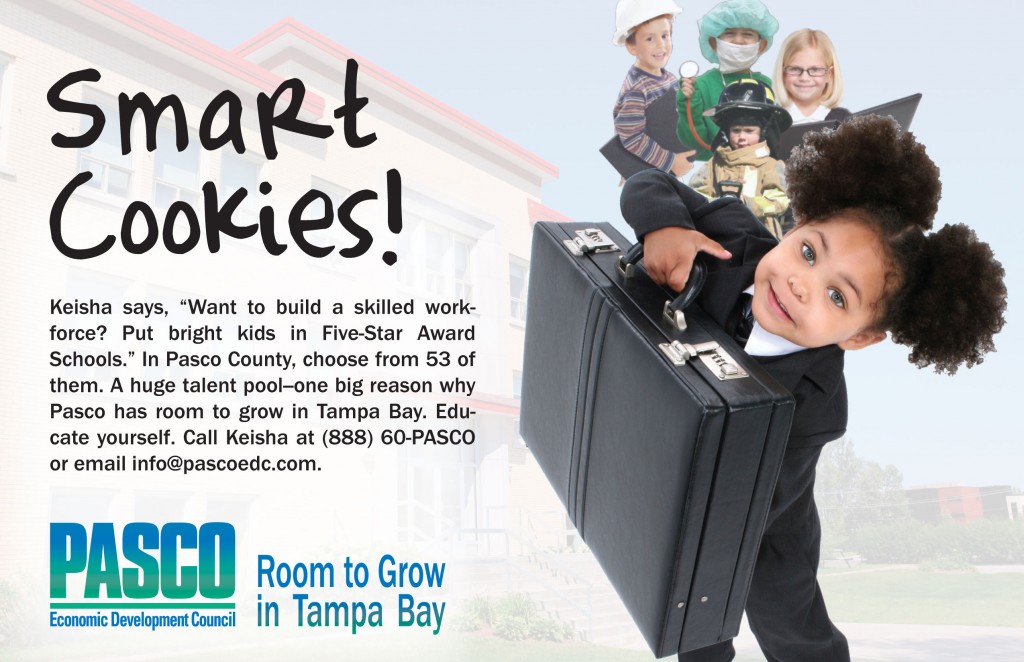 We've been touting Pasco County's "Smart Cookies" for a while now because we believe the key to building a skilled workforce begins in the schools. How bright are Pasco County kids? Take a look at Patrick McCabe, a Pasco High School senior who we think could be the next Bill Gates or Steve Jobs! Patrick McCabe, has been inventing things since elementary school. He is graduating this year with a 4.5 grade point average, is a member of the National Honor Society and has claimed his school's PRIDE award for achievements in science. To top it off he is finishing a year of dual enrollment at Pasco-Hernando Community College. He has created 11 robots and won numerous awards, and his latest accomplishment includes a full-ride scholarship to the Massachusetts Institute of Technology (MIT). This is the type of talent we have here in Tampa Bay. You're gonna want that! Source: Tampa Bay Times, 05/15/1, http://www.tampabay.com/news/education/k12/pasco-high-senior-invents-his-own-track-to-mit/1230319
(Read More)
---
May 18, 2012
The world will be watching Tampa Bay this August

With only 100 days until the 2012 Republican National Convention, the Tampa Bay Host Committee, is working diligently to ensure that this historic event is a success for the entire Tampa Bay area. In addition to the thousands of guests who will be coming to Tampa Bay this August, the Convention will draw 15,000 media personnel and is the largest media event in the world, second only to the Olympic Games. Ken Jones, a Pasco County resident is leading the Tampa Bay Host Committee in this historical event.
"Having the Convention in Tampa Bay is a once-in-a-lifetime opportunity. Tampa Bay is one of the best kept secrets in America, and we will demonstrate that our region can compete and shine on a global stage as well as any major city in the world." Ken Jones, Host Committee President/CEO and a Pasco County resident
If you are planning to attend the convention or if you are part of the 15,000 media who will be coming down to cover the event, stop by and see us at Pasco EDC, we'd love to show you why businesses love Tampa Bay.
(Read More)
---