Pasco County Blog
2012
March 24, 2012
Pasco County Sweeps "Future of the Region Awards" and Aces the OneBay!
The Tampa Bay Regional Planning Council (TBRPC) today awarded Pasco County the coveted One Bay Award, effectively elevating the county to elite status among Tampa Bay communities.  TBRPC is the regional expert when it comes to land planning and development. This is the second year Pasco County was chosen for the OneBay award--and also only the second year the award has been in existence.
The award was given to Pasco County for innovatively becoming one of Florida's first counties to adopt the mobility fee as a replacement of transportation impact fees. The Pasco Economic Development Council partnered with the County to craft the program and gain support from the development community to help adopt the fee. The new fee schedule dramatically lowers the cost of office and industrial development in Pasco County.  For example, Pasco's mobility fee for office, industrial and transit-oriented development along US-19 and S.R. 54/56 corridors is $0. The intent of the Commissioners' action is to stimulate construction and job creation. Also at the "Future of the Region Awards," Pasco County took first place in the Development/Infrastructure category, again, for its mobility fee program, and first place in the Cultural/Sports/Recreation category for the Pasco County Starkey Wilderness Park Trail Project (Phases I through IV). An Honorable Mention was also given to Pasco County for its Elderly Nutrition Program. "It was like sweeping the Grammys!  Pasco County won more awards than any organization," said John Hagen, Pasco EDC President/CEO. "The mobility fee is truly innovative and puts Pasco County in a class by itself.  It provides a decided business advantage over other communities.  For office, hotel, and industrial users in the key development corridors along US 19 and SR 54/56, it's free.  It is gratifying to see Pasco County receive the attention it deserves for its bold leadership to encourage job creation." TBRPC exemplifies the significance of innovative planning and provides honor and recognition for notable achievements in resource planning and management in the Tampa Bay Area.  Over 30 applications were received covering the following categories:  Community Service, Cultural/Sports/Recreation, Development/Infrastructure, Natural Resources/Environment, Going Green, and Public Education.  An Independent Awards Jury reviewed each entry on the following criteria:  regional quality of life benefit, benefit to environment, innovation, cost effectiveness, capacity for continuing impact, and regional benefit. (Read More)
---
March 23, 2012
Looking for a place to manufacture medical devices?

Did you know? Florida has one of the country's largest medical device manufacturing industries. According to the FDA, Florida ranks 2nd in the U.S. for the number of FDA-registered medical device establishments. In fact, nearly 19,000 Floridians work in this industry.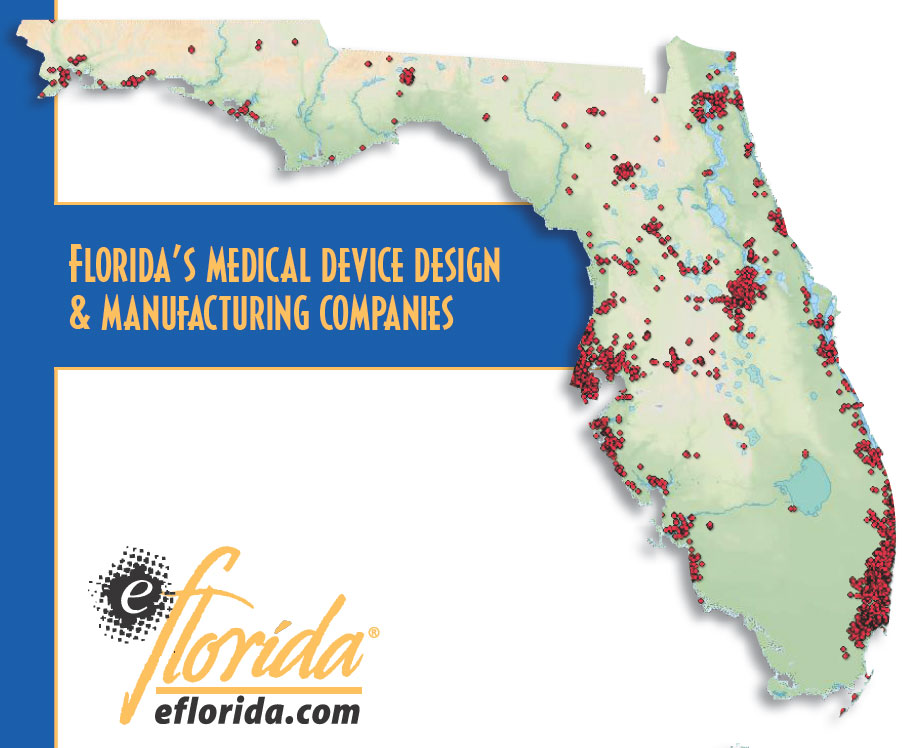 As you can see from the map, a large cluster of medical device manufacturers are right here in the Tampa Bay area, of course birds of a feather flock together! Pasco County is the natural place to expand in the Tampa Bay area. Not only do we have the benefit of having low taxes, I-75 access, close proximity to the port and Tampa International Airport, but we also already have a skilled workforce in place that know the medical device manufacturing business. Approximately 46% of the workforce leaves Pasco County every day to commute to work in Tampa Bay, many of them working in the medical device industry. These can be YOUR employees! But that's not all Pasco County has to offer. If you are ready to move, we can help speed up the permitting process for you. If that's not enough, we've got cash! That's right! Job creation incentives are available to qualifying companies that create 10 or more new jobs in Pasco County. If your company is looking to relocate to Florida or expand in the Tampa Bay area, stop by and see Krista or Tom at the 6th Annual Florida Medical Device Symposium held at the Hilton St. Petersburg Carillon Park. April 30 - May 1st. or better yet, why wait? Give us a call at 813-926-0827.
(Read More)
---