Pasco County Blog
2014
April 29, 2014
$45 million dollars earmarked for economic development in Pasco County
Excerpt originally printed in The Laker (4/24/14):
"Penny for Pasco starts a new round of funding in January, using an extra 1 percent sales tax to provide nearly $50 million in additional annual funding for Pasco County projects over the next decade."
"This time, however, nearly 10 percent of funds — or $4.5 million — has been earmarked toward economic development. And if spent the right way, leaders from the independent Pasco Economic Development Council say the impact of those funds could be tremendous, bringing new commercial parks and maybe even a convention center to Pasco County."
"'It should create jobs and it should grow the economy,' PEDC president and chief executive John Hagen recently told Pasco County commissioners during a workshop. 'If it doesn't do that, then it's not economic development. That means attracting businesses that actually bring money into the community.'"
"Of course, $4.5 million each year might not be the best way to accomplish that goal, Hagen said. But $36 million all up front? That can go a long way."
"'We think it's important to use leverage,' he said. 'We'd rather get some of that revenue upfront now, so that we can get more of an impact over the 10-year period, rather than wait. We need jobs and we need economic development now.'"
"That could mean borrowing up to 80 percent of the projected revenue over the next 10 years, and using revenue from those projects — or simply funds from Penny for Pasco itself — to pay it back."
"If commissioners were to take that route, the county could take the lead in attracting new businesses to Pasco, instead of losing them to neighbors like Hillsborough and Pinellas counties. That starts with a business park project, assembling land together somewhere in the county and earmarking all of it for commercial use."
It continues with speculation building — helping developers construct commercial space..."
Click here read the full article.
(Read More)
---
April 25, 2014
Pasco Iron and Metal completes construction of Rail Spur

As we we've been gearing up for this year's 28th Annual Appreciation Banquet and Industry Awards, we checked in with some of our previous winners and found out some exciting news. Pasco Iron and Metal (PIM) a former winner from 2012 in Category 1 for Manufacturing (small to mid-size companies) has just finished the construction of a 600 ft. rail road spur at at their yard located at 21240 Lake Patience Rd, Land O' Lakes.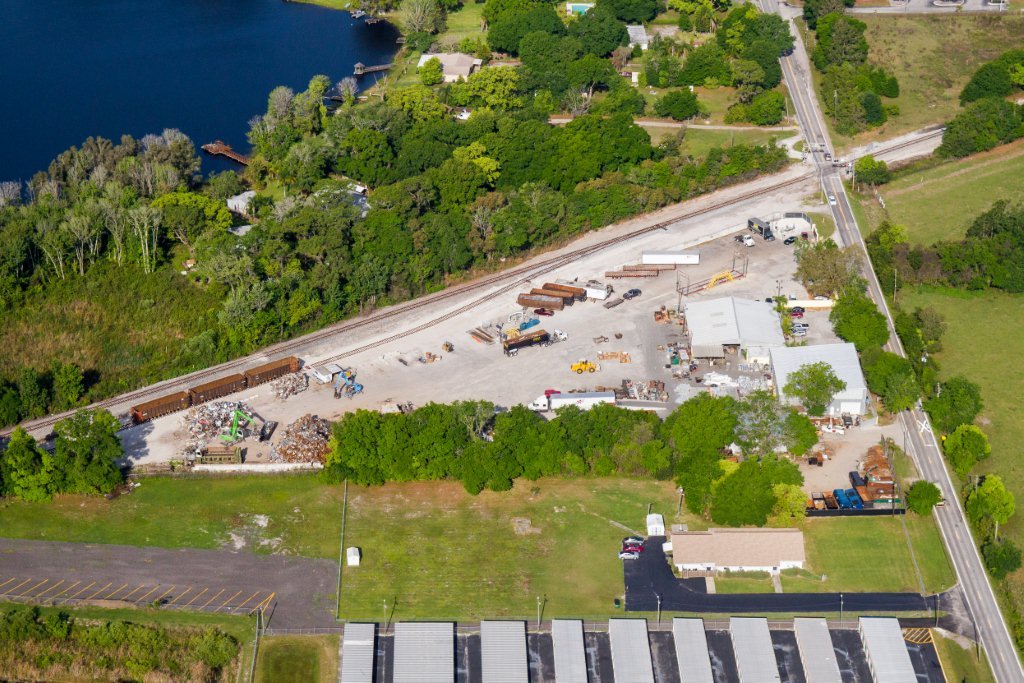 "This endeavor took a large financial reinvestment in our firm, years of planning and months of construction," said Phil Corcoran, marketing manager for Pasco Iron and Metal. "We are now the first Scrap Metal Recycling Facility in Pasco County and one of only a handful on the West Coast of Florida to have the capability to ship directly by rail." This addition will have numerous benefits to their firm as the company will now be able to ship scrap metal directly and more economically to their clients and the investment will allow them to handle a much greater volume. Because of the expansion PIM has added equipment and staff to facilitate the loading of the cars including truck drivers, heavy equipment operators and laborers. In addition, shipping by rail drastically reduces carbon emissions and makes their recycling process even more environmentally sound. Here's a video recap about PIM from their award in 2012: PEDC Manufacturing Industry of the Year Category 1 | 2012 from VHVIDEO.COM
(Read More)
---
April 23, 2014
Five Pasco Companies Rank in Tampa Bay's Top 100 Workplace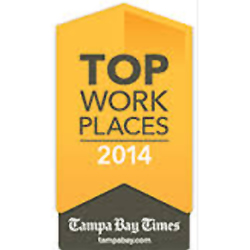 The following companies ranked in the Annual Survey of Top 100 Workplaces by the Tampa Bay Times:
We are happy to have these amazing companies in Pasco County! The Tampa Bay Times used an independent company to provide the research underlying the survey. More than 1,000 workplaces were invited to participate, which involved their employees who were willing to answer the survey from which 176 workplaces accepted. The resulting rankings are based solely on the opinions of the 30,352 employees who responded to the survey and reflect the actual workplace practices of the companies listed.
(Read More)
---
April 21, 2014
Have office furniture to donate? See SMARTstart's Wish List!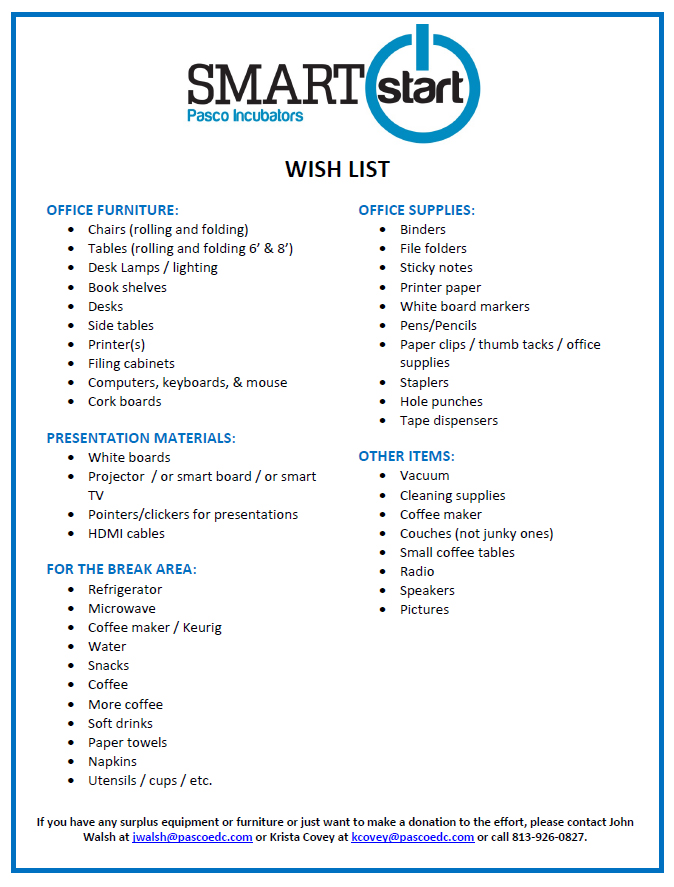 Pasco Economic Development Council started Pasco's first business incubator – SMARTstart – in Dade City just 7 short months ago and we are already FULL. We are excited to soon be expanding into more space and opening a new SMARTstart in New Port Richey. This is where you come in! We are in need of some basic office equipment, furniture and other items. Click here to see our "wish list" and we are reaching out to our valued partners for help collecting items that will help us develop new and growing businesses in Pasco County. As you can tell by the list, we need everything. If you have any surplus equipment or furniture or just want to make a donation to the effort, please contact John Walsh at jwalsh @ pascoedc.com or Krista Covey kcovey @ pascoedc.com or give us a call at 813-926-0827.
(Read More)
---
April 17, 2014
Seaway Plastics Engineering is one of Tampa Bay's Top Workplaces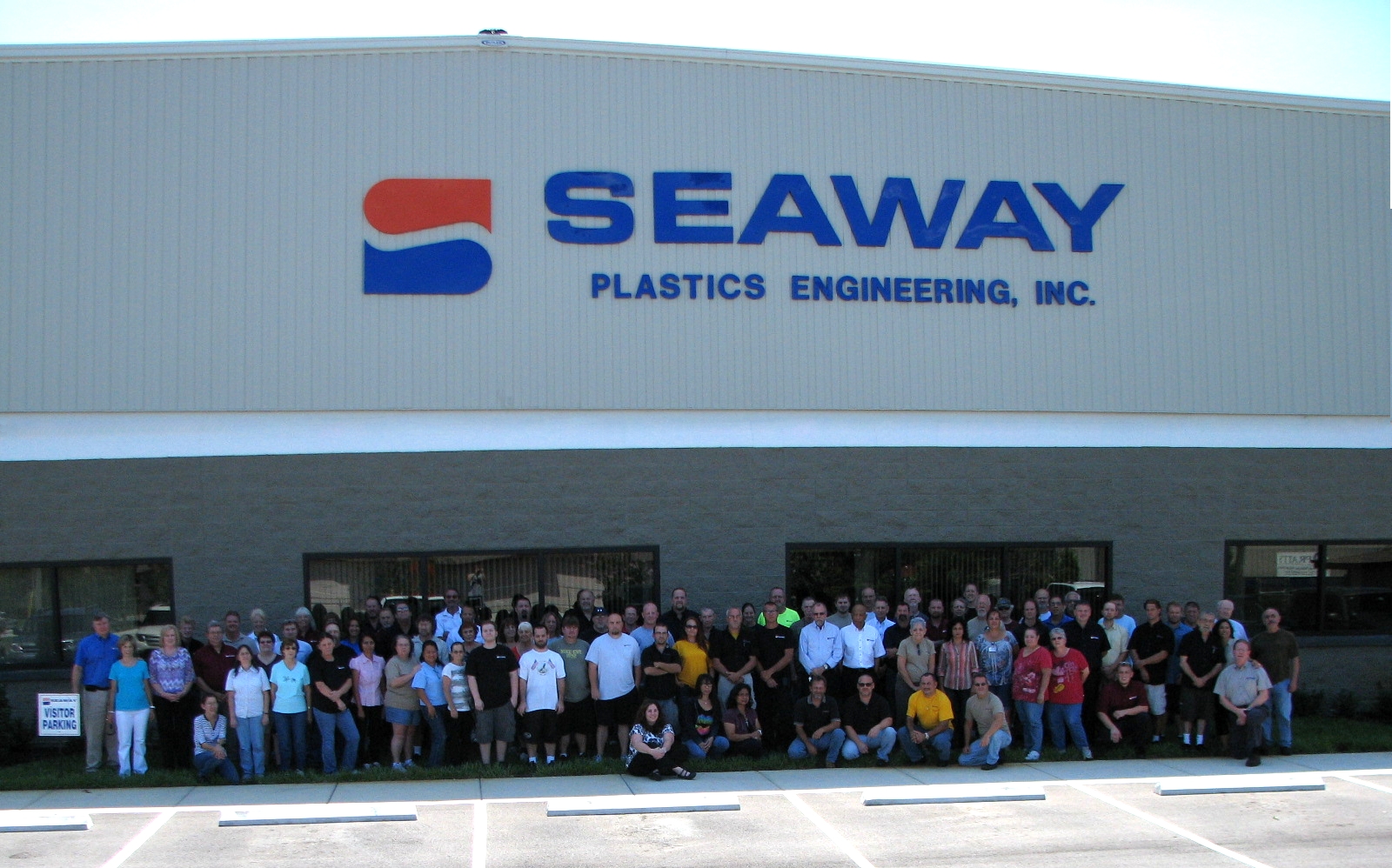 Several Pasco County organizations made the list of Tampa Bay's Top Workplaces by the Tampa Bay Times. One of which is local manufacturer, Seaway Plastics Engineering.
Seaway Plastics Engineering is a plastic injection molding company specializing in prototype injection molding, low-volume production, and mold making, offering short lead-times for new molds and production. The company has 133 employees. Seaway has been recognized by the Pasco Economic Development Council in the past for its continued growth, both in employment numbers as well as the increase in its sales and manufacturing capacity. Seaway has seen a 20% increase in staff over the past 3 years. We are happy to have amazing companies like Seaway Plastics Engineering in Pasco County.
(Read More)
---
April 16, 2014
Medical Center of Trinity recognized as a "Top Workplace" by the Tampa Bay Times
Medical Center of Trinity announces that it has been recognized as a "Top Workplace" by the Tampa Bay Times. The Tampa Bay Times research partner, Workplace Dynamics, ranks employers within their size category based solely on the employee responses to survey statements. In its announcement to Medical Center of Trinity, the Tampa Bay Times emphasized that the Times doesn't choose the winners; the employees of the companies do. "I am extremely proud of our healthcare team and our recognition as a Top Workplace", said Leigh Massengill, CEO.  "Our focus on a quality environment for not only our patients but for our employees too is an important part of our culture here at Medical Center of Trinity". (Read More)
---
April 15, 2014
Saint Leo University ranks high in Tampa Bay's Top 100 Workplaces

Saint Leo University has been included in Tampa Bay Times annual Top Workplaces survey for third consecutive year. This year the newspaper expanded the number of employers on the list to "Tampa Bay's Top 100 Workplaces." Saint Leo ranks 12 in the category of large employers (more than 500 employees). The university considers this honor a reflection of the commitment to the Saint Leo core values of respect, excellence, responsible stewardship, community, personal development, and integrity. The Tampa Bay Times used an independent company to provide the research underlying the survey. More than 1,000 workplaces were invited to participate, which involved their employees who were willing to answer the survey, from which 176 workplaces accepted. The resulting rankings are based solely on the opinions of the 30,352 employees who responded to the survey and reflect the actual workplace practices of the companies listed. (Read More)
---
April 14, 2014
Nominations are Open for Pasco EDC's 2014 Industry of the Year Awards

Nominations are being accepted for the 2014 Pasco Economic Development Council Industry of the Year Awards to be presented at its 28th Annual Appreciation Banquet. Each year, Pasco EDC evaluates and nominates top companies in Pasco County for their technology, innovation, job creation, growth, and capital investment in the area. They also measure companies' involvement in community activities. All finalists are interviewed on a range of different topics from capital investments and company growth, market and technology innovation to leadership and involvement in industry and community organizations. The Industry Awards are presented for the following categories:
Manufacturing
Service/Distribution
Technology
Nonprofits/Others
Click here to nominate a company today!

Pasco EDC has been attracting businesses and creating jobs in Pasco County for nearly three decades.  The Annual Appreciation Banquet held at Saddlebrook Resort in Wesley Chapel, Florida, is regarded as the premier business event in Pasco County.  Each year the banquet is attended by over 600 business and community leaders in Tampa Bay and Pasco County, including State legislators, county commissioners and city officials. (Read More)
---
April 9, 2014
Pasco EDC hosts Leadership Pasco Business and Industry Day
On March 20th, Pasco EDC hosted Leadership Pasco's Business and Industry Day with tours of Zephyrhills Water, Clark Dietrich Building Systems and specialty bottler, Tampa Bay CoPack. The class learned about the manufacturing, fulfillment and distribution operations of three of Pasco's growing existing industries. The second half of the day was spent learning about the various services available to small businesses from the Pasco EDC, SMARTStart Business Incubator, Small Business Development Center and CareerSource.  Local entrepreneurs gave testimonials on the day to day challenges they face while starting and running their businesses. The class finished up the day with exciting updates from Wesley Chapel Chamber President, Hope Allen and Wiregrass developer, J.D. Porter. There is no doubt that Pasco's business community is back in the driver's seat and the engines are firing on all cylinders. Below are a few pics from the day. [gallery ids="1737,1738,1743,1740,1746,1747,1742,1741,1748,1744,1750,1739,1745,1749,1751,1752"] (Read More)
---
April 7, 2014
Pictures from SMARTstart Dade City Incubator's Open House
[gallery ids="1721,1722,1723,1725,1726,1727,1720,1728,1729,1755,1756,1757,1758,1759,1760"] (Read More)
---