Attention 2014 Graduates! Tampa Bay is the best place to start a career
May 26, 2014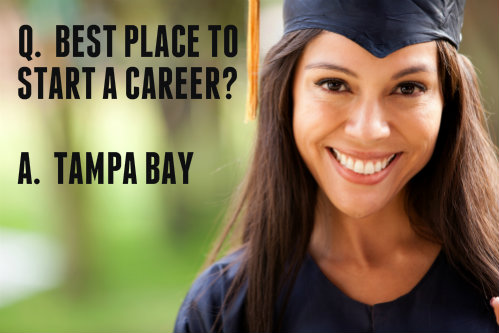 According to WalletHub's 2014 rankings, Tampa Bay landed on the top for best places to start a career in Florida, and #21 on the list of cities nationwide. That is good news for college graduates looking for a job. WalletHub analyzed and ranked the 150 most populous cities in the United States based on 18 metrics that included quality of life (average annual income, arts & entertainment, population ages, housing costs, population growth, etc.) and professional opportunities (number of jobs per 100,000 residents, technology jobs, workforce diversity, entrepreneurship, etc.) The number one defining issue at the International Economic Development Council's Leadership Summit in February was the "global fight for talent". In fact, this was pretty much the only issue. One of the challenges presented was:
Who will attract the Millennial generation, which is larger than the Baby Boomers?
The communities and states that draw in millennials and develop that generation's skills will make huge economic strides. In Pasco, we are already deeply engaged and prepared to do more to attract and train millennials to build our workforce. Here are just a few initiatives going on in Pasco:
Pasco Hernando State College has added two bachelor's degree programs and a new college campus in Wesley Chapel.
A proposal for a manufacturing skills training center is working its way toward pilot funding.
Additional career academies are being established in Pasco County Schools, including a partnership with Embry-Riddle University.
Pasco libraries are looking to become involved with innovative "maker spaces" where the public can go to learn new skills and design new products.
This is just a start. There's room to grow -- for Millennials -- in Tampa Bay -- in Pasco County.