BB&T Center for Innovation & Technology Opens at Saint Leo University
October 17, 2014
Saint Leo University and business partners Wednesday celebrated the opening of the BB&T Center for Innovation & Technology at the Donald R. Tapia School of Business. The center, made possible by a generous gift from BB&T Bank, encompasses the fourth floor of the School of Business building. Highlights of the center are the Cybersecurity Laboratory, which supports the teaching of the university's new master's degree in the field, and the Collaboration Zone, where business students work on real-world projects for area companies and nonprofits.
Tapia Business School Dean Michael Nastanski and University President Arthur F. Kirk, Jr., greeted guests and expressed appreciation for business support in collaborative attempts to improve the economy and career opportunities for graduates.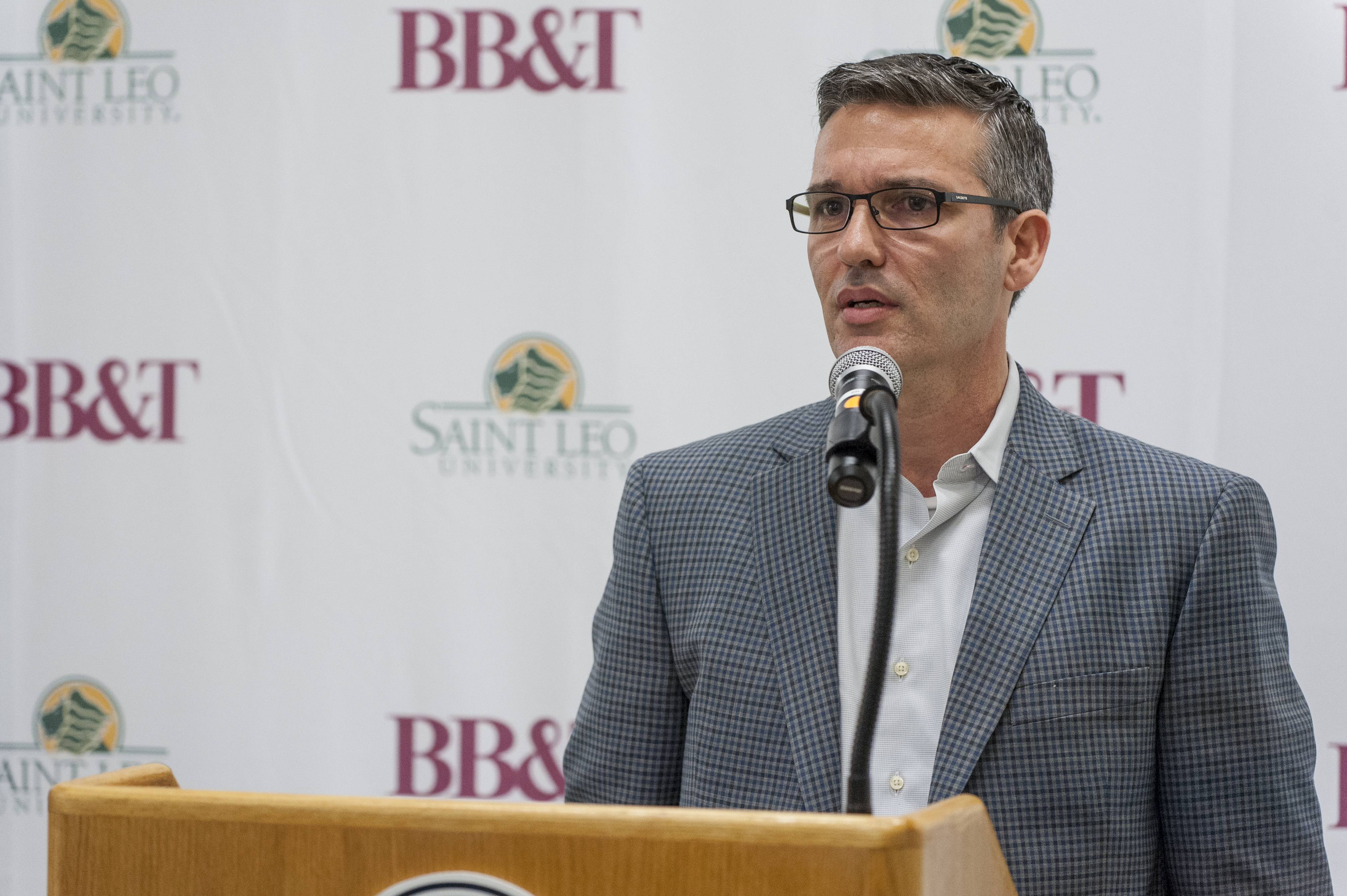 BB&T West Florida Regional President J. Kenneth Coppedge commented on the growing concern in the business world about cyber threats and the resulting need for trained cybersecurity analysts. "If I were a young person," he said, noting the Saint Leo business student at the gathering, "this is the area of opportunity that I would want to be a part of." Tampa technology executive Anthony DiBenedetto, who is also chairman and CEO of Tribridge, also emphasized career possibilities in brief remarks. Cyber concerns affect every company in the world, he said. He applauded the university and the Tapia School of Business for creating a program that he predicted will help students, companies, and the regional economy: "This is a really big deal to the area." John Hagen, president of the Pasco Economic Development, who was present at the opening, agreed with his fellow executives that concerns about securing business data will only grow. "This is a long-term trend, and the fact that Saint Leo has stepped out in front is just terrific," he said. Mr. Hagen, like others, noted that the last time he had been on the fourth floor of the landmark academic building a year ago, is was unfinished and the walls and floors were bare concrete. That is because the university did not have an immediate use for the top floor of the 48,000 square-foot, high-tech teaching facility when it was opened in 2011. But Dr. Kirk and administrators reasoned that it was wisest to build a fourth floor anyway for future uses that would undoubtedly arise. Plans for the center came together a year ago, and now the floor is completely outfitted. For more information on cybersecurity and computer science programs at Saint Leo, contact Dr. Vyas Krishnan at Saint Leo at vyas.krishnan@saintleo.edu.