Exciting things are happening in downtown New Port Richey!
July 15, 2013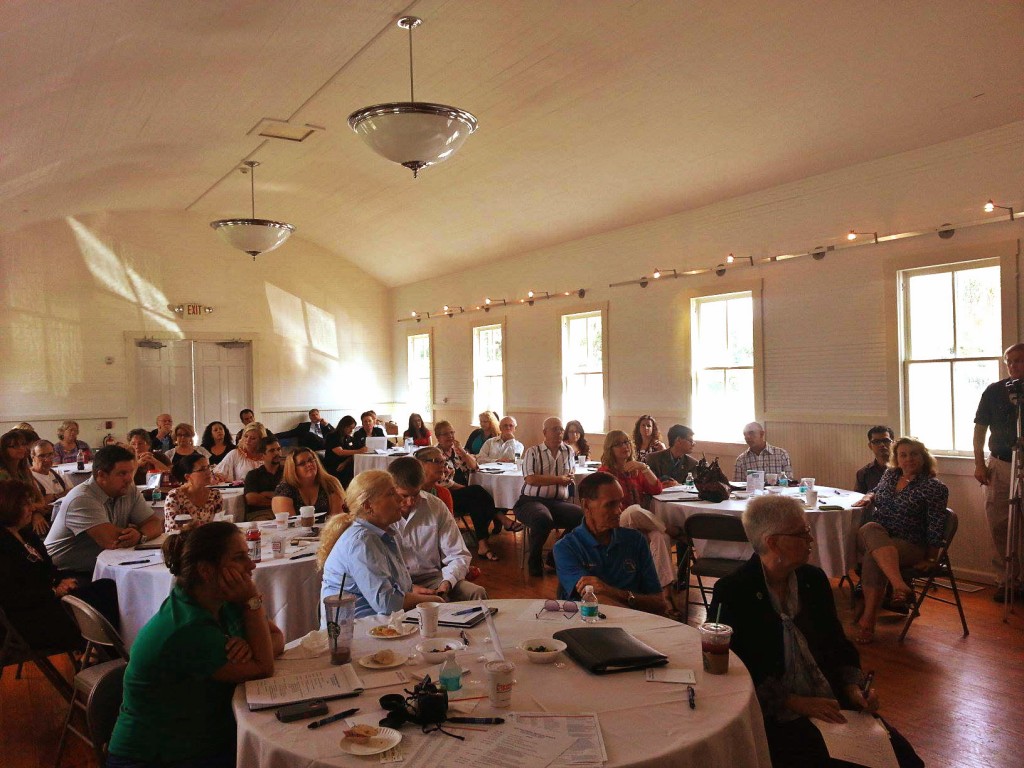 More than 50 people from diverse backgrounds came together on Friday for New Port Richey's first Economic Development Summit. Interim City Manager, Susan Dillinger kicked off the event with a reading from the book "For the Love of Cities". It was a perfect start to the day, because the reason so many came to this event was for that reason, they love their city, New Port Richey. The program featured guest speaker, Johnette Isham, Executive Director of Realize Bradenton, who shared the story of the transformation of Bradenton's downtown district. Once having been called "Bradentucky" or "The Sand Pile" it was a city that for 60 years did not think they could indeed make such a drastic change, and then it happened. They saw the vision of what it could be and with the guidance of Realize Bradenton, the community of Bradenton worked together to transform a sand pile into what is now fondly loved and visited by several thousands -- The Riverwalk. Isham spoke about how Realize Bradenton, a nonprofit, worked to bring the all of the different community organizations together for one common mission -- making downtown Bradenton a unique and preferred destination promoting the community's arts, culture, sports, and heritage. Later in the day John Hagen, president/CEO of Pasco EDC facilitated a discussion of a diverse panel including, Susan Dillinger (City of New Port Richey), Lia Gallegos (Cultural Affairs Committee), Judy DeBella Thomas (New Port Richey Mainstreet), Jamie Mick (West Pasco Chamber of Commerce) and John Walsh (Pasco EDC). The group discussed some of New Port Richey's incredible assets including (but definitely not limited to):
Cotee River
Orange Lake
Gulf of Mexico
Sims Park and other numerous local parks
History of Silent Film and Hollywood
Historic Downtown
Hacienda Hotel
New Port Richey's Recreation and Aquatic Center
Morton Plant North Bay Hospital
Pasco Ecofest
Progress Energy Art Gallery
Festivals
Richey Suncoast Theatre
International Connection with Sister City Cavalaire Sur Mer
Innovative Public Library
Proximity to Tampa/Orlando
Over 200,000 population in West Pasco
Local entrepreneurs and the creative community
Downtown businesses
Pasco-Hernando Community College
Network of urban farmers through the Suncoast Coop
and many, many more...
When you begin to tally it up, New Port Richey has some really amazing resources and characteristics that need to be celebrated! [gallery link="file" columns="4"] Following the panel discussion Mr. John Hagen spoke about how we can expand upon the City's assets for community growth. Several ideas were thrown out including: water taxis, paddleboats, park to park kayaking, a family splash park, a slow food festival, celebrity home tours, a 1920's festival, historic photo display, an ArTek magnet high school, puppet theatre in the park, an international website, French Wine Festival, or even a "Tapas Night". All are possibilities, and more can be added to the list. The question to answer is, "What does New Port Richey want to be known for?" It ended similar to its beginning with the idea that we should love our city. The great turnout was evidence that great things are happening in the City of New Port Richey. We invite you to jump aboard, and discover why everyone is saying, "I'm lovin' my New Port Richey!"