If you own a business in Pasco County you'll want to be at BizGROW 2.0 next week
October 29, 2012
Pasco Economic Development Council will host a business conference and entrepreneur exchange called BizGROW 2.0 on Wednesday, November 7 from 8:30 am to 5:00 pm. The event will be held in the Conference Center at the Pasco-Hernando Community College West Campus (Building R, 10230 Ridge Rd., New Port Richey).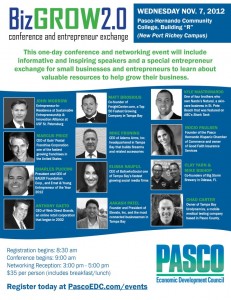 "The conference pulls together people who have successfully started businesses, both big and small. This year we are especially highlighting second stage companies, firms with 10 or more employees," said John Hagen, President/CEO of Pasco EDC. "There are a slew of companies too small to be considered a big business, and too big to be a small business. We especially want to help these companies who have passed the $1 million revenue mark to create more jobs and continue to be successful." Startups and stage one companies will also have a chance to share success stories on a 1.0 business panel featuring some of the latest Pasco EDC microloan recipients, including Chad Carter, owner of Tampa Bay Urodynamics, and Rocio Paulsen, owner of Good Faith Insurance Services. Fans of ABC's reality series Shark Tank will enjoy hearing a real Shark Tank experience from Kyle Nardo, one of the four Mastronardo brothers who own Nardo's Natural, an organic skin care line based in St. Petersburg. Nardo's Natural made it onto the Shark Tank show and struck a deal with successful real estate mogul, Barbara Corcoran. Pasco County will tout several successes of its own including keynote speaker, Matt Brosious, co-founder of FreightCenter.com one of Tampa Bay's 50 fastest growing companies that started in 1998 inside a small shipping business. 2012 Ernst & Young Entrepreneur of the Year Chuck Puccini, CEO of BAUER Foundation, will tell his company's story. Puccini also recently helped found the Florida Chapter of the German American Chamber of Commerce and serves as its first director. The 2.0 business panel includes Anthony Gaeto, CEO of Web Direct Brands; Mike Froning, CEO of Adams Arms, Inc., which recently located in Pasco County; and Zephyrhills hometown success Marcus Price, CEO of Goin' Postal Franchise Corporation. Price has been participating in Pasco EDC's stage two business growth programs over the past year, including the GrowFL CEO Roundtable.
"I have never thought I needed any help, but all of a sudden having some is making life a lot easier," Price said recently. "I would never have come to the Pasco EDC for help and had no idea how much benefit it had. Since I started going to the CEO Roundtable, I've learned enough to start retooling the company to grow it to the next level."
In addition to success stories, entrepreneurs can learn how to leverage social media to grow their businesses from Elissa Nauful of Ballywho Social, based in Wesley Chapel and one of the fastest growing social media firms in Tampa Bay. Other highlights for the conference include John Morrow, Entrepreneur-in-Residence at USF and co-author of Tampa Bay's 6/20 Plan for Entrepreneurs, and Tampa Bay's most connected businessman, Aakash Patel, CEO of Elevate, Inc. Cost to attend BizGROW 2.0 is $35 and includes a light breakfast and lunch. To register, visit http://pascoedc.com/events or call 813-926-0827 for more information.