Pasco County Developers are Ready For Commercial Projects
February 27, 2015
Every available seat in the Manatee Room of the Residence Inn in Lutz was taken as commercial real estate professionals came from across the Tampa Bay region to hear from six of the developers currently transforming the State Road 54/56 Corridor in Pasco County.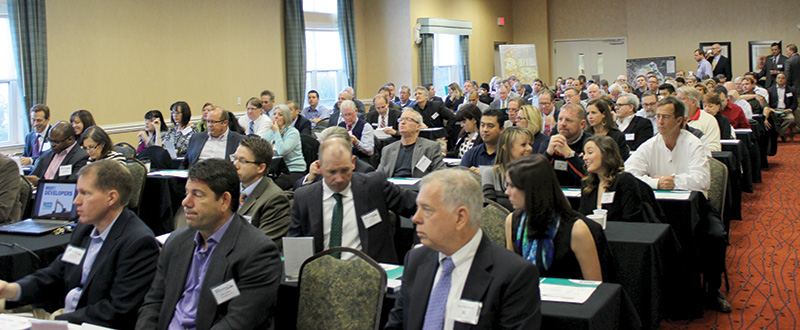 Recognizing that dirt in the county was moving faster than information, the Pasco Economic Development Council organized the Meet the Developers Power Breakfast to introduce commercial opportunities to the brokerage community. During the three-hour event, nationally-known developers such as Kitson and Partners, Newland Communities, Hines, Wheelock Communities, and TPA Group as well as local developer, JD Porter shared a common message: Developers are ready for commercial projects in Pasco County. Some of the specific takeaways from each of the developers include:
The Porter Family – Wiregrass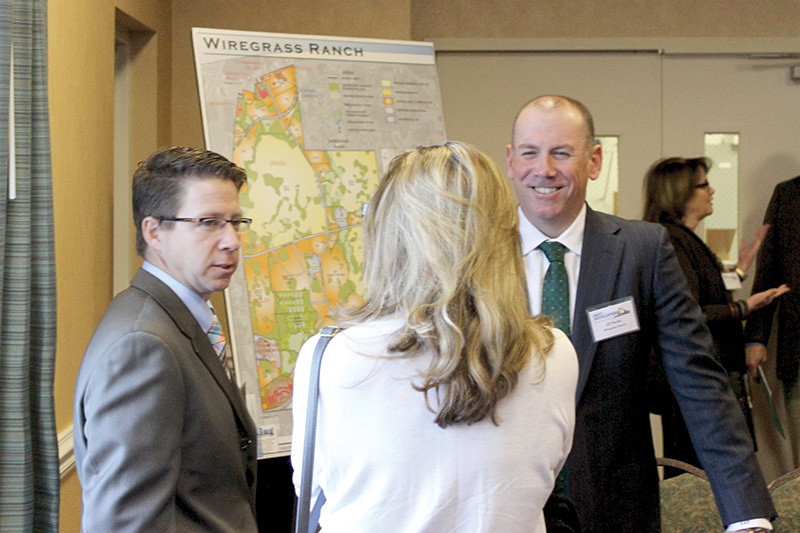 Developer, JD Porter, and Scott Sheridan of King Engineering during the networking portion of the event.
The developments at Wiregrass show no signs of slowing down any time soon, according to JD Porter. A national home builder is becoming active on the site, projects such as a hotel and assisted living facility are lined up, the Raymond James Financial Campus project continues to move forward, and two projects totaling 100,000 square feet of medical office space is currently under construction.
Newland Communities – Bexley Ranch
Tom Panaseny of Newland Communities said they are actively recruiting specialty retailers, office users, and actively pursuing hotel developers.
TPA Group – NorthPointe
Paul Michael of TPA Group stressed that commercial pads are available now and the infrastructure for office, research and development, and hospitality are already in place and ready for projects. (Click Here to view the TPA Group slide deck in pdf format)
Hines – Asturia
The initial focus for the Asturia project will be on residential, according to Lane Gardner of Hines, but commercial pads are available now with State Road 54 frontage. He also emphasized that the project has a flexible plan, allowing Hines to take advantage of any shifting trends in the future office market.
Kitson and Partners – Mitchell 54 West
In a reverse from other developers, Kitson and Partners announced they would be focusing on the commercial and retail aspect of their project first with residential to follow in their mixed-use community.
Wheelock Communities – Starkey Ranch
The Starkey Ranch project has two components with commercial opportunities:
a town center concept anchored by a grocery store and commercial sites, and
a business park with Class A office, light industrial, medical office, and more.
Following the presentations, each of the developers made themselves available for one-on-one networking directly with the commercial real estate professionals. To learn more about the opportunities available to business in Pasco County, contact Tom Ryan at (813) 926-0827 ext. 228 or byemail.