Pasco EDC Has Social Madness!
June 10, 2013
Pasco Economic Development Council has been recognized several times over the last year for increasing its awareness through social media. Now it has a chance to win $10,000 for the United Way of Pasco in the Tampa Bay Business Journal's 2013 Social Madness Competition. How can you help Pasco EDC get to the next round of the competition? Simple. Just LIKE, COMMENT, REPLY, SHARE, or RETWEET any of their posts on Facebook, Twitter or LinkedIn. Also you can log in to vote for them on TBBJ's website here: http://www.bizjournals.com/tampabay/socialmadness (Be sure to select the medium category.)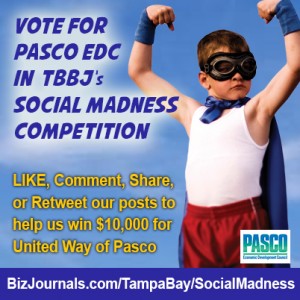 A total of 30 companies are competing in Social Madness in the Medium Category against Pasco Economic Development Council. Also in the running and would love to have your vote are Pasco-based MB2x Software in the small category, and the Tampa Bay Partnership is competing in the large category. Most importantly be sure to LIKE, COMMENT, or SHARE our posts and VOTE for Pasco EDC to help us win $10,000 for the United Way of Pasco.