Pasco Entrepreneurs Develop Strong Business Foundations in CO.STARTERS
December 15, 2015
On Monday, December 14, six Pasco County business owners pitched their business concepts to an audience of 20 area residents and community leaders in New Port Richey. The event, which took place at the SMARTstart Pasco Business Incubator, marked the final project for the entrepreneurs participating in the Autumn 2015 session of CO.STARTERS—a 10-week business boot camp program offered as part of the Pasco Economic Development Council's entrepreneurship initiatives.
View the Full Photo Gallery on Facebook Throughout the program, participants worked as a group and with a trained facilitator to look closely at their business concepts, uncover any possible issues, develop practical solutions, and speak directly with customers to validate their business ideas. CO.STARTERS benefits businesses in various stages of development from entrepreneurs vetting a business idea to successful businesses considering expanding through new product lines or services. The group graduating in the most recent session ran the gamut from true startups to more established businesses wanting to form a stronger business foundation to allow them to grow.
Teri Nichols of Spherion Staffing noted she got something of value out of every week. "I have been in business for 5½ years and have plenty of knowledge in my industry and passion for what I do," she said. "But I needed to work through some of those missing pieces in my business knowledge, like cash flow, that will enable me to connect even more people with the right jobs."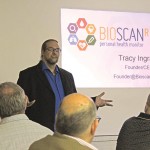 Tracy Ingram of BioscanR, a personal health monitoring company specializing in FDA approved Bluetooth wearable sensors, shared Nichols' sentiments. "I know my software and product very well," he said. "But I needed to ensure my company's business fundamentals—like milestones and break evens—were solid to give us the best chance of success." Other business owners presenting during the event included:
Scott Davies, Founder of PointLeader—providing predictive analytics to small business owners to help them make data-driven decisions since 2012.
Janel Norton, Cofounder of Veterans Alternative Therapy - serving returning service member experiencing PTSD related symptoms related to combat and/or military sexual trauma and their families through a resiliency and strength-based program. Founded in 2015.
Deborah DeVito, Founder of Impressions of You—custom jewelry design and repair.
Bill Thompson, Developer of Know Your Votes—A website, currently in development, presenting the voting records of candidates in an easy-to-understand format to help voters make informed decisions.
The next session of CO.STARTERS begins Tuesday, January 12 in Zephyrhills; registration is available online through January 8. Additional sessions will rotate throughout Pasco County in 2016. For more information about CO.STARTERS and steps to register, visit www.smartstartpasco.com. CLICK HERE to view the full photo gallery for the evening on our Facebook Page