Promote Pasco During National Travel and Tourism Week
May 7, 2012
Pasco County's TDC and Office of Tourism Development have several activities planned for celebrating the 2012 National Travel and Tourism Week:

Monday, May 7 the Local Special Event Grant application process kicks off through Friday, June 29. Tuesday, May 8 in the afternoon, the Office of Tourism will join the PANDA organization and other tourism stakeholders to assist in the promotion of the Eurobird marketing campaign. The meeting takes place at the Land O' Lakes Recreation Complex from 1-4 p.m.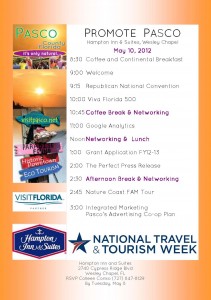 Wednesday, May 9 the Office of Tourism attends the Hernando Tourism Summit and makes a presentation to the Central Pasco Chamber of Commerce on "The Power of Travel and Tourism." Thursday, May 10 its the second Promote Pasco Workshop scheduled at the Hampton Inn and Suites in Wesley Chapel. Tourism partners will talk about marketing and advertising your event to increase Pasco's economic impact through tourism. Friday, May 11 it's a promotional trip to the Villages Travel Expo. Just outside Ocala this town has active retirees ready to take a day trip or an overnight adventure to Pasco County.
Source: Pasco County Website