Save the Date for BizGROW 2.0
July 23, 2012

Calling all entrepreneurs, business owners, and start-up hopefuls in Pasco County and around Tampa Bay to attend BizGROW 2.0 hosted by Pasco Economic Development Council at Pasco-Hernando Community College on Wednesday, November 7, 2012. This one-day conference will include informative and inspiring speakers and a special entrepreneur exchange for small businesses and entrepreneurs to learn about valuable resources to help grow their business. To begin the day John Morrow, co-author of the Tampa Bay 6/20 plan will share about Tampa Bay's 20-year plan to build a thriving entrepreneurial ecosystem.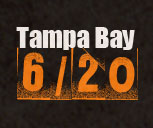 The Tampa Bay 6/20 initiative was named, in part, for the date it was released (June 20, 2012) and a quote by Brad Feld of the Foundry Group who said, "Building entrepreneurial community takes at least a half dozen entrepreneurs that are committed to provide leadership over 20 years."
"To get an entrepreneurial ecosystem to flourish, we found successful area entrepreneurs have to get behind the plan," says John Morrow, who has started and sold companies of his own. Morrow serves as "entrepreneur in residence" at the University of South Florida St. Petersburg and co-founded the Gazelle Lab business accelerator to mentor area startups. (Tampa Bay Times, 6/20/12)
Come to BizGROW 2.0 to hear more from John Morrow, the man leading the charge behind the Tampa Bay 6/20 plan for entrepreneurs.