Thanks to Saint Leo University, Pasco EDC's Microloan Fund is Ready to Loan!
February 21, 2012
Pasco Economic Development Council, Inc. is proud to announce a total of $220,000 has been raised for its new microloan fund program, thanks to a generous donation by Saint Leo University.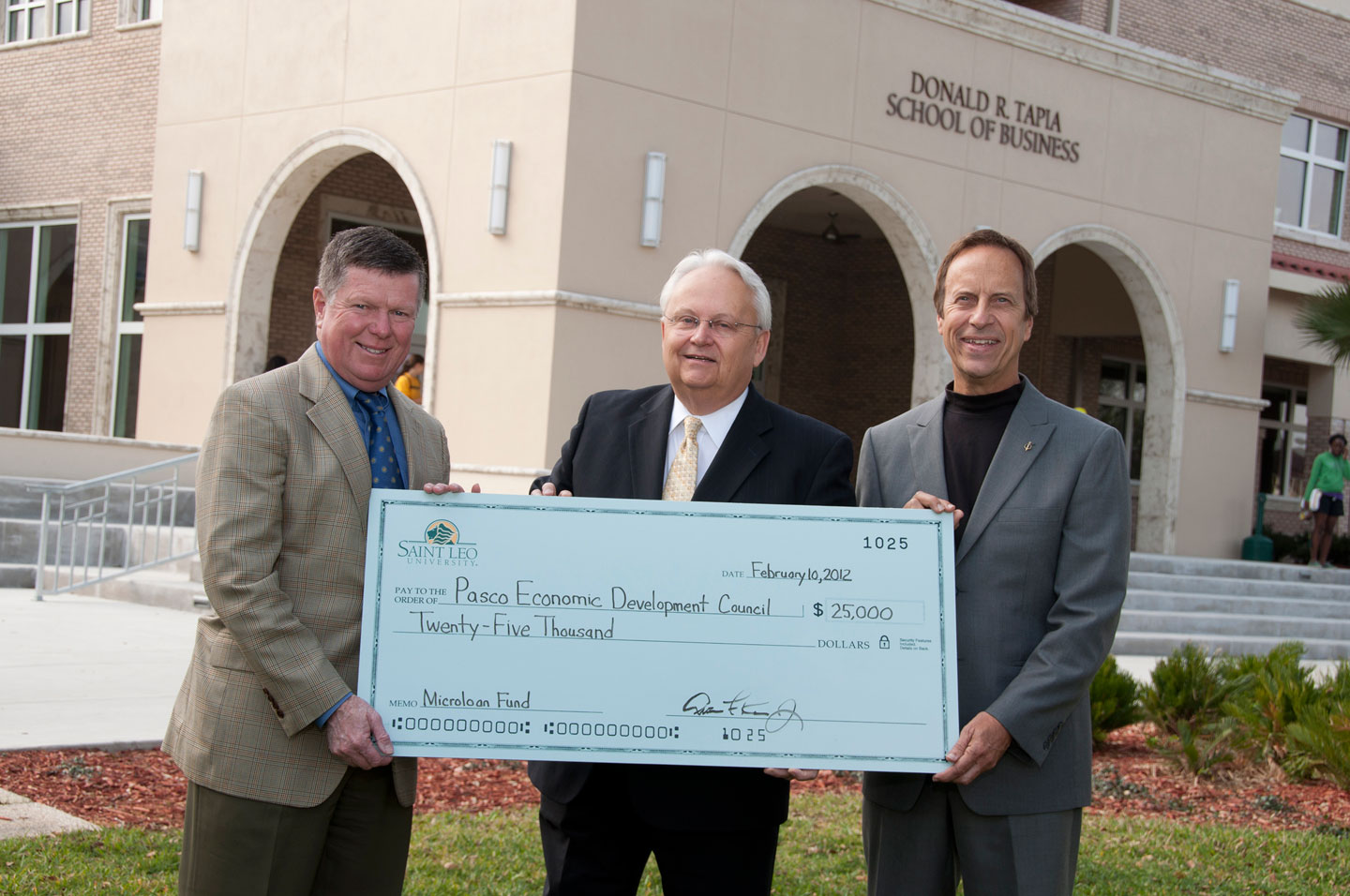 "The Pasco EDC is a valuable partner with Saint Leo University and the Donald R. Tapia School of Business. The council has worked closely with our business students, faculty and staff in helping companies grow," said Dr. Michael Nastanski, Dean of the Donald R. Tapia School of Business at Saint Leo University. Dr. Nastanski added that the Donald R. Tapia School of Business is committed to a long and prosperous relationship with Pasco EDC. In addition to the $25,000 donation, Saint Leo University will share its faculty and students to help evaluate projects and provide technical assistance to successful applicants. "Saint Leo's donation to the fund has put us over the top," said John Hagen, Pasco EDC President/CEO. "We said we would go when we received commitments for at least $200,000. We couldn't be more thrilled to partner with Saint Leo's award-winning faculty and outstanding business students to make a difference for small businesses in our community. Excitement has been building and the inquiries are beginning to flood into Pasco EDC. According to Hagen, "The phones started ringing when we went public with our plans and haven't stopped since!" On Tuesday, February 21 the Pasco County Board of County Commissioners is meeting to approve the fund's lending policies and procedures so that Pasco EDC may begin lending as of March 1. The microloan program will not only lend money to small businesses located in Pasco County, but will offer free technical assistance and training to help work through the challenges of starting or growing a new business. "We believe that there are many people with great ideas and skills who simply lack the money and resources to get started -- or to expand. We want them to succeed," said Hagen. Loan applicants must be for-profit companies located in Pasco County, and borrowers must show they have the experience and resources to be successful business operators. Proceeds may be used for working capital, inventory, supplies, furniture, fixtures, machinery and equipment, but not to purchase real estate or to refinance existing debt. Please call the Pasco EDC at 813-926-0827 for more information or to consider donating to the fund.