Twitter CEO, Dick Costolo, tweets shoutout to Pasco Schools
November 4, 2013
Could Pasco County, Florida be the most innovative county in the United States of America when it comes to using social media? If there were an award for that, Pasco would definitely have a shot at winning.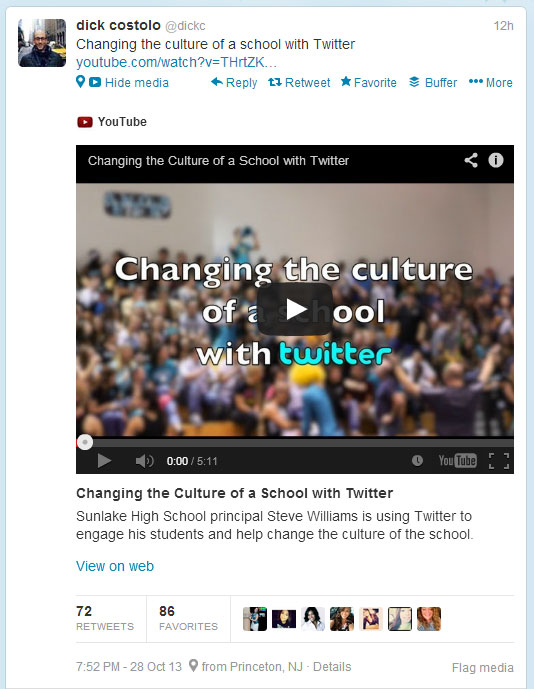 Last week, one of Twitter's biggest influencers, Twitter's CEO, Dick Costolo sent a tweet out to 1,120,837 followers, featuring a video from Pasco County Schools about how Sunlake High School's Principal is changing the culture of the school through Twitter. Pasco County is leading the way in Tampa Bay for using social media in schools. According to an article in the Tampa Bay Times, "Over the past 11 months, the Pasco School District has gotten social media religion. Twitter is tops, with YouTube and Facebook right behind." Schools aren't the only thing Pasco County has going for it when it comes to social media. Let's take a look:
Expert Social Media Companies in Pasco
Pasco County is home to several rapidly growing social media firms one of which is Ballywhosocial that works directly with companies and organizations to develop social strategies on a variety of platforms. Also home to Pasco County is Head of Lettuce Media founded by Antony Francis, a Social Media Strategist who has helped many companies integrate technology in communications from live online auditorium events in the 90′s to online learning formats in the early 2000′s.
Pasco Companies with Serious Social Media Strategies
Several Pasco County companies are becoming widely recognized for their social media efforts. Recently, a Wesley Chapel-based software development firm, MB2x won the Tampa Bay Social Madness competition and went on to compete and almost win the national competition. Also home to Pasco is Artix Entertainment, a video game development firm boasts 25,000 followers on Twitter, 76,000 fans on Facebook, and a YouTube account with over 15,000 subscribers and nearly 8 million views! The CEO of Artix Entertainment has 83,336 followers on Twitter as well. A local company called CareSync built a social media app to make it easy for a family to keep track of their health records and communicate with doctors. The application is built on the Lifedash platform, which was originally created as a photo sharing app called "Dashes", also built in Pasco County.
Organizations Getting Social in Pasco
In addition to Pasco County Schools, Pasco County's Office of Tourism boosted their social media efforts this year and have gained 5,658 very active followers on Facebook. Pasco Economic Development Council jumped onto the social media train in 2012. Starting with zero followers, the Pasco EDC has grown quickly to a total of 2,188 followers on Twitter. In 2013, they took it a step further and launched www.PascoCounty.tv a WebTV channel focusing on positive stories about Pasco County through its own videos on YouTube as well as video footage from it's local partners. The goal is to spread the news about the positive things going on in Pasco County and in economic development in Tampa Bay. PascoCounty.TV videos through YouTube have received over 6,500 views with an average of 1 min viewing time. Pasco EDC also earned recognition for its social media efforts winning the following three awards in the last two years:
2013 Florida Economic Development Award for Interactive E-Media for PascoCounty.TV
2012 Florida Economic Development Award in the category of Social Media
2012 EconDev Award from Business Facilities Magazine for Best Use of Social Media
Perhaps social media companies should consider moving to Pasco -- the County that is transforming the way social media is used to live, work and play!