Zephyrhills Airport Manager Receives Top Honors
August 18, 2014
Zephyrhills Municipal Airport Manager, Mike Handrahan, has been named the Federal Aviation Administration's (FAA) General Aviation Airport Manager of the Year for the Southern Region Airports Division.This is the second time since 2010 that Mr. Handrahan received this recognition. The Aviation Airport Manager of the year is someone who has exhibited exceptional aviation leadership, has tirelessly worked to promote the aviation industry, or has striven to achieve efficiencies and improved productivity with their organization.
"Last year was a big year for the Airport, but I must say, I didn't see it coming. To be recognized by your peers and colleagues is a tremendous validation and really gratifying." - Mike Handrahan
Contributing to Handrahan's recognition are the following major accomplishments:
Completion of over $5 million in Airport improvements
Recruitment of two new key businesses to the Airport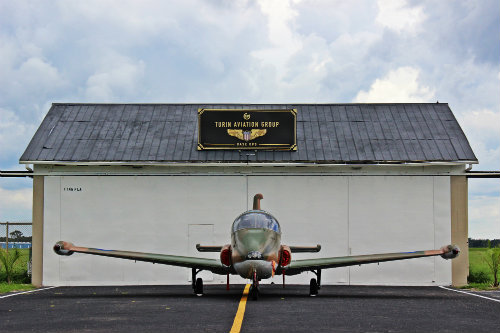 Airport improvements undertaken with Handrahan's leadership included a newly rebuilt 5,001 x 100 ft runway with LED edge lighting, new PAPI's and RNAV IFR approaches, new taxiway lighting, fuel farm upgrades, and other aviation-friendly improvements. Handrahan played the lead role in recruiting the Turin Aviation Group, an unmanned aviation technology testing group, and Rotors of America, a civil aviation pilot training facility. Both companies service government, regional, national and international clients and have leased airport property to meet their developing aviation market needs. Handrahan was also instrumental in landing two additional non-aviation businesses at the East Side Airport Industrial Area and a third company which recently accepted a job creation incentive package offered through Pasco County. Zephyrhills Municipal Airport, centrally located adjacent to I-4 and I-75 in the Tampa-Orlando Super-region, is the only publically owned and operated airport in Pasco County.
"Mike brings a wealth of aviation expertise and business acumen to Zephyrhills and is key to uncovering the great potential of our aviation-related economic assets. Mike has proven that, clearly, Zephyrhills is the place you want to land your plane and your business." - Vonnie Mikkelsen, Greater Zephyrhills Chamber of Commerce Executive Director
Zephyrhills a is a community of approximately 14,000 residents located in booming Pasco County, the growth corridor for Tampa Bay, and a central part of the Tampa-Orlando Super-region. The City is known for its pure, clean water. Zephyrhills Natural Spring Water―a Nestles America brand―has been bottled in Zephyrhills using water from the Crystal Springs natural preserve for more than 50 years. First-class medical institutions like Florida Hospital Zephyrhills and Florida Medical Group have campuses in Zephyrhills, and the town abounds with recreational opportunities for thrill-seekers who find their way from around the world to Skydive City, as well as for business, recreational aviators and hobbyists who love the convenience and accessibility of the Zephyrhills Airport. Golf, parades, festivals, hiking and biking trails, fishing and historic district shopping and dining make up the perfect combination for anyone pursuing the "Healthy 100" lifestyle.