Pasco EDC Presents: Pasco EdX Virtual Talks
August 19, 2020
This event has expired.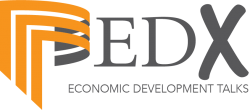 Date & Time: Wednesday, August 19, 2020
(11:00 am – 12:00 pm)
Location: Online (log in instructions will be e-mailed to
registered participants)
Registration: No Cost
Join us virtually as we invite experts from across the country to speak about various topics in economic development and share their stories with our community. While our face to face meetings are limited at this time, we are turning that weakness into the strength of having access to leaders across the country as we hear about different communities are handling these trying times. We will also have virtual networking before and after the event, allowing attendees to connect with each other and stay engaged.
Making Dollars While Making Change: Using Business & Entrepreneurship for Good
Jonathan Quarles has had a longstanding passion for building businesses and creating change. As a serial entrepreneur, he started his first business as the top-selling paperboy in his neighborhood at the age of 8. Thirty years later, Jonathan has created and developed more than 10 businesses, ranging from a custom T-Shirt operation to a creative printing company.
In 2003, Jonathan fused his unparalleled ability to build bridges between people and ideas with his business acumen to launch The BTL Group. As Founder and CEO, he has transformed private and public organizations by helping them connect the dots on critical resources, important community dynamics, and lucrative partnerships. Jonathan's work has unlocked more than $400M of value, earning him a place as a highly sought-after advisor for identifying business growth opportunities and as one of the world's most well-known connectors. Today, The BTL Group continues its journey as a thriving strategic consulting business and has now expanded its geographic footprint to several countries outside of the United States.
As a native of Flint, Michigan, Jonathan couldn't sit on the sidelines as a devastating water crisis plagued his hometown. Quickly, he realized that Flint was the U.S. epicenter for what was actually a global crisis – 1 in 3 people around the world don't have access to clean drinking water. Jonathan knew that a challenge of this magnitude called for an unprecedented solution – with that, he founded Quartz Water Source. In its initial phase, Quartz is bringing cutting edge clean water generation technology to the cities and states that need it the most. Given how inextricably tied clean water is to health and self-reliance, Jonathan hopes that this technology will empower communities around the world. Quartz has pledged to donate a portion of its proceeds to water-related projects in underserved areas around the U.S.
Jonathan is also an avid angel investor, focusing on fast-growing, disruptive companies with a social impact component. To that end, he is an equity partner in Pleasantrees, a Michigan-based cannabis company with a focus on hiring and training ex-cons with minor recreational marijuana charges, many of whom are Black and Brown. Jonathan oversees all of the company's social equity and community programs.
Jonathan is currently working on his first book, Making Dollars While Making Change, a storytelling platform about his most formative experiences and a playbook for entrepreneurs who strive to build socially impactful businesses. The book is scheduled to launch later this year.