Pasco County Major Announcements
August 28, 2019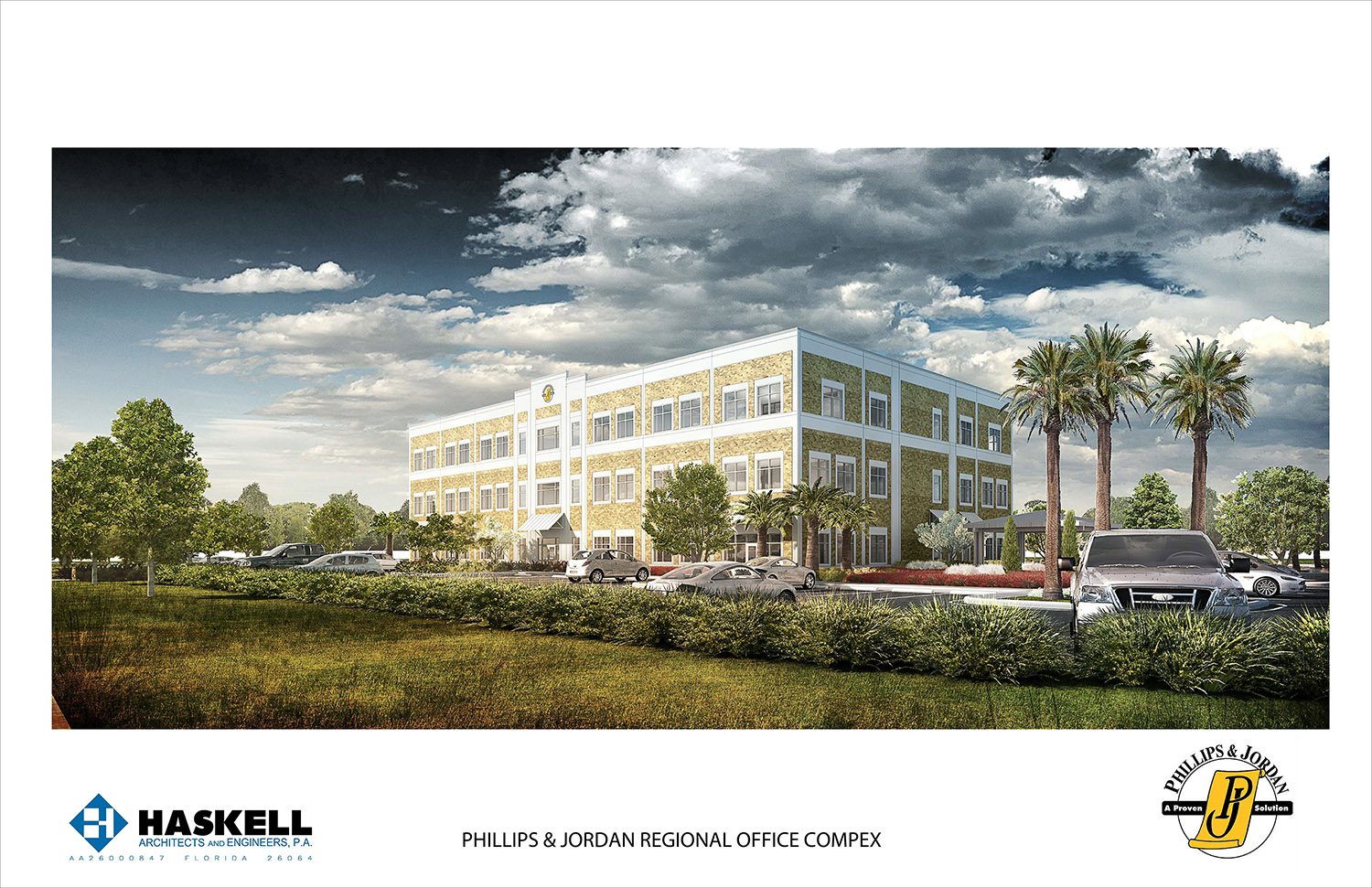 Phillips & Jordan to Build Regional Headquarters at SR 52 and I-75
The Company purchased 5 acres and is investing more than $15 million in the 47,432 square foot facility
PASCO COUNTY, FLORIDA (August 28, 2019) — Phillips & Jordan, Inc. (P&J), a national woman-owned heavy civil and ROW infrastructure contractor, based in Knoxville, Tennessee, is building a regional corporate headquarters in a new 47,432 square foot Class A office building in the One Pasco Center business park, just east of the State Road 52 and Interstate 75 intersection....(Read More)
---
August 26, 2019
Pasco County Welcomes New Manufacturer Fleda Pharmaceuticals
Fleda Pharmaceuticals announces a two-phase $4 million project to build a manufacturing facility in Odessa, Florida
PASCO COUNTY, FLORIDA (August 26, 2019) —Fleda Pharmaceuticals Corp. (FPC), is a new pharmaceutical manufacturing company set to open their doors this winter on Byrd Legg Drive in Odessa. Fleda purchased an existing office building and a 9,600 square foot warehouse to initiate phase one of their plans....(See More)
---
June 3, 2019
Brew Bus Brewing, Inc. to Expand to Pasco County, Florida
The brewing, transit and event space company will bring 46 total jobs and more than $8.7 million in capital investment to Pasco County
PASCO COUNTY, FLORIDA (June 3, 2019) —Brew Bus Brewing, Inc., the company behind brands Florida Avenue Brewing Co. and Brew Bus Brewing, announced its purchase of a 34,000 square foot facility in Wesley Chapel to expand its operation to create 46 local jobs and more than $8.7 million in new capital investment in Pasco County. The facility, located at 2029 Arrowgrass Dr, Wesley Chapel, FL 33544, will be used for brewing, canning, and distribution of its craft beers.....(Read More)
---
June 19, 2018
TouchPoint Medical Inc. to Relocate Operations from Multiple States to Pasco County, Florida
Medical manufacturing company will bring 228 total jobs and a capital investment of over $23 million
PASCO COUNTY, FLORIDA (June 19, 2018) — Today Pasco County and the Pasco EDC announced TouchPoint Medical Inc., a leading global provider of innovative and intelligent hardware and software solutions that enable safe and effective delivery of outstanding patient care, will relocate their operations from numerous states to Pasco County, Florida. TouchPoint Medical will purchase land and create a new 118,200 square feet facility. This relocation will create 116 new jobs and more than $23 million in new capital investment....(Read More)
---
February 20, 2018
Welbilt to Add 110 New Jobs and Expand Its Customer and Technology Center in Pasco County, Florida
Foodservice Innovation Leader Plans 42,000 Square Foot Expansion.
Welbilt Inc. (NYSE: WBT), a leading commercial foodservice equipment manufacturer, will enlarge their presence in Pasco County, which is in the greater Tampa Bay area of Florida. Welbilt will remodel and expand their research and development labs by adding an additional 42,000 square feet of laboratory, test kitchen space and an improved customer experience center. The expansion will create 110 jobs and more than $10 million in new capital investment in Pasco County over the next three years....(Read More)
---
October 2, 2017
Meopta U.S.A. Chooses Pasco County for Hi-Tech Manufacturing Facility
Photonics company to create 47 new jobs.
The Pasco Economic Development Council (Pasco EDC) and Pasco County worked together to recruit Meopta U.S.A. (Meopta), to open a new facility in west Pasco. Meopta plans on using the Pasco County Job Creation Incentive Program in hiring 47 new positions in advanced manufacturing. Meopta is a manufacturer that has been headquartered in Hauppauge, New York, for 20 years. They specialize in the manufacturing and distribution of precision optics including binoculars, and spotting and rifle scopes. ...(Read More)
---
August 31, 2017
UC Synergetic Expands Office in Pasco
Engineering company to create 25 new jobs.
The Pasco Economic Development Council (Pasco EDC) assisted UC Synergetic to expand their regional operations in ComPark 75 in the Wesley Chapel Area. The engineering company expects to create 25 new jobs in addition to the 80 current employees in the new 19,000-square foot office location.
"Pasco County's business community is growing along with our economy," said Mike Moore, Chairman of the Pasco County Commission. "It makes sense UC Synergetic wants to expand in Pasco, they will have access to a great workforce."....(Read More)
---
July 26, 2017
Superior Precast, LLC. begins their search to hire 27 new employees by September
Superior Precast is a new FDOT project supplier, manufacturing precast concrete products for The Reinforced Earth Company to be used in the construction of major road projects in Florida. After working closely with the Pasco EDC, Berkshire Hathaway Commercial Division, Pasco County, and Dade City, Superior decided to locate into 62,777 square feet of industrial space in the Dade City Business Center.
"Big things are happening here in Dade City," exclaimed Dade City Mayor, Camille Hernandez. "We're happy to have them here, and to add that many jobs to our local economy is truly amazing." Pasco County District 1 Commissioner, Ron Oakley, shares similar thoughts with the Mayor. Oakley expressed, "We need strong and stable jobs for our residents and to win this project is exciting." … (Read More)
---
September 22, 2016
TRU Simulation + Training Expands Its East Coast ProFlight® Pilot Training Facility
TRU Simulation + Training Inc., a Textron Inc. (NYSE: TXT) company, announced that it entered phase II of its expansion plan for its Pilot Training Center in Lutz, Florida located in Pasco County. Phase II of the expansion will create approximately 100 jobs in TRU's training business within four years and generate more than $29 million in capital investment.
Phase I was previously completed in 2015 when 15,000 square feet of existing space was converted into Training Center Operations. TRU Simulation + Training's Tampa facility specializes in business and military simulator manufacturing as well as serving as an FAA-certified Part 142 OEM-supported Pilot Training Center for several Textron Aviation products… (Read More)
---
August 23, 2016
METTLER TOLEDO Announces New Facility to be Built in Pasco County
The Pasco Economic Development Council gathered with representatives from Enterprise Florida and Pasco County officials to announce that METTLER TOLEDO will construct a new 250,000-square-foot facility at a site adjacent to the Suncoast Parkway in Lutz, Florida. The new facility, built for the company's Product Inspection Division, will be home to more than 500 employees, including 185 new positions and 320 retained jobs. More than $30 million in capital will be invested in the region.
METTLER TOLEDO's Product Inspection Division is the global market leader in the field of check-weighing, industrial metal detection, and x-ray inspection systems for the food, pharmaceutical, and packaged consumer goods industries… (Read More)
---
July 23, 2015
Leggett & Platt to Employ Over 100 in new Pasco County Facility
Leggett & Platt (NYSE: LEG), a global manufacturer of diversified products, announced today that it will be locating a new manufacturing facility in northwest Pasco County near Spring Hill. The new operation will be located at 15800 Hudson Avenue, an 80,000 square-foot facility the Company owns. The expansion is expected to create approximately 124 new jobs over the next few months… (Read More)
ADD TO REPORT
As you navigate our website, you can use the "Add Page to Report" button to add any page or property to a custom report that you can print out or save.