New Pasco County Company Bravado Pharmaceuticals LLC
January 22, 2020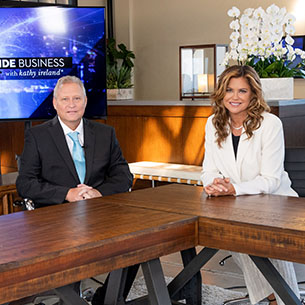 The life science and manufacturing company will invest $3 million in its new facility
PASCO COUNTY, FLORIDA (January 22, 2020) — Bravado Pharmaceuticals LLC Owner and CEO Brian McMillan has over 30 years of analytical, formulation and process development experience. After spending his career working at numerous nationally acclaimed companies, McMillan decided to open his own pharmaceutical company in Pasco County. The company is investing $3 million in the purchase and buildout of a 7,500 square foot facility and manufacturing equipment and will hire 10 new jobs within the next year and up to 20 over the next three years. Within three months of opening his company, McMillan was invited to be showcased on Worldwide Business with kathy ireland®.
"Not only will Bravado be developing and manufacturing pharmaceuticals, they will be using this facility as a research center and have synergies with the University of South Florida and University of Florida," said Bill Cronin, Pasco EDC President and CEO. "The life sciences industry in Pasco County has been rapidly growing over the last few years and we are thrilled to welcome them to our business community."
"I love where I live in Wesley Chapel. It has everything I need, so I wanted to be able to work here as well," said Brian McMillan, President/CEO, Bravado Pharmaceuticals LLC. "I live just a couple miles from my business, how great is that?"
McMillan also just hosted Worldwide Business with kathy ireland® at the Bravado Pharmaceutical facility. The television series showcases the latest, most exciting business, technology, and health stories offering viewers a glimpse into the thoughts and insights of some of the brightest minds in the industry today. The show airs weekly to audiences in more than 50 countries across the globe, and Bravado's segment will reach over 300 million households worldwide on news outlets such as Fox Business News, Bloomberg, and Reutters.
"Having the Worldwide Business with kathy ireland® show feature us is a huge testament to the research and development we are doing," said McMillan. "This avenue will give us the opportunity to create global relationships with pharmaceutical companies offering differing development platforms."
"I am thrilled to welcome Bravado to our community," Pasco County Commission Chairman Mike Moore said. "The story of Bravado shows Pasco County is the premier place to start and grow a business for our citizens. I am very appreciative of our partnership with the Pasco EDC to help make these targeted industry projects happen."
In his new endeavor at Bravado Pharmaceuticals, McMillan hopes to utilize synergies with both the University of Florida and the University of South Florida to service virtually any type of disease state using the platform of a contract research organization (CRO) servicing clients who might bring projects to Bravado for development.
Bravado Pharmaceuticals will specialize in developing multi-layer tablet dosage forms and combination products as well as bio-availability enhancement utilizing complexation and solid-state dispersion among other techniques.
About Pasco Economic Development Council
The Pasco Economic Development Council is committed to developing Florida's most competitive climate for business growth by providing businesses, that seek to start, move, or grow in the North Tampa Bay area, a comprehensive suite of programs that can help them to reach their full economic potential. Since 1987, Pasco EDC has fostered a strong partnership funded by corporate and public investors focused on the economic vitality of Pasco County. Discover more at www.pascoedc.com.