Upcoming Trade Missions & Export Opportunities
UPCOMING FALL 2023
Santo Domingo, Dominican Republic
September 11-14, 2023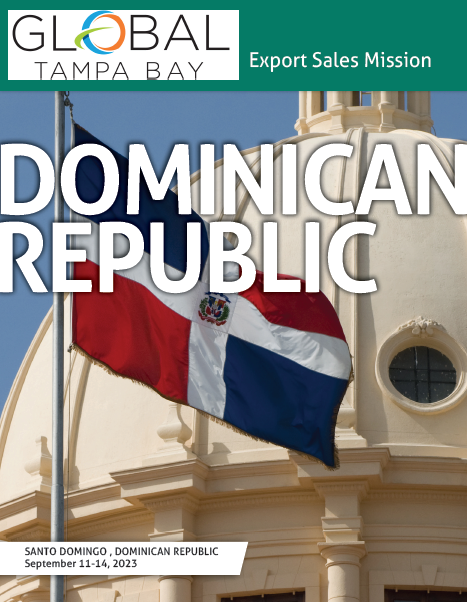 The Pasco Economic Development Council and Global Tampa Bay (GTB) invites Pasco-based manufactures and professional service providers to attend the Trade Mission to Santo Domingo, Dominican Republic. Global Tampa Bay will be working with the U.S. Commercial Service and its qualified partners to coordinate the one-on-one matchmaking meetings for Pasco participating companies with potential buyers, distributors, and representatives from the Dominican Republic and Enterprise Florida has grants available to assist in covering costs.
Have you worked with SBDC on an export marketing plan previously, then this trip could be FREE! Haven't done one yet? For approximately $1,500 you can have curated meetings in the DR on this 4-day trade mission! Fill out our interest form here to learn more and see if your company is eligible.
Did You Know?
The Dominican Republic (DR) is Florida's fifth largest export market, making this an excellent market for Tampa Bay Exporters.
The U.S. is the Dominican Republic's largest trading partner and the United State's share of consumer goods imported is 70% of the total U.S. product standards.
Promising sectors include: Air Conditioning and Refrigeration Equipment, Automobile Parts and Services, Agricultural Products, Building Products, Hotel and Restaurant Equipment, Medical Equipment, Printing and Graphic Arts Equipment and Supplies, Renewable Energy, Safety and Security Equipment and Supplies, and Telecommunications Equipment
Learn More About What to Expect
Gold Key Grants Available
Enterprise Florida is offering Gold Key Grants to qualified companies that will pay for 100% of the registration fee for the first company representative.
STEP Grants Available
STEP helps small businesses overcome obstacles to exporting by providing grants to cover costs associated with entering and expanding into international markets including costs associated with participation in export trade missions.
For more information, please contact:
Interested in learning more about why your company should participate in this mission? Complete the form below and set up a quick call with Turner Arbour | 813-536-9834 | tarbour@pascoedc.com
Not all companies are eligible for each market, by completing the form below we know you would like to learn more and check your eligibility.
"The Pasco EDC was fantastic to work with on the trade mission to Germany. They developed a very detailed plan for the entire mission that made it easy to prepare for the trip and the daily itinerary kept us on track to maximize the business opportunities of the mission. We made some wonderful connections that I'm sure will serve us well into the future."
— Andrew McCutchen, CEO, Baymar Solutions