Pasco County Education
Pasco County Schools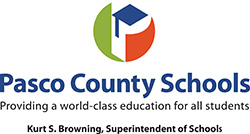 Pasco County Schools provides access to a well-rounded curriculum to maximize personalized learning, including the arts, world languages, physical education, fitness and nutrition, science, social studies, English language arts, mathematics and technology, as well as innovative career-technical programs. Students are afforded many opportunities to engage in hands-on, collaborative and project-based learning.
Students attending Pasco County schools have the opportunity to participate in challenging academic programs including, theInternational Baccalaureate Diploma Program (IB), Advanced Placement (AP) and Dual Enrollment (DE) courses, the Cambridge Advanced International Certificate of Education Program (AICE), Career Academies, and more.
Pasco County Schools participate in School Choice, which allows Pasco County students to attend a public school outside their assigned boundary area or a public school in a neighboring county, as long as the requested school is not critically overcrowded.
For more information about Pasco County Schools visit the Back to School/Newcomer Guide on the Pasco County Schools website.
Visit the Pasco County Schools website
---
Pasco County Private Schools
East Pasco
Central Pasco
West Pasco
ADD TO REPORT
As you navigate our website, you can use the "Add Page to Report" button to add any page or property to a custom report that you can print out or save.