Gary Plastic Packaging Corp to Locate to Pasco County, FL
December 6, 2022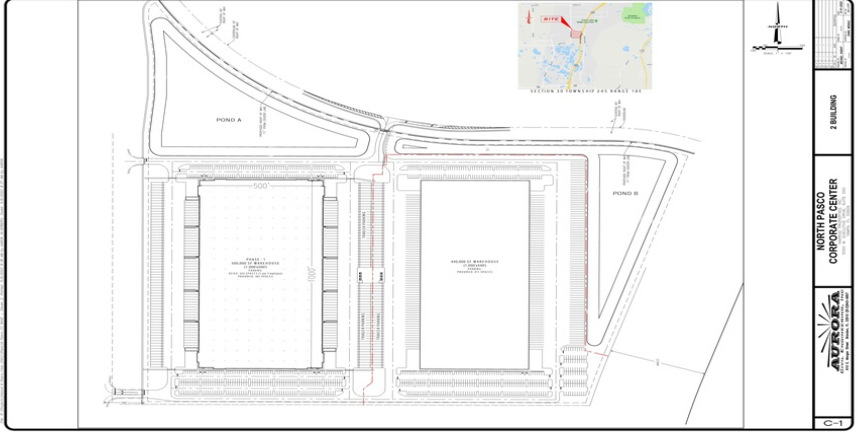 The company is anticipating creating approximately 555 total new jobs and investing $16,000,000 in lease hold improvements.
PASCO COUNTY, FLORIDA (December 6, 2022): The Pasco Economic Development Council (Pasco EDC) is happy to announce the relocation of Gary Plastic Packaging Corp (Gary Plastic) to Pasco County, Florida.
The company will be leasing 279,000 square feet of a 400,000 square foot building in the new North Pasco Corporate Center currently under development by Harrod Properties. This is one of two buildings on the 72 acres off Softwind Lane in Spring Hill. Gary Plastic is anticipated to bring approximately 555 total new jobs to the county over a 3-year period, with approximately 184 jobs at 125 percent of the average county wage. The company is investing approximately $16,000,000 in lease hold improvements such as manufacturing equipment, furniture, and other fixtures to create a modern state of the art manufacturing facility. Additionally, Harrod Properties is set to invest approximately $50,000,000 in the building, land, and infrastructure.
"It is so nice to see an environmentally-focused family business that employs hundreds of people choose Pasco County to call home," said Bill Cronin, President/CEO, Pasco EDC. "We are thrilled to welcome Gary and to see them locate into another great speculative property, we are here to help them grow for years to come."
Gary Plastic is an environmentally focused company committed to providing customers with manufactured reusable products with an average content of 30 percent recycled plastic resins and continuing its R&D to incorporate bio-plant based materials in their products. The Company has two product lines, Promotional Products and Packaging. Its Promotional Products Division manufactures, prints and assembles plastic products for the promotional industry. Its Packaging Division manufacturers stock rigid/reusable plastic containers primarily for the pharmaceutical, dental and electronics industries.
"It has been a pleasure working with the Pasco EDC, they were extremely helpful from the minute we connected. Given The Corporate Center's location, and its opportunity for efficient growth, Pasco County was a natural fit for Gary Plastic's new manufacturing facility" shared Richard Hellinger, President of Gary Plastic.
Today, the Pasco County Board of County Commissioners approved multiple incentives including ad valorem tax reimbursement, Job Creation Incentives (JCI) for 184 jobs totaling up to $552,000, High Impact Job Creation Bonus (HIB) up to $306,206, as well as Discretionary Training Funds for $100,000 through the Penny for Pasco Jobs and Economic Opportunities Trust Fund. The Pasco EDC also assisted the company with Expedited Permitting.
"Gary Plastic locating to the west Pasco area is going to provide great opportunities for our workforce from manufacturing jobs and skilled mechanics to supervisor and management jobs," said Jack Mariano, Pasco County Board of County Commissioners.
# # #
About Pasco Economic Development Council
The Pasco Economic Development Council is committed to developing Florida's most competitive climate for business growth by providing businesses that seek to start, move, or grow in the North Tampa Bay area, a comprehensive suite of programs that can help them to reach their full economic potential. Since 1987, Pasco EDC has fostered a strong partnership funded by corporate and public investors focused on the economic vitality of Pasco County. Discover more at www.pascoedc.com.