Pasco EDC Launches New Workforce Tool for Businesses
December 18, 2019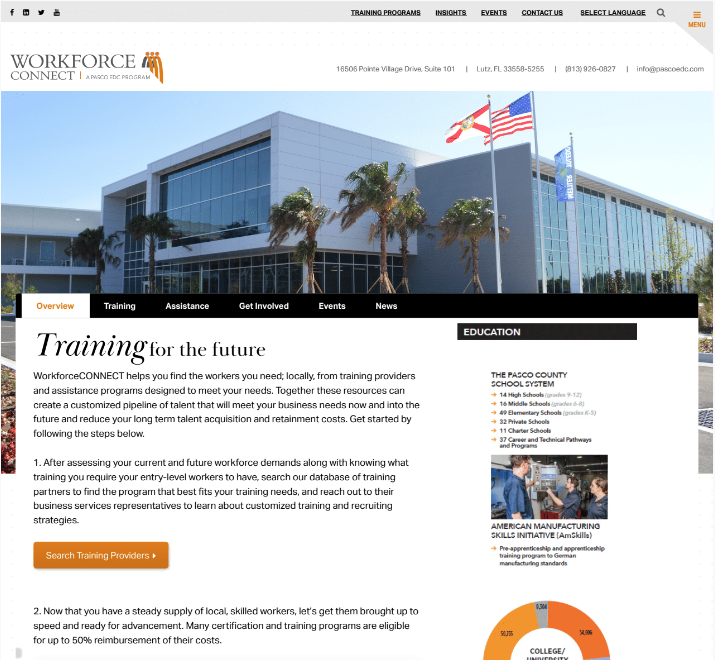 The 'WorkforceCONNECT website provides workforce data and talent connection resources for Pasco County businesses
PASCO COUNTY, FLORIDA (December 18, 2019) — The Pasco EDC WorkforceCONNECT Program was created in 2018 to align the supply and demand of talent in Pasco County by working with employers, educational institutions, and other resources to identify workforce gaps. WorkforceCONNECT has launched the first tool of its kind in the area, to help employers find engaged workers, training programs, and industry specific data.
"This is a huge resource and tool for Pasco County employers, as well as the workforce" said Bill Cronin, Pasco EDC President and CEO. "Employers can find data and resources to develop pipelines of talent, which in the long run will reduce talent and acquisition costs. Job seekers can explore in-demand career paths and available education programs in Pasco County."
The newly launched, www.workforceconnectpasco.com website features both an employers and job seekers option. On the employers landing page, businesses can view a quick, three-minute tutorial that presents how they can best use the site. Additional resources include detailed data and information showing where Pasco's future workforce is being trained, how many people are being trained, and the level of training they are receiving. The site connects employers directly with an abundance of quality talent, focused on the six target industries that represent rapid growth in high skill, high wage job openings.
The site also provides a roadmap for new hires that goes from initial employment all the way to advancement into leadership roles, and showcases how to streamline the process to reduce the costs through strategic partnerships with CareerSource Pasco Hernando and others.
"I am proud of the Pasco EDC and how they continue to evolve to meet the needs of our businesses and workforce in Pasco County," said Pasco County Commissioner Mike Wells. "Giving the business community access to workforce data and resources specific to Pasco is huge and will help them continue to grow."
WorkforceCONNECT is a pilot program approved by the Pasco County Board of County Commissioners in 2018 and is funded by the Penny for Pasco. The program aims to reduce long term employee recruitment and retention costs by bringing together employers, training providers and assistance programs to help local firms create seamless pipelines of talent to meet their current and future workforce needs.
About Pasco Economic Development Council
The Pasco Economic Development Council is committed to developing Florida's most competitive climate for business growth by providing businesses, that seek to start, move, or grow in the North Tampa Bay area, a comprehensive suite of programs that can help them to reach their full economic potential. Since 1987, Pasco EDC has fostered a strong partnership funded by corporate and public investors focused on the economic vitality of Pasco County. Discover more at www.pascoedc.com.