PASCO EDC SEEKING NOMINATIONS FOR ANNUAL AWARDS
March 28, 2019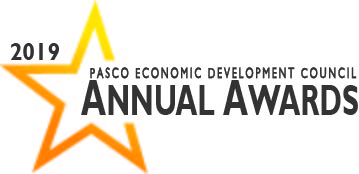 Pasco County, Fla. (March 28, 2019)—Nominations are being accepted for the 2019 Pasco Economic Development Council Industry Awards until close of business on Tuesday, April 30, 2019. Each year, Pasco EDC recognizes the achievements of top companies in Pasco County for their technology, innovation, job creation, growth, and capital investment in the area. They also measure companies' involvement in community activities. All finalists are interviewed and the winners will be announced at Pasco EDC's 33rd Annual Awards and Trade Show this September.

Nominees for the Awards should be a "for profit" business to business company operating in Pasco County (municipalities or affiliates are excluded). The awards will be separated into categories based on number of employees, previous winners of the past five years are not eligible. Nominees are evaluated based on job creation, increased capital investment and for contributions to the community through civic involvement between the period of January through December 2018. Throughout the nominee interview process, companies and community leaders may be chosen for special recognition awards as well. Nominations can be submitted online at https://form.jotform.com/pascoedc/industry-awards-nomination-form.

The Industry Awards are presented for the following categories:
Small (1 – 20 employees)
Medium (21 – 100 employees)
Large (101+ employees)
Start-Up/New (within 24 months)
Pasco EDC has been attracting businesses and creating jobs in Pasco County for over three decades. The Annual Awards, is regarded as the premier business event in Pasco County. Each year the Annual Awards and Trade Show is attended by over 600 business and community leaders in Tampa Bay and Pasco County, including State legislators, local and city officials.
# # #
About Pasco Economic Development Council
Pasco EDC is the lead economic development organization dedicated to the overall growth and prosperity of Pasco County through the development of a sustainable and diversified economy. Pasco EDC continues to be a strong partnership funded by corporate and public investors focused on the economic vitality of Pasco County. www.pascoedc.com