Pasco 50
May 31, 2023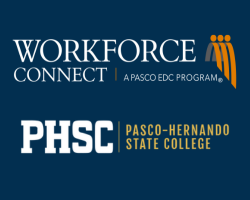 This is an invitation only event for Pasco County business and HR professionals. Please reach out to Sarah Alway for more information.
Wednesday, May 31st, 2023 9:00-11:00AM
PHSC West Campus, BLDG R, Room 151 10230 Ridge Rd, New Port Richey, FL 34654
Pasco EDC's workforceCONNECT is cohosting the semiannual Pasco 50 event with Pasco Hernando State College. Business leaders and human resource or recruitment professionals from Pasco's fifty most influential companies are invited to share their thoughts on workforce development needs and trends. A panel will discuss credential-based hiring including skills-based hiring, microcredentials, and digital badging with audience engagement to spark discussion on skills-based hiring trends. The feedback shared at Pasco 50 will assist workforceCONNECT, our workforce and training partners, and Pasco companies to SHAPE Pasco's workforce.
Also, at this Pasco 50, you can get a professional headshot refresh! Morgan Blomberg of Memories with Morgan - Tampa Photography will be taking complimentary professional headshot photographs for all attendees!