Pasco EDC to Host Pasco Business Resource Event
March 28, 2023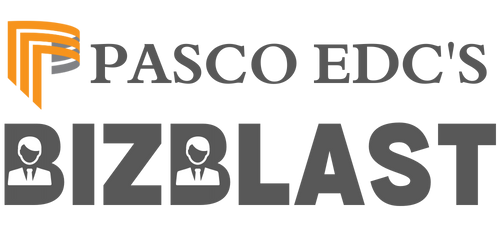 PASCO COUNTY, FLORIDA (March 29, 2023) — Pasco EDC is hosting its inaugural BizBlast event Thursday, April 6, 2023, at Baymar Solutions off Gunn Highway in Pasco County. BizBlast will feature 21 resource partner stations for Pasco business professionals to visit and learn more about the resources that are available. Many of these organizations can assist with funding, establishing long-term talent pipelines, quality talent connections, creating new business programs, upskilling opportunities, business connections, and more.
Local resource partners include:
The Pasco EDC Business Retention and Expansion program along with the workforceCONNECT program encourage Pasco County businesses in the primary (greater than 51% sales outside of Pasco) and target industry sectors to send company representatives to network and learn more about what is available to them. Additionally, there will be plenty of resource partners there which would be beneficial to local start-ups and small businesses.
Enjoy casual networking with other like-minded Pasco business and community leaders, enjoy lunch from SMARTstart participant Potato Ballin', meet a Pasco Sheriff's Office canine, and have a chance to win a 3D printer from Ultimate 3D Printing Store. BizBlast will be held Thursday, April 6, 2023, from 10:00 a.m. to 2:00 p.m. at Baymar Solutions, 1515 Gunn Highway, Odessa, FL 33556. Attendees are welcome to come and go as they please and encouraged to pre-register here.
SMARTstart and workforceCONNECT are Pasco EDC programs brought to you in part by the Penny for Pasco.
About Pasco Economic Development Council
The Pasco Economic Development Council is committed to developing Florida's most competitive climate for business growth by providing businesses, that seek to start, move, or grow in the North Tampa Bay area, a comprehensive suite of programs that can help them to reach their full economic potential. Since 1987, Pasco EDC has fostered a strong partnership funded by corporate and public investors focused on the economic vitality of Pasco County. Discover more at
www.pascoedc.com
.