SMARTstart Celebrates 10 Years of Serving Pasco Entrepreneurs
November 1, 2022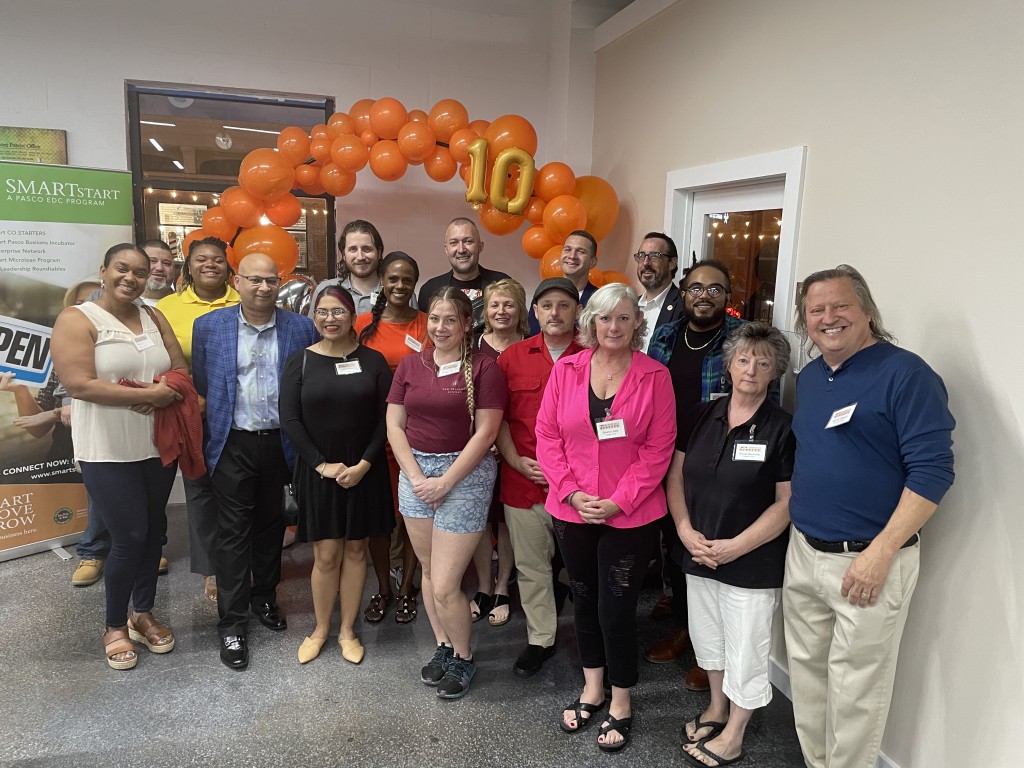 The Pasco EDC small business program was established in fall of 2012 and has provided resources for thousands of Pasco County start-ups.
PASCO COUNTY, FLORIDA (November 1, 2022): Pasco EDC's SMARTstart program is an innovative suite of programs that provides the tools new and growing businesses need for long-term success. The program was established in 2012 with seed funding from the Florida High Tech Corridor, and in 2016 an agreement was formed with Pasco County to utilize Penny for Pasco funds. The program was created to provide low-cost workspace, educational resources, guidance, funding, and a collaborative environment for our area entrepreneurs. In 2011 a Microloan fund was established to provide low interest loans to businesses who were not considered bankable by standard financial institutions.
"We're focused on building an innovation ecosystem with programs like SMARTstart that empower entrepreneurs to find success and make a difference in their community. What the Pasco County EDC team has accomplished in 10 years not only for their local economy, but for our region and beyond is tremendous. Multiply that impact by other incubators across our region and you can see why The Corridor is a hot spot for innovation and entrepreneurship," said Paul Sohl, CEO of the Florida High Tech Corridor.
Since its inception, SMARTstart has affected thousands of lives- watch the 10 Years of SMARTstart video here. Over the last decade, there have been 524 program participants, 160 incubator members, and 68 Microloan recipients who were awarded a total of $2,116,400.
"Developing a strong ecosystem for entrepreneurs is crucial for a community. SMARTstart provides access to many resources which gives starters the opportunity to build a strong foundation for their ideas and troubleshoot them before launch," said Bill Cronin, President/CEO, Pasco EDC. "This program is a terrific example of the Penny for Pasco supporting its community."
SMARTstart by the numbers:
524 Program Participants

160 Incubator Members
146 CO.STARTERS Graduates
Microloan Program

68 Microloan Recipients

$1,169,000 Raised Microloan Donations

$30,388 Average Microloan Amount

150 Roundtable Participants

598 Classes and Events

3,598 Event Attendees
There are currently two entrepreneur center locations and a third re-opening soon at a brand-new location. The entrepreneur centers all focus on the same five pillars: education, workspace, collaboration, funding, and guidance. Each center also has unique business incubator assets including a commercial kitchen, digital media studio, private office space, pop up market space, and maker space.
"All of our programs work together. If you need support from all five areas, you can get it. If you only need one or two, we will customize your track as needed," shared Dan Mitchell, EDP, SMARTstart Program Director. "Every entrepreneur has a story of adversity and of overcoming obstacles, and we look forward to continuing to be a part of these stories."
# # #
About Pasco Economic Development Council
The Pasco Economic Development Council is committed to developing Florida's most competitive climate for business growth by providing businesses that seek to start, move, or grow in the North Tampa Bay area, a comprehensive suite of programs that can help them to reach their full economic potential. Since 1987, Pasco EDC has fostered a strong partnership funded by corporate and public investors focused on the economic vitality of Pasco County. Discover more at www.pascoedc.com.