SunTrust Contributes $5,000 to Pasco EDC's Microloan Fund
October 19, 2016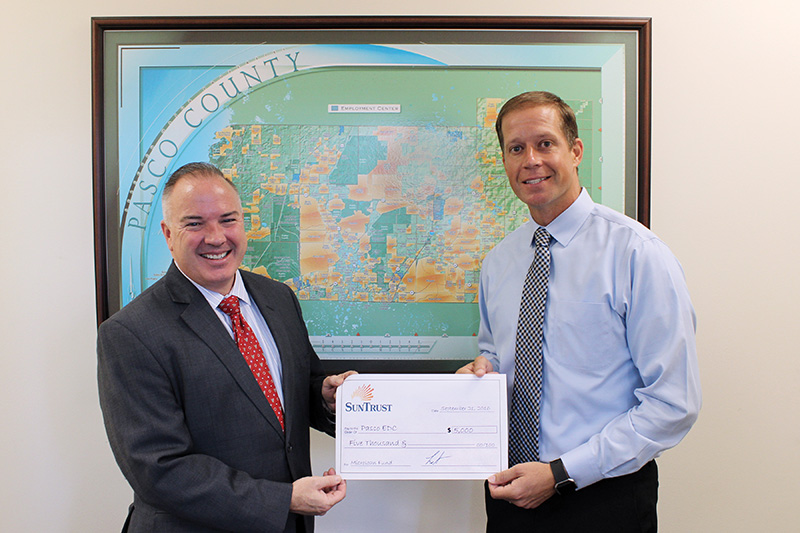 Applications now being accepted from entrepreneurs to launch and grow Pasco County businesses
Lutz, Fla. (October 19, 2016)— Recently, Skip Miller, Senior Vice President of SunTrust Bank, Inc. visited the Pasco Economic Development Council office in Lutz, Florida to present a check for $5,000 to support Pasco EDC's Microloan Fund. Bill Cronin, President/CEO of Pasco EDC, was on hand to personally accept the donation. This is the third contribution made to the Microloan Program by SunTrust since the inception of the program in March 2012.
"SunTrust has been an active supporter of Pasco EDC and the Microloan Program for many years," said Cronin. "This latest donation to the Microloan Fund demonstrates their continued confidence in the program and the work we are doing to support our local entrepreneurs. We are fortunate to have strong community partners like SunTrust to help us achieve our mission to stimulate balanced and diversified business growth in Pasco County."
Over the last year, Pasco EDC has raised a total of $26,000 from private donations and the business community. In April 2016, the Pasco County Board of County Commissioners contributed $400,000 from the Penny for Pasco Jobs and Economic Opportunities Trust Fund. Contributions like these help ensure funds are available to support local, small business owners who have demonstrated they have the experience, resources, and valid business plan needed for success, but are unable to secure traditional financing.
"We know that lack of funding can be a major barrier for early stage businesses that are trying to reach their full potential," said Miller. "Pasco EDC's microloan program gives Pasco County business owners the opportunity to pursue their dreams, develop and grow a sustainable business, and create new jobs in our community. It's a program that SunTrust has been proud to support from the beginning."
Applications are now being accepted from small business owners who run a for-profit company located in Pasco County. Proceeds from the loan may be used for working capital, inventory, supplies, furniture, fixtures, machinery and equipment, but not to purchase real estate or to refinance existing debt. Microloans are available in amounts up to $35,000.
In less than five years, Pasco EDC's Microloan Program has proven highly successful. The 26 microloans that have been awarded since the start of the program have resulted in the creation or retention of 162 jobs in Pasco County.
For information about becoming a contributor to the Microloan Fund, contact John Walsh, Vice President of Pasco EDC at (813) 926-0827 ext. 223. Visit the Finance Your Business page of the Pasco EDC website for more information or to download an application.
# # #
About Pasco Economic Development Council
Pasco EDC is the lead economic development organization dedicated to the overall growth and prosperity of Pasco County through the development of a sustainable and diversified economy. Pasco EDC continues to be a strong partnership funded by corporate and public investors focused on the economic vitality of Pasco County. www.pascoedc.com