REFOCUS - A CO.STARTERS Workshop
June 24, 2021
This event has expired.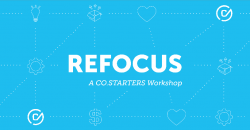 Date & Time: Thursday, June 24, 2021 (10:00 am – 12:00 pm)
Location: Online (log in instructions will be e-mailed to
registered participants)
Registration: Normally $75
FREE for Pasco County-Based Businesses

WHAT DOES REFOCUS COVER?
This two–hour virtual workshop will help participants find the focus and clarity needed to shift mindsets and find a new way forward. During the workshop, participants will determine immediate next steps needed to stabilize, reexamine their ventures using the CO.STARTERS Canvas, strategize how to better solve customers' changing needs, and learn how to adapt or refine their business models.
FOR WHOM IS REFOCUS?
Entrepreneurs who are:
already in business
losing customers or having trouble getting new
struggling to figure out how to move forward
working in a quickly changing environment
feeling stuck
needing to shift direction
HOW DOES REFOCUS HELP?
Refocus helps participants:
Adapt to changing situations.
Challenge core assumptions.
Creatively problem-solve.
Tap into a virtual community of support.
Focus on priority activities
Move forward
COSTARTERS Refocus Workbook download HERE.