Bauducco Foods to Locate U.S. Production and Distribution Facility in City of Zephyrhills
October 24, 2023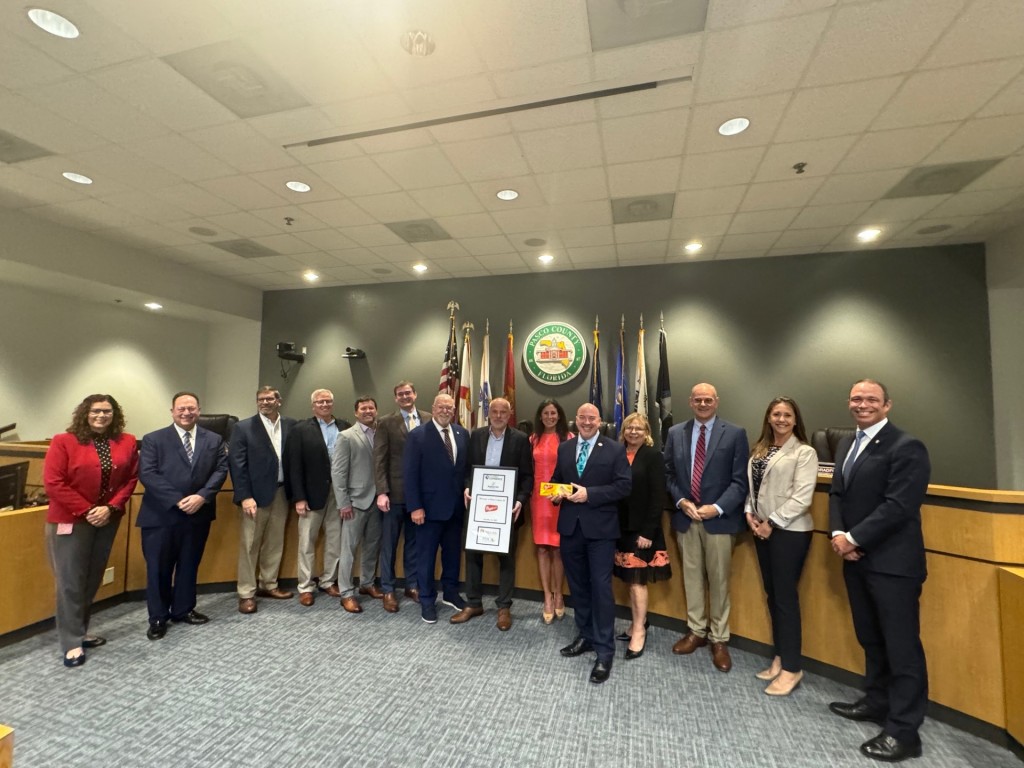 The Brazil-based company purchased 72 acres on a Pasco Ready Site and will create 600 jobs and invest over $200 million.
PASCO COUNTY, FLORIDA (October 24, 2023): Pasco Economic Development Council (Pasco EDC), FloridaCommerce, City of Zephyrhills, and Pasco Board of County Commissioners are thrilled to welcome Bauducco Foods (Bauducco) to Pasco County, Florida. Bauducco purchased 72 acres of the Zephyrhills Airport Industrial Park Ready Site in the City of Zephyrhills. The company is expecting to invest over $200 million in the new facility which will produce and distribute its product across the U.S.
"Bauducco chose Pasco County after a long and very detailed analysis in which more than seven states and over ten counties around the country were reviewed and studied," shared Stefano Mozzi, CEO, Bauducco USA. "Due to the business-friendly environment and the support and professionalism we received from the business development teams in the State, County and the City; as well as the great location, we decided to make Zephyrhills our new and main production hub for the U.S.A. market."
Bauducco is a Brazilian multinational company established in 1950 by an Italian immigrant and is now one of the fastest growing cookie companies in the United States. The company manufactures baked food products such as biscuits, wafers, and breads and is the largest producer of panettones in the world and market leader in the United States. The Bauducco brand is sold in all 50 states in regional supermarket chains, national grocery stores, pharmacies, and more. The company holds the rank of the number two sugar wafer brand in the U.S. and is the market leader in many states including New York, California, and Florida.
Bauducco has five manufacturing plants in Brazil, with the capacity to produce more than 400,000 tons of baked goods annually with over 8,000 employees worldwide. There is one manufacturing plant and warehouse in Miami, FL.
Bauducco is committed to the growth of its U.S. operations and its team by continuing to foster the family community feeling it is known for. The new facility's development will be completed in two phases and will utilize state-of-the-art production equipment and a sanitary design. The first phase is expected to be operational near the end of 2024 to early 2025 and the second phase is anticipated to be fully operational by 2028.
When considering where to place their next facility, Bauducco's site search consultants, Dennis Group, reviewed seven states for optimum operating conditions and over 160 sites for suitable constructability for their next facility. Enterprise Florida and Florida Department of Transportation's trade mission to Brazil earlier this year helped fortify Florida as the state of choice by demonstrating a favorable business climate, well-developed transportation infrastructure, and robust agricultural industry.
"Under Governor DeSantis' leadership, Florida's site-ready infrastructure, robust talent pipeline and businesses friendly climate, allow businesses from across the globe to have the opportunity to expand and grow like nowhere else in the nation," said Florida Secretary of Commerce J. Alex Kelly. So, I am very excited for Bauducco Foods' expansion in our state, as Bauducco contributes to both Florida's world class food industries and Florida's incredible economic partnership with Brazilian companies."
Duke Energy and Pasco EDC partnered to evaluate and market Zephyrhills Airport Industrial Park through two separate site evaluation programs.
"Creating a site readiness program isn't new in the economic development world, however what is crucial to making the program successful is having all of your partners and property owners working together with the same mission of creating new opportunities for our community," shared Bill Cronin, President/CEO, Pasco EDC. "The Ready Sites Program has become successful thanks to those public/private partnerships and the commitment and trust of the property owners to market their land for industrial development. We look forward to continuing to grow our relationship with Bauducco and welcome them home to Pasco County, Florida."
"We are excited to witness the positive impact that Bauducco will bring to the Zephyrhills community," said Melissa Seixas, Duke Energy Florida state president. "Our collaboration over many years with Pasco EDC, Pasco County and the City of Zephyrhills has been successful in preparing Zephyrhills Airport Industrial Park for industrial development.
"Duke Energy's Site Readiness program is designed to identify, assess, and elevate awareness of industrial sites within Duke Energy's service territory," said Seixas. "Winning this project gives testimony to the goals of the program by bringing new jobs, capital investments, an increased tax base, all contributing to the economic growth of the community."
Yesterday, the City of Zephyrhills approved incentives totaling $8.27 million. The incentive package is based on the company creating 120 new full-time positions which will have average annual wages of at least 80 percent of the median one-person income in the Tampa Bay Metropolitan Area. The city's approved incentive package includes waiving or reimbursing transportation impact fees up to $331,000 and permit fees up to $660,750. Additionally, they will provide a job creation incentive cash grant equal to the amount of 50 percent of ad valorem city property taxes paid for the first 10-year period.
"We are extremely excited to have Bauducco Foods manufacturing facility land here in Zephyrhills. Bringing jobs into our city has been a high priority for years as we have worked hand in hand with Pasco EDC and Zephyrhills Economic Development Coalition to accomplish this feat," shared Mayor Melonie Bahr Monson, City of Zephyrhills. "The impact of 600 new jobs to our area will be a game changer for our community. We are ready to jump right in and welcome Bauducco to our great city."
Today, the Pasco Board of County Commissioners approved an Economic Incentive Agreement for a 25 percent ad valorem tax reimbursement and a $100,000 workforce training grant. This project was also made possible through Pasco's partnership with the City of Zephyrhills. Pasco County and Zephyrhills entered an Interlocal Agreement in 2016 to build a sanitary sewer force main to serve the future industrial area near the Zephyrhills Airport.
"As a result of this area's excellent transportation access and utility service, the Pasco EDC identified large tracts of land around the airport as industrial Ready-Sites," said Pasco Board of County Commissioners Chair Jack Mariano. "We are very pleased that Bauducco Foods is our first major target industry project to take advantage of the airport industrial development area."
# # #
About Pasco Economic Development Council
The Pasco Economic Development Council is committed to developing Florida's most competitive climate for business growth by providing businesses that seek to start, move, or grow in the North Tampa Bay area, a comprehensive suite of programs that can help them to reach their full economic potential. Since 1987, Pasco EDC has fostered a strong partnership funded by corporate and public investors focused on the economic vitality of Pasco County. Discover more at www.pascoedc.com.