Global Electronics Testing Services Breaks Ground on New Facility
June 23, 2016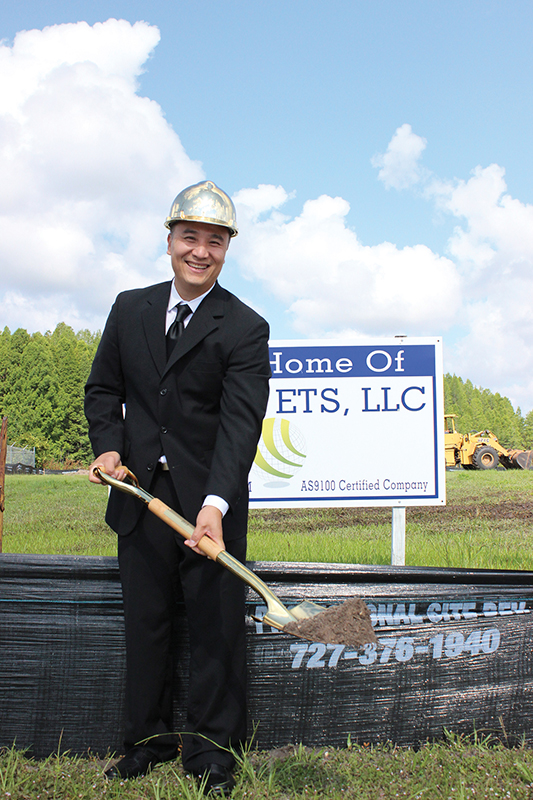 10,000 Square Foot Building Under Construction at West Pasco Industrial Park
Odessa, Fla. (June 23, 2016) — On Monday, June 13, Dan Tang, President of Global Electronics Testing Services, LLC (GETS) broke ground on the construction of a new 10,000 square foot facility at the West Pasco Industrial Park in Odessa, Florida. The expansion is the Pasco County company's first step toward becoming a Defense Logistics Agency-approved laboratory for testing electronic components. The Pasco Economic Development Council worked with GETS to obtain expedited permitting for the project.
"We know Pasco County is a great place to do business, and GETS' expansion is just one example of the tech industry thriving in our community," said Pasco County Commissioner Mike Wells. "It is always gratifying when I see a local business, particularly one with global reach like GETS, continuing to invest in their long-term growth right here in Pasco."
Tang noted that the new facility will provide the company the space needed to expand their testing services and value added services. "The custom designed test lab demonstrates our commitment to produce high quality testing services in a controlled environment with state of the art equipment and infrastructure," he said. "The additional capacity will enable us to increase our output and allow for quicker turn times for our customers."
One of only a few independent electronic components testing companies in the global market, GETS is at the forefront in the effort to eliminate counterfeit or substandard electronic components. The company serves a distinguished roster of clients in several major industries, including automotive, defense/aerospace, medical, electronics, and more from their Pasco County headquarters as well as their office in China—where many counterfeit components originate.
Tang continued, "This expansion will secure Global ETS, LLC's place in the electronic components authentication services industries and secure our DLA laboratories suitability certification for testing military devices"
The new facility will include a 5,000 square foot, internationally-accredited laboratory, and gives GETS the opportunity to expand their Counterfeit Components Training program while growing their existing internship program with University of South Florida Electronic Engineering students. GETS anticipates moving into the new building by the end of 2016.
# # #
About Pasco Economic Development Council
Pasco EDC is the lead economic development organization dedicated to the overall growth and prosperity of Pasco County through the development of a sustainable and diversified economy. Pasco EDC continues to be a strong partnership funded by corporate and public investors focused on the economic vitality of Pasco County. www.pascoedc.com