Pasco County Welcomes New Manufacturer Fleda Pharmaceuticals
August 26, 2019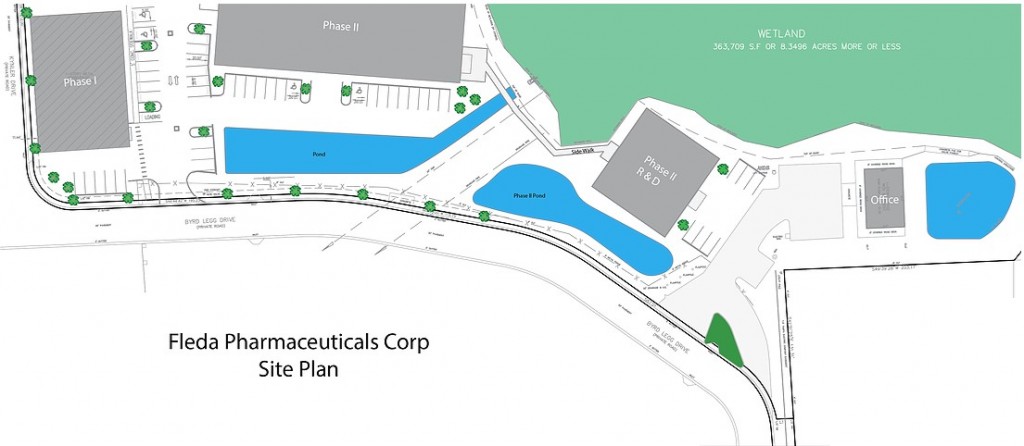 Fleda Pharmaceuticals announces a two-phase $4 million project to build a manufacturing facility in Odessa, Florida
PASCO COUNTY, FLORIDA (August 26, 2019) —Fleda Pharmaceuticals Corp. (FPC), is a new pharmaceutical manufacturing company set to open their doors this winter on Byrd Legg Drive in Odessa. Fleda purchased an existing office building and a 9,600 square foot warehouse to initiate phase one of their plans. The new manufacturing company will create 30 new jobs for the area, with plans to build a 30,000 square foot facility.
"Pasco EDC assisted our company with expedited permitting, site consultation, and workforce analysis," shared John Wang, CEO, Fleda Pharmaceuticals. "Gathering that information for us was a tremendous help. We have been so welcomed already by their team and Pasco County."
The company is in the process of upfitting the vacant warehouse into a Good Manufacturing Practices (GMP) dietary supplement manufacturing facility where they will produce gummy vitamins. The second phase of the project includes a 30,000 square foot manufacturing facility, as well as a research lab for generic medicine.
"We are pleased that our continued focus on the Life Sciences and Medical Technology industry is succeeding thanks to companies like Fleda choosing to locate and grow in Pasco County," said Bill Cronin, Pasco EDC President. "Their investment in Pasco County will help diversify our economy with high paying jobs and increasing the industrial property tax base.
"Fleda produces great tasting gummy vitamins as a new way to take supplements," said Wang. "Our team saw the need to produce something that won't give you the typical pill fatigue that come from taking multiple pills and vitamins every day."
For more information on Fleda Pharmaceuticals, visit: www.fledausa.com or contact Lauren Thompson at 813-920-9882 or LaurenThompson@FledaUSA.com.
About Fleda
Fleda is an up-and-coming pharmaceutical manufacturing company located in Odessa, FL. They produce gummy vitamins as a new way to take supplements.
About Pasco Economic Development Council
The Pasco Economic Development Council is committed to developing Florida's most competitive climate for business growth by providing businesses, that seek to start, move, or grow in the North Tampa Bay area, a comprehensive suite of programs that can help them to reach their full economic potential. Since 1987, Pasco EDC has fostered a strong partnership funded by corporate and public investors focused on the economic vitality of Pasco County. Discover more at www.pascoedc.com.