Pasco EDC Team Member, Turner Arbour, Recognized as Workforce Development Professional of the Year
May 17, 2023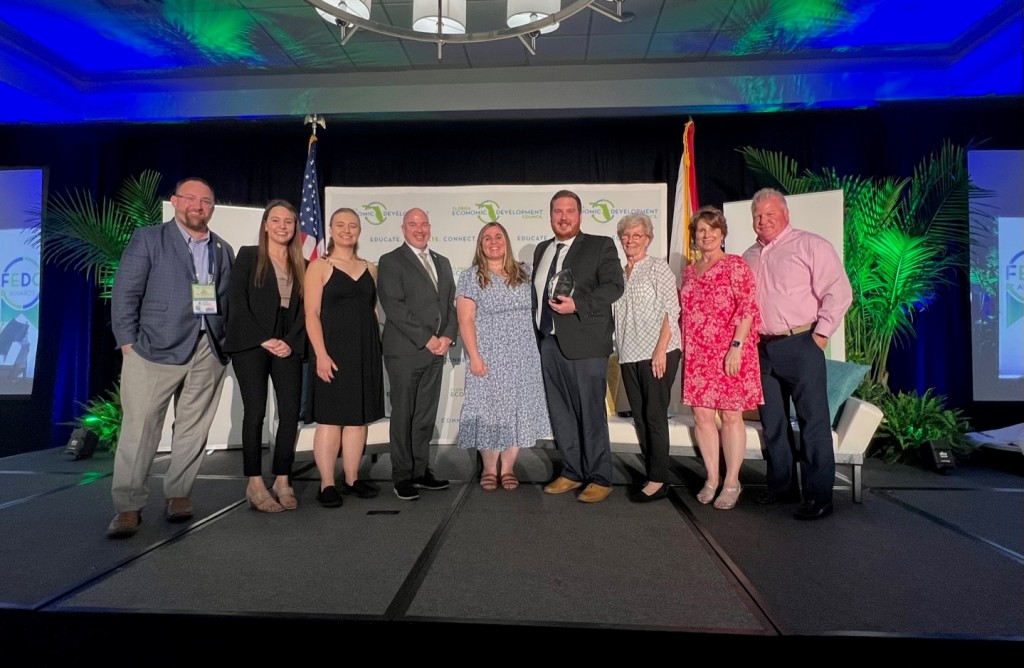 The Florida Economic Development Council (FEDC) honored Arbour at the Leadership Award dinner on Tuesday, May 16, 2023.
PASCO COUNTY, FLORIDA (May 17, 2023) — Pasco Economic Development Council (Pasco EDC) is excited to announce Turner Arbour, Senior Economic Development Manager at the Pasco EDC was recently recognized as "Workforce Development Professional of the Year" by the Florida Economic Development Council (FEDC).
Arbour began working with Pasco EDC as an intern in 2018. After his internship was completed, he was hired for the new Workforce Development Manager role where he worked to create the workforceconnectpasco.com platform and built the program. WorkforceCONNECT allows multiple access points for employers and job seekers to find information on education and training partners, relevant data, and job openings. In 2020, the platform was awarded a bronze designation from the International Economic Development Council for a specialized website. Over the past four years, Arbour has worked closely with local workforce training and education partners to assess the business community's needs and determine opportunities for the best ways to connect them.
"I am humbled and grateful to be named the Workforce Development Professional of the Year. This recognition reflects the dedication of the Pasco EDC and the transformative impact we are having by supporting our local employers, workers, and training partners," stated Turner Arbour, Senior Economic Development Manager, Pasco EDC. "I'm thankful for the support of my colleagues and the individuals I've had the privilege to serve. Together, we'll continue to empower and shape a brighter future for Pasco's workforce."
Arbour has worked with Pasco EDC for four-and-a-half years and was promoted to Senior Economic Development Manager last year. In his current role he oversees the workforceCONNECT, Business, Retention and Expansion (BRE), and International programs.
"This award recognizes what we already know about Turner Arbour," shared Bill Cronin, President/CEO, Pasco EDC. "Turner is a rising star in economic and workforce development. To be recognized by his fellow peers from around the state speaks volumes of his impact and reputation. Pasco County is clearly in a better place because of Turner."
# # #
About Pasco Economic Development Council
The Pasco Economic Development Council is committed to developing Florida's most competitive climate for business growth by providing businesses, that seek to start, move, or grow in the North Tampa Bay area, a comprehensive suite of programs that can help them to reach their full economic potential. Since 1987, Pasco EDC has fostered a strong partnership funded by corporate and public investors focused on the economic vitality of Pasco County. Discover more at www.pascoedc.com.