Phillips & Jordan to Build Regional Headquarters at SR 52 and I-75
August 28, 2019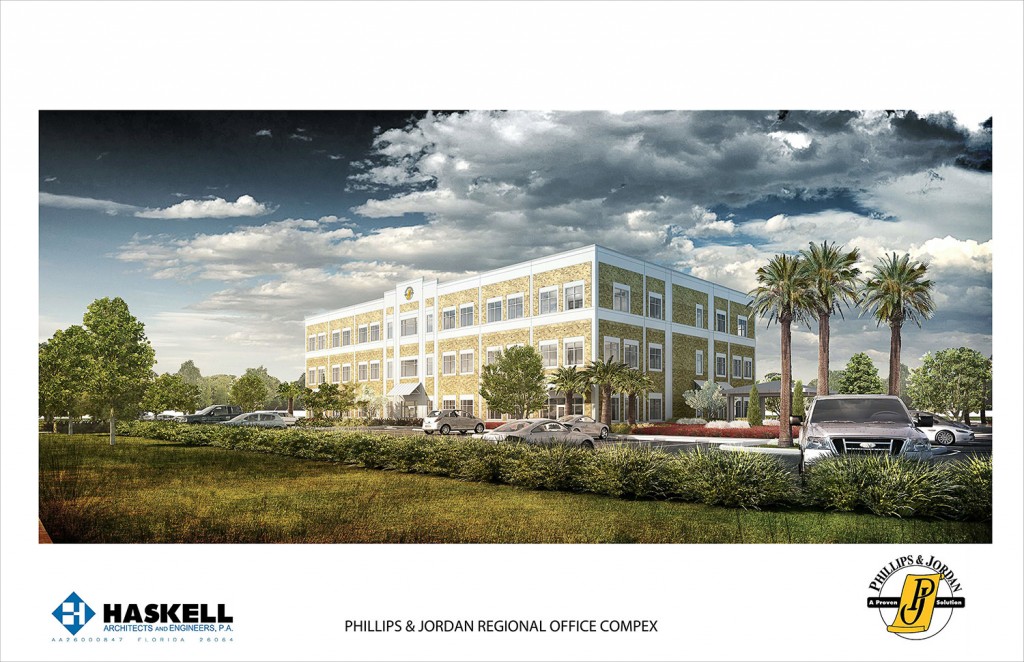 The Company purchased 5 acres and is investing more than $15 million in the 47,432 square foot facility
PASCO COUNTY, FLORIDA (August 28, 2019) — Phillips & Jordan, Inc. (P&J), a national woman-owned heavy civil and ROW infrastructure contractor, based in Knoxville, Tennessee, is building a regional corporate headquarters in a new 47,432 square foot Class A office building in the One Pasco Center business park, just east of the State Road 52 and Interstate 75 intersection.
Site plans for the five-acre, three-story, $15 million project have been submitted to Pasco County and construction is expected to begin in late 2019. The company plans to move 40 employees onto two floors of the office building, leaving one available for speculative space.
"This is going to be a huge project for the area," said Bill Cronin, President, Pasco EDC. "Not only is this their Regional Corporate Office Headquarters, but they are including speculative space in the project which is in high demand right now. I'm thrilled to see the investments in that area come to life."
"We are excited to continue our growth in the state of Florida having found a perfect site right off of I-75 that is so close to the skilled workforce we are looking to attract," said Art Phelps, Vice President, Phillips & Jordan. "This site is strategically located close to Connected City and Wesley Chapel in north Tampa Bay, and it provides a larger operation base for P&J to serve all of our clients throughout Florida."
The Pasco EDC assisted the company with advisory services to P&J's site consultant, regulatory assistance, expedited permitting and will assist with workforce and training needs in the future.
"The diversification this project brings is great for an area that has long focused on agriculture," said Ron Oakley, Chairman, Pasco County Board of County Commissioners, District 1.
P&J was established in 1952 when the founder, the late William "Ted" Phillips, Sr., got a land clearing job in Mississippi. Over the next 67 years, the Company has grown into one of the best heavy civil and ROW contractors in the country. P&J pursues challenging projects in three primary service areas: Heavy Civil Infrastructure Development (Power Generation, Water Resources, and Industrial & Commercial), ROW Infrastructure Development (Power Delivery, Pipeline Services, and Foundation Construction), and Disaster Response. The Company established its Pasco County location more than 20 years ago, and it maintains regional and project offices throughout the country. For more information about Philips & Jordan, Inc., visit https://pandj.com/.
About Pasco Economic Development Council
The Pasco Economic Development Council is committed to developing Florida's most competitive climate for business growth by providing businesses, that seek to start, move, or grow in the North Tampa Bay area, a comprehensive suite of programs that can help them to reach their full economic potential. Since 1987, Pasco EDC has fostered a strong partnership funded by corporate and public investors focused on the economic vitality of Pasco County. Discover more at www.pascoedc.com.