SMARTstart Entrepreneur Lanky Lassie's Shortbread To Open a Store Front
May 3, 2021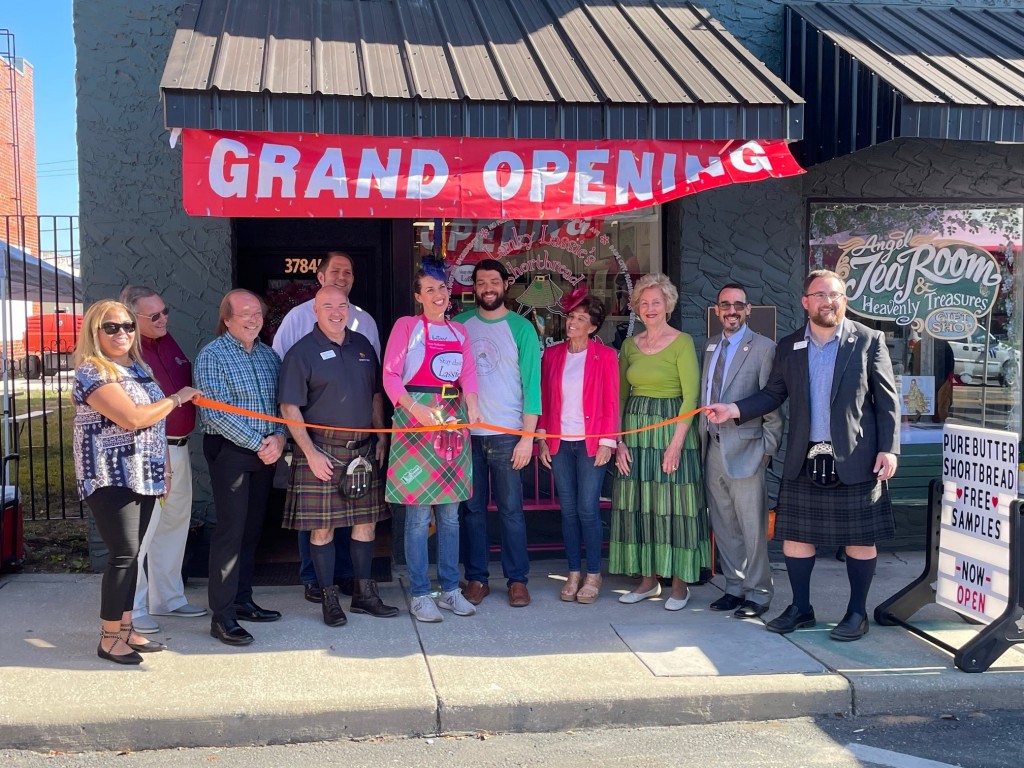 PASCO COUNTY, FLORIDA (May 3, 2021) — Lanky Lassie's Shortbread has been a member of the Pasco EDC SMARTstart program since this time last year where they began using the East Pasco Incubator Kitchen in Dade City to help their business grow. Mary Katherine Mason is the founder or "Head Lassie" of Lanky Lassie's Shortbread. She served in the United States Marine Corp. from 2002 to 2008 and is bringing some military inspiration into her décor at the new space.
"When I first received a call from Mary Katherine during the beginning of the COVID pandemic, I could hear the passion in her voice," shared Dan Mitchell, SMARTstart Program Director. "She utilized many of the tools SMARTstart has to offer and in turn we got to watch her go from a cottage food business to opening a physical location in such a short time frame. Her success story and drive is what inspires other entrepreneurs to take that initial leap."
In 2011 she won the shortbread competition at the Scottish Highland Games and opened Lanky Lassie's as a side business using her family's shortbread recipe. The secret family recipe has been taught generation after generation starting with her maternal great grandmother in Scotland. Mason keeps the recipe a family secret. Once the pandemic hit, Mason was furloughed from her interior design career in the hotel industry and she decided it was time to put more focus into her shortbread business.
"The SMARTstart team helped me immensely with the documentation of what was once very overwhelming to me," expressed Mason. "What license I needed, what insurance I needed, tax receipt, etc...all of these items are what detoured me from doing this earlier in my life."
Lanky Lassie's will be selling a variety of shortbread both in her new store and online nationwide. It is important to Mason that she continues to support local businesses throughout Dade City and will sell many of their products in her store. "I want to showcase the wonderful other small businesses in our great little city," said Mason.
"Our partnership with the Pasco EDC and the SMARTstart program has been a terrific way to grow our local businesses and provide services to our entrepreneurs. The City of Dade City is thrilled that one of the SMARTstart participants has been successful and is now occupying one of our downtown storefronts. We are happy to officially welcome, Lanky Lassie's to our central business district," said Camille S. Hernandez, Mayor, City of Dade City.

The Lanky Lassie's Shortbread Ribbon Cutting and Grand Opening event will be held on Friday, May 7th at 9:00 am at 37845 Meridian Avenue, Dade City, Florida, 33525 in downtown Dade City.
# # #
About Pasco Economic Development Council
The Pasco Economic Development Council is committed to developing Florida's most competitive climate for business growth by providing businesses, that seek to start, move, or grow in the North Tampa Bay area, a comprehensive suite of programs that can help them to reach their full economic potential. Since 1987, Pasco EDC has fostered a strong partnership funded by corporate and public investors focused on the economic vitality of Pasco County. Discover more at www.pascoedc.com.