SouthState Bank Provides Continued Support to Microloan Program
June 15, 2022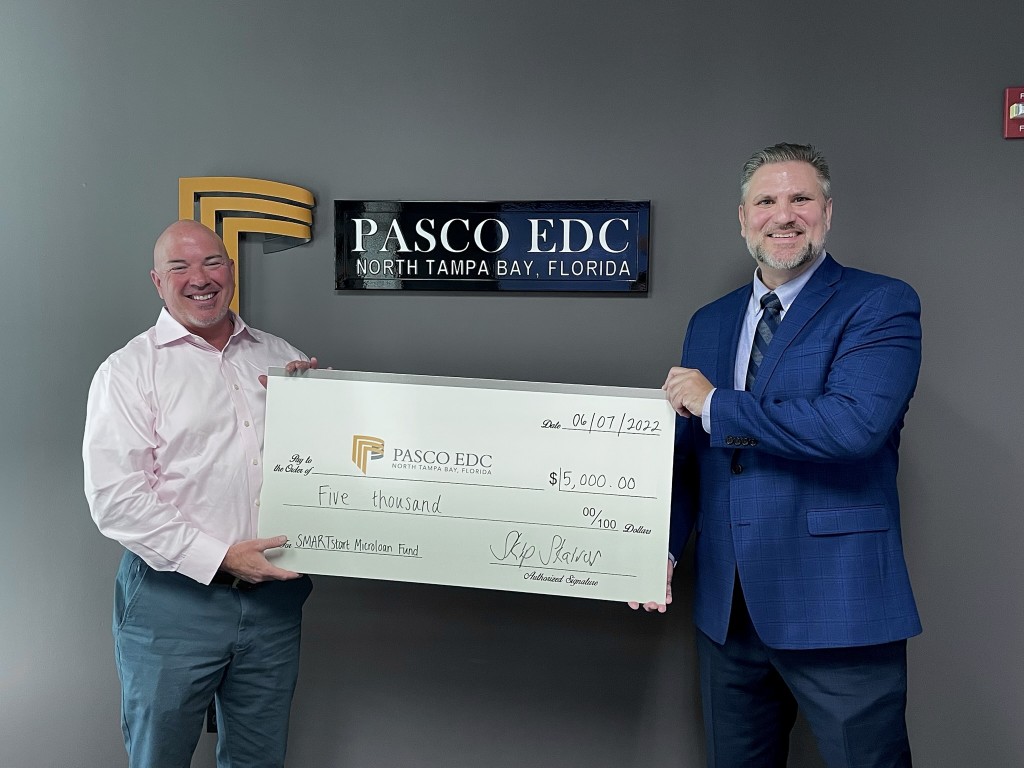 The SMARTstart Microloan Program receives another $5,000 donation from SouthState Bank.
PASCO COUNTY, FLORIDA (June 15, 2022) — SouthState Bank, formerly Centerstate Bank, has recently made another donation to the SMARTstart Microloan Program. The organization has been contributing to the program since its inception in 2011, and this $5,000 donation brings their overall contribution to $45,000.
"SouthState Bank is proud to once again partner with the Pasco EDC and continue our many years of support and investment in the Microloan Program. We believe that it is important to support small business growth in our local community and Pasco EDC's Microloan Program has been successful in helping local entrepreneurs to start and grow their businesses," shared Skip Skairus, Regional President of SouthState.
"Pasco EDC thanks SouthState Bank for their continued support of the SMARTstart Microloan Program. Since inception, the program has assisted 64 businesses with microloans and has created over 250 jobs which shows the direct impact the program has on the community.," said Bill Cronin, Pasco EDC President/CEO.
The Microloan Program gives entrepreneurs the funds they need to get their business started. The goal of the Microloan Program is to strengthen the Pasco County economy and create more job opportunities. Funds can be used for purchasing inventory and machinery to working capital.
Daniel and Victoria Watson, owners of The Acting Studio in Wesley Chapel, are recent recipients of a microloan. The loan assisted in their renovations which were completed just ahead of their grand opening in April. "The Pasco EDC microloan application was a painless process to complete with the guidance of the SMARTstart professionals who made themselves available. The funds helped us to complete our buildout at The Grove on time and with the equipment we needed to open our doors to our waiting clients," shared Daniel and Victoria Watson. "We are finally back on our feet and beginning to see very strong growth in our student population. None of this would have been possible without the timely arrival of the Microloan funds. We are very grateful for Pasco EDC and their support in The Acting Studio's journey back from a very challenging time. Now our 20th anniversary will be a joyous one!"
If your business is interested in learning more about or making a donation to the Microloan Program, visit www.smartstartpasco.com or contact Dan Mitchell, the SMARTstart Program Director, at dmitchell@pascoedc.com or 352-437-4861. Also, stay up to date with what's happening at The Acting Studio at www.facebook.com/theactingstudiotampa.
# # #
About Pasco Economic Development Council
The Pasco Economic Development Council is committed to developing Florida's most competitive climate for business growth by providing businesses, that seek to start, move, or grow in the North Tampa Bay area, a comprehensive suite of programs that can help them to reach their full economic potential. Since 1987, Pasco EDC has fostered a strong partnership funded by corporate and public investors focused on the economic vitality of Pasco County. Discover more at www.pascoedc.com.