Tickets Now Available for 15th Annual Networking Festival
March 21, 2017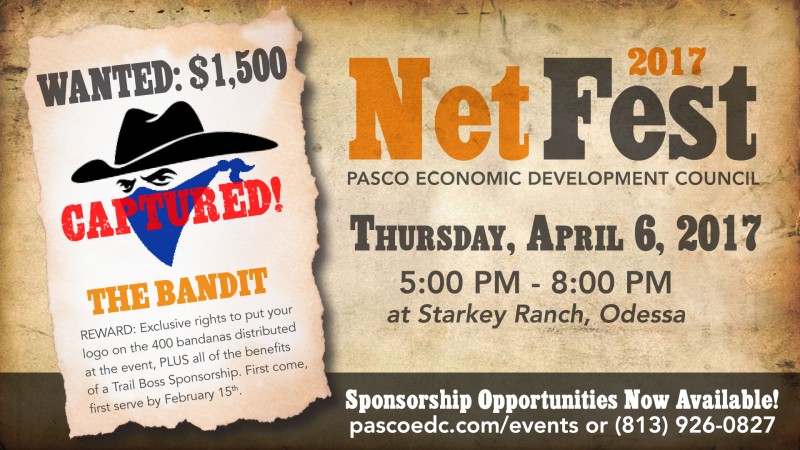 Pasco County, Fla. (March 21, 2017)—Business executives, real estate developers, and government and community leaders from throughout Tampa Bay will once again come together for Pasco County's premier networking event—NetFest. Hosted by the Pasco Economic Development Council, the informal, western-themed event, currently in its 15th year, will take place Thursday, April 6 from 5 p.m. to 8 p.m. at the Starkey Ranch District Park in Odessa.
Over 300 people attended the event in 2016, most of them decked out in cowboy hats, boots, and blue jeans. In addition to western wear, NetFest will feature a barbecue buffet, country music, and commemorative event bandanna for each guest. This year's event will also feature a fire pit, where some of Pasco County's largest land owners will be branding leather coasters that attendees can take home.
Spots are still available for sponsors wishing to participate in the fifth annual chili cook-off. Registration deadline for the chili cook-off is Tuesday, March 28, and sponsorship levels to participate start at $500. Florida Capital Bank took home top honors for their chili recipe in 2016. This year, competitors will have the chance to compete for Pasco's Most Unique Chili as well as Pasco's Best Chili.
Tickets to attend NetFest are $45. Pasco EDC investors and their guests receive a $10 discount. Steps to register for the event and information about sponsorships can be found online at www.PascoEDC.com/events or by calling (813) 926-0827.
# # #
About Pasco Economic Development Council
The Pasco Economic Development Council is committed to developing Florida's most competitive climate for business growth by providing businesses, that seek to start, move, or grow in the North Tampa Bay area, a comprehensive suite of programs that can help them to reach their full economic potential. Since 1987, Pasco EDC has fostered a strong partnership funded by corporate and public investors focused on the economic vitality of Pasco County. Discover more at www.pascoedc.com.