TouchPoint Medical Inc. to Relocate Operations from Multiple States to Pasco County, Florida
June 19, 2018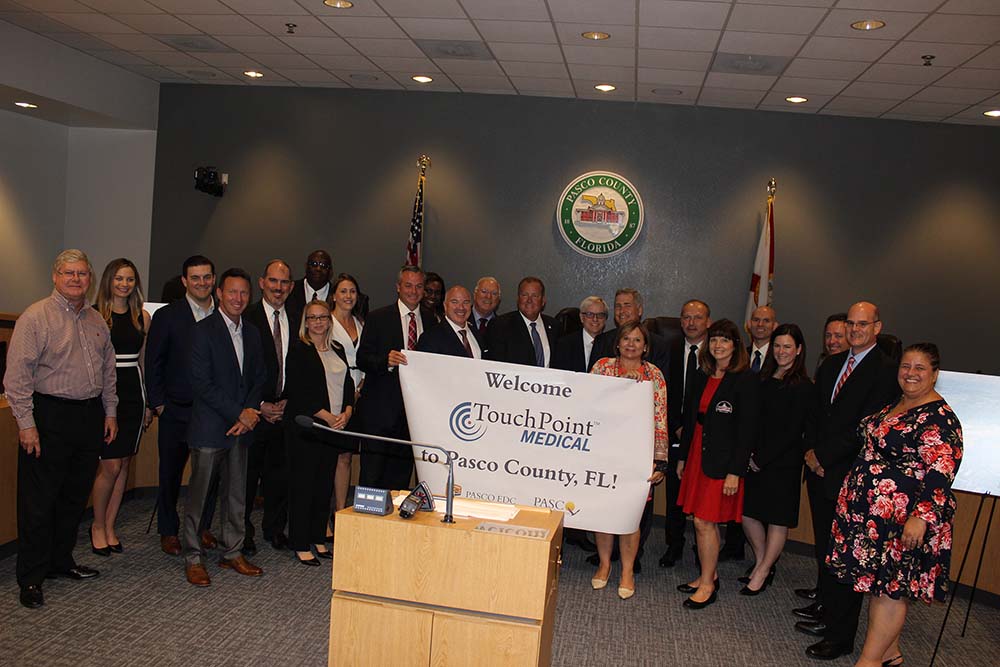 Medical manufacturing company will bring 228 total jobs and a capital investment of over $23 million
PASCO COUNTY, FLORIDA (June 19, 2018) — Today Pasco County and the Pasco EDC announced TouchPoint Medical Inc., a leading global provider of innovative and intelligent hardware and software solutions that enable safe and effective delivery of outstanding patient care, will relocate their operations from numerous states to Pasco County, Florida. TouchPoint Medical will purchase land and create a new 118,200 square feet facility. This relocation will create 116 new jobs and more than $23 million in new capital investment in Pasco County.
"We are thrilled to welcome TouchPoint Medical to Pasco County. The economic impact for the county is going to be very significant," shared Bill Cronin, President/CEO, Pasco EDC. "It will create 116 new jobs and an estimated economic impact of 118 indirect jobs, an average of $63 million in personal income annually, and an average of $31 million in Gross County Product annually. We are looking forward to building a great relationship with the entire team."
TouchPoint Medical partners with Medical Technology and Healthcare Providers to provide safe and efficient mobility for medical and information technology via innovative stationary and mobile carrier systems. In addition, TouchPoint Medical is a leading producer of automated medication dispensing equipment. TouchPoint Medical businesses provide value added products and services to hospitals and health care facilities in over 70 countries. www.touchpointmed.com
"After completing a thorough evaluation of multiple options on where to locate the Global Headquarters and Americas Operations Facility for TouchPoint Medical, we selected Pasco County", stated Brian McNeill, President and CEO of TouchPoint, Inc., the parent company of TouchPoint Medical. "TouchPoint Medical is a growth platform for our company and we needed a location that would enable us to attract and retain a talented and motivated workforce with ample expansion capability. Pasco County and the greater Tampa area was a perfect fit. We are excited to begin our next phase of expansion and greatly appreciate the genuine hospitality and support that officials from both Pasco County and the State of Florida provided to us in our search process."
Pasco County is using a portion of Penny for Pasco, which incentivizes companies that are creating high-impact jobs in Pasco. "We love when large company operations locate to Pasco and take part in the programs we offer," shared Mike Wells, Chairman of the Pasco County Board of County Commissioners.
This relocation was made possible by partnerships with Enterprise Florida, Pasco County and the Pasco Economic Development Council. The average annual wage TouchPoint Medical anticipates offering employees will exceed the 2018 Pasco County average by 150%.
About TouchPoint Inc.
TouchPoint is a privately held, global growth company based in Concordville, PA. TouchPoint focuses on acquiring and building niche, high growth manufacturing businesses where technology and human touch points make a tangible difference to the end user. TouchPoint has three business platforms operating in the Medical Technology, Access Hardware and Intelligent Vending markets. In total, TouchPoint companies have over 4,000 employees in 24 countries and serve in excess of 80 thousand customers in nearly 100 countries throughout the world. www.touchpointinc.com
About Pasco Economic Development Council
The Pasco Economic Development Council is committed to developing Florida's most competitive climate for business growth by providing businesses, that seek to start, move, or grow in the North Tampa Bay area, a comprehensive suite of programs that can help them to reach their full economic potential. Since 1987, Pasco EDC has fostered a strong partnership funded by corporate and public investors focused on the economic vitality of Pasco County. Discover more at www.pascoedc.com.
# # #