Wells Fargo Donates $15,000 to Support Small Businesses in Pasco County
August 1, 2022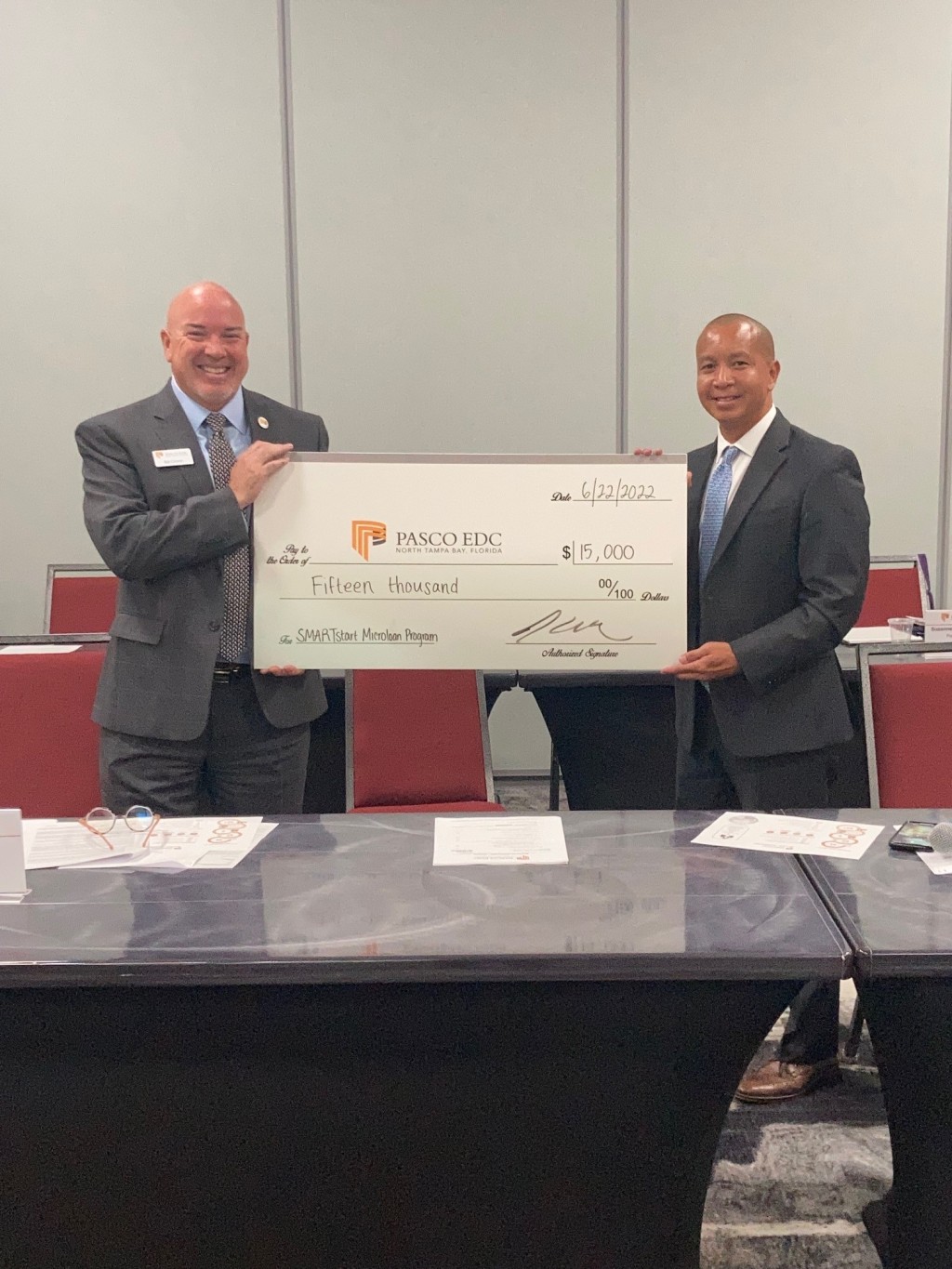 The SMARTstart Microloan Program gives local entrepreneurs a chance to get their business up and running.
PASCO COUNTY, FLORIDA (August 1, 2022) — The Pasco EDC is thrilled to announce a $15,000 donation from the Wells Fargo Foundation to the SMARTstart Microloan Program. Wells Fargo has supported the microloan program for years, donating $198,000 total. The fund provides financial assistance to Pasco residents who are looking to start or grow their business.
"We are excited to continue our partnership with the Pasco EDC to support local entrepreneurs who are essential to the fabric of our communities. The development and growth of small businesses is an integral part of why we remain focused on providing opportunities through financial education and philanthropic contributions," stated J. Bradley Smith, Wells Fargo Pasco East district manager and a member of the Pasco EDC Board of Directors.
Recently, SMARTstart microloan recipients, Ashley and Patrick Dang, hosted the grand opening of their new restaurant in April, adding a physical location to their Dang Good Sushi food truck business. "The Pasco EDC program helped our family achieve our dreams of owning our own storefront," shared the Dang Family. "We are your average American family that started our business in the middle of a pandemic and at the same time, the economy was taking a hit. Now we own a very successful restaurant and food truck in Trinity. Thank you, Pasco EDC for helping make our dreams come true." Success stories like this one show how the Microloan Program has directly impacted communities.
"The SMARTstart Microloan Program gives businesses an opportunity to get started when they may not have the funds to do so. This program is one of the many programs SMARTstart offers to the community and we thank Wells Fargo for their continued support. This donation shows the organization's involvement in continuing to grow our local Pasco entrepreneur ecosystem," stated Bill Cronin, Pasco EDC President/CEO.
Over the lifetime of the Microloan Program, there have been 64 microloans awarded totaling nearly $2 million to local businesses with an average loan of $31,163.
Microloan Program applicants must be for-profit companies located in Pasco County. Proceeds may be used for working capital, inventory, supplies, furniture, fixtures, machinery, and equipment, but not to purchase real estate or to refinance existing debt. If your business is interested in learning more about or making a donation to the Microloan Program, visit www.smartstartpasco.com or contact Dan Mitchell, the SMARTstart Program Director, at dmitchell@pascoedc.com or 352-437-4861. Also, stay up to date with Dang Good Sushi online at, www.facebook.com/danggoodsushi.
# # #
About Pasco Economic Development Council
The Pasco Economic Development Council is committed to developing Florida's most competitive climate for business growth by providing businesses, that seek to start, move, or grow in the North Tampa Bay area, a comprehensive suite of programs that can help them to reach their full economic potential. Since 1987, Pasco EDC has fostered a strong partnership funded by corporate and public investors focused on the economic vitality of Pasco County. Discover more at www.pascoedc.com.