Business growth drives demand for space in North Tampa Bay
Pasco County's tremendous growth in new residents and business expansions is driving demand for new office and industrial facilities as the county continues to attract companies to its north Tampa Bay community.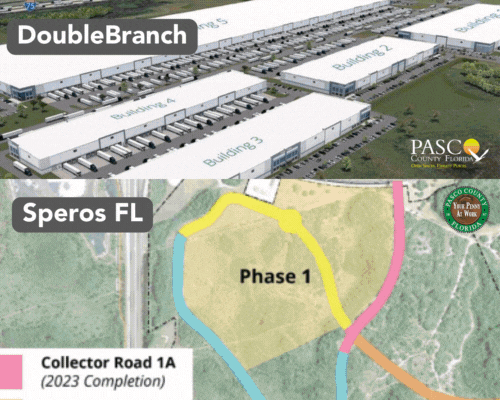 Even with unprecedented demand, building spec is a risky business considering the overwhelming costs of developing infrastructure. Early in the current development cycle, the Penny for Pasco, a Pasco taxpayer approved $0.01 sales tax increase, helped fill capital gaps with loans to developers willing to build on spec. Additional developments were also supported through customized county incentive programs.
The Penny for Pasco and other county incentive programs continue to support many active projects, including Moffitt Cancer Center's 775-acre Global Innovation Center in the, Speros FL community. Construction is well underway on many several projects and new office and industrial space is rapidly becoming available.
County-backed projects taking off
Moffitt Cancer Center: The groundbreaking and naming celebration for Speros FL kicked off construction of the 775-acre Pasco County campus to be used for the future of revolutionary cancer treatment and research. The campus will feature 16 -million square feet of lab, office, manufacturing and clinical space. Phase I will yield a minimum of 128,000- SF square-feet Corporate Business Park. Moffitt intends to pre-lease over 100,000 square feet of office and dry lab space in the proposed buildings.
North Tampa Bay 75 Business Center: 187,000- square-feet Distribution distribution & and Manufacturing manufacturing space is now available. Up to 850,000 square feet of warehouse/industrial space will be developed at the new freeway intersection of Interstate 75 and Overpass Road.
54 Crossings: New Class A office space with two tenants now located. Positioned off FL54 near the Suncoast Parkway and nestled among award- winning "Live-Work-Play" communities. 54 Crossings offers two 60,000± SF,square feet of Class A office buildings with floor plates and custom designed suites available.
Over 6.7 million square feet of projects underway
North Pasco Corporate Center: Gary Plastic will be leasing a 444,000 square foot building and is anticipated to bring approximately 555 total new jobs to the county over a three-year period, with approximately 184 jobs at 125 percent of the average county wage, read more.
DoubleBranch: Multiple industrial buildings with Phase I currently under development. The industrial park will feature a 4.5 million square foot industrial park at the southeast corner of FL 52 and Interstate 75.
Sunlake Business Center: Over 360,000 square feet of Class-A industrial-flex space under construction in the fastest growing areas of the Tampa Bay region. Minutes from the Suncoast Parkway.
Pasco County's government leadership understands and supports the importance of a stable, pro-business atmosphere with local incentives in a right to work state in addition to low operating costs and no personal state income tax.
Pasco County promotes growth and prosperity through the development of a sustainable and diversified economy making our community the perfect location to START, MOVE, and GROW your business.